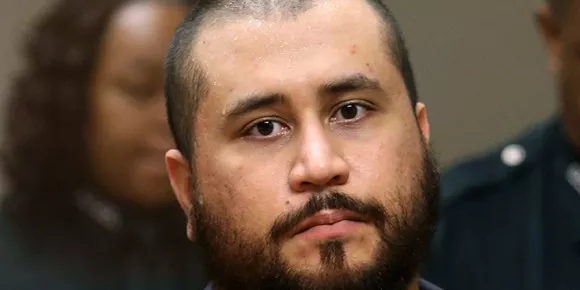 Photo via Huffington Post
George Zimmerman, an old turd that refuses to flush, was charged with a misdemeanor for cyberstalking a former private investigator, court records show.
According to
records
from the Brevard and Seminole State Attorney's Office, Zimmerman was charged with misdemeanor stalking, and was just recently served a criminal summons on May 3 by the 18th Circuit Court.
Authorities with the Seminole County Sheriff's Office conducted an investigation into the allegations and notified the state attorney's office of the findings on March 14.
The records allege that in December of 2017, Zimmerman had threatened and harassed Dennis Warren, who was working on a documentary backed by rapper Jay-Z, called
Rest in Power: The Trayvon Martin Story.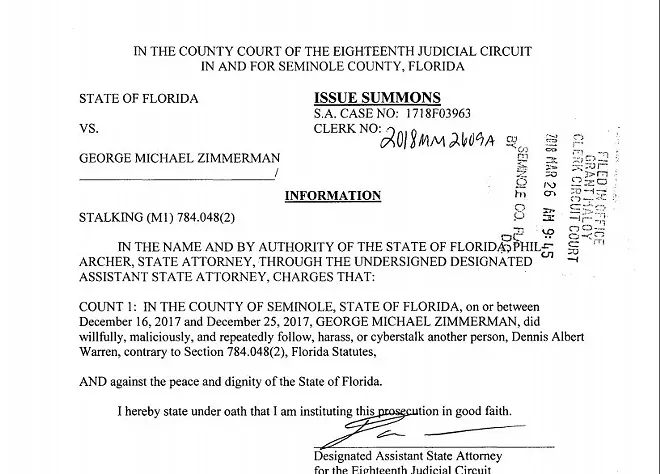 It's worth noting that in December of 2017, Zimmerman, who was acquitted for the murder of an unarmed Trayvon Martin in 2012, also threatened to
beat up Jay-Z and feed him to an alligator
for questioning his family members while working on the same Trayvon Martin documentary.
The producer of the film, Mike Gasparro, handed over text messages to authorities from Zimmerman that threatened Warren. One of the texts listed in the report reads, "Help Mrs. Warren out and give him a heads up, I'm going to find him. And I'm bringing hell with me." Another text stated, "DENNIS IS A FUCKNG PUSSY WHO BOTHERED MY UNCLE IN HIS HOME ... He's well on his way to the inside of a gator as well, 10-4?"
Warren also claims to have gotten direct texts from Zimmerman, like "Answer your phone, PUSSY!" and "I'll see you before you realize it."
On Dec. 16, Warren notified authorities of the threats, who then advised him to send one text back asking him to cease communication. Zimmerman responded, "No," and, "Pursue charges."
According to the report, Zimmerman continued to send threatening texts and emails and making unrequested phone calls. From Dec. 16 to Dec. 25, Warren received 55 phone calls, 67 texts, 36 voicemails and 27 emails from accounts associated with Zimmerman.
Seiple says she is personally familiar with Zimmerman from prior interactions. When she asked him why he was yelling at her during the monitored phone call, Zimmerman replied, "You are that fucking blonde cunt who arrested me on Samantha!" and "You have been involved with me since that Martin kid!"
When asked why he was contacting Warren, Zimmerman said, "He contacted my uncle."
Zimmerman will have to appear before Judge Mark Herr at 9 a.m. Wednesday, May 30.
Stay on top of Orlando news and views. Sign up for our weekly Headlines newsletter.