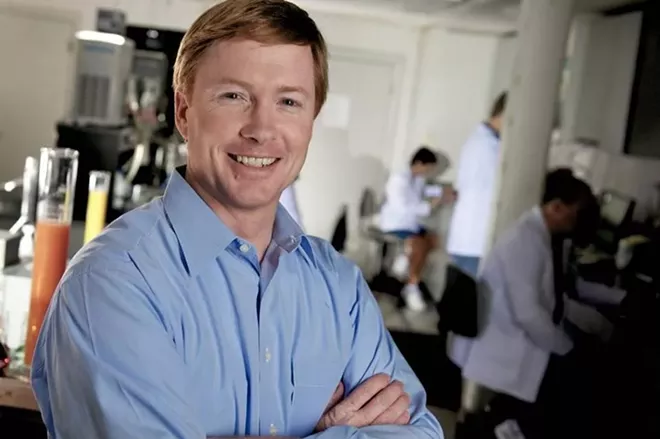 Adam Putnam | image via Fresh From Florida
Agricultural Commissioner and GOP gubernatorial candidate Adam Putnam released his
Florida Families First
agenda earlier this week, which predictably champions religious, conservative values.
Here it is in detail:
Fight for the life of the unborn by expanding services that help mothers successfully carry their pregnancy to term.
Remove activist judges who seek to protect abortions by legislating from the bench.
Create the Office of Faith-Based and Community-Based Initiatives within the Executive Office of the Governor to empower community organizations to better serve Floridians in times of need.
Create a Home School and School Choice Ombudsman who will provide homeschoolers, their parents and their families with access to help and support when navigating challenges presented by either their school district or the state.
It's as charming as it is backward and reactionary, right?
In all frankness, it reads more like an excerpt from a Margaret Atwood novel than an ideology born of the Reagan era, albeit with a Tea Party twist. Putnam's agenda depicts a somewhat dystopian future for Sunshine State progressives, whether we're referring to how he wants to challenge the constitutionality of the U.S. Supreme Court's 1973
Roe v. Wade
decision or his support for abstinence-only programs in schools. (Sex is bad, m'kay?)
"Florida families, conservative values and religious freedom are under attack by a coarsening society that is eroding these fundamental rights," Putnam says in a
news release
. "As governor, I will not only protect these fundamental rights, but I will work with Florida's faith-based communities to collaborate and support them in their mission to serve Florida's communities, and I will help families that choose to homeschool their children navigate the bureaucracy of Florida's education system."
Touching on the "religious freedom" aspect, are we even talking about the same state?
Here's just one example of how that's categorically false from a legislative point of view: On July 1, when a
new state law
goes into effect, all school boards will be required to display "In God We Trust" – the state motto – in all schools and associated buildings. It has to be displayed in a "conspicuous place," too, so that everyone can see, according to the bill.
You have Florida Rep. Kimberly Daniels, D-Jacksonville, an elected official who also runs a Christian ministry, to thank for that one.
In fact, although "In God We Trust" has been a part of Florida's state seal since 1868 and on the state flag since 1900, it's only been the state motto since 2006, according to the Florida Department of State. Prior to that, the state motto was "In God Is Our Trust," which is pretty much the same thing, and is a flirtation with the needle-thin separation between church and state in Florida as is.
So what exactly constitutes the erosion of these rights, in Putnam's mind? That's the question at hand, and one that the GOP candidate fails to answer on its own, at least directly so.
He continues in the news release: "My faith shapes everything about my life. How I live it, how I approach public policy, how I work through decisions that need to be made, how I raise my family and how I live my life within my marriage. I do everything in my power to live my life according to His teaching."
That's great for him, but when it comes to public policy, a politician's approach to legislating fixes shouldn't resemble Moses trying to part the Red Sea, even if navigating the partisan divide may sometimes feel like an equally complicated task.
Regardless, Putnam still has one hell of a climb if he's going to make it to the governor's mansion.
In August, he'll have to beat U.S. Rep. Ron DeSantis, R-Palm Coast, in the GOP primaries. DeSantis is still very much President Donald Trump's
golden Florida boy
, so that should be a tough row to hoe.
Then, during the general election, he'll have to beat either former congresswoman Gwen Graham, former Miami Beach mayor Philip Levine, Tallahassee mayor Andrew Gillum or Winter Park businessman Chris King, depending on who wins the Democratic Party's primary. It goes without saying that whoever takes the Democratic ticket will be surfing what's expected to be a big blue Democratic wave this election season, too.
So can overzealousness trump old-fashioned rationality?
Historically, in the case of Florida, yes. But it's going to be
a special year for progressives by most accounts
, so we shall see.
Stay on top of Orlando news and views. Sign up for our weekly Headlines newsletter.