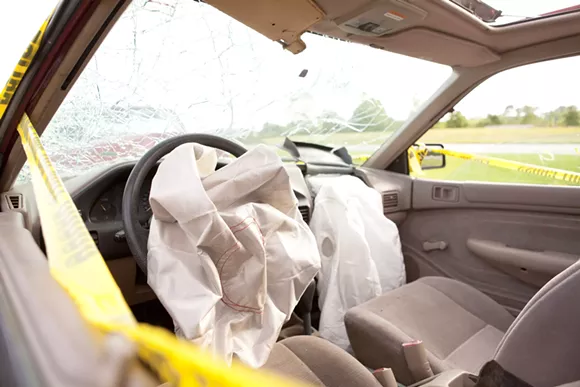 Florida continues to lead the nation in deaths and injuries caused by exploding
Takata
air bags, U.S. Sen. Bill Nelson says.
About 50 million of these defective air bags are used in roughly 37 million vehicles across the county, according to
National Highway Traffic Safety Administration
. The product is under recall because long-term exposure to humidity and high heat can cause metal parts inside the air bags to explode when deployed, shooting shrapnel at drivers.
So far, 15 deaths and 278 injuries in the U.S. have been linked to Takata air bags. Out of those, Florida accounts for three deaths and 83 injuries, according to Nelson. After the Sunshine State, Puerto Rico, Texas, California and Georgia have the highest amount of deaths and injuries.
"These numbers show we still have a huge problem with getting these dangerous airbags replaced and out of the cars and off the highways," Nelson said in a video. "To stop these horrible tragedies, we have to get these vehicles fixed."
Nelson, though, says the effort to replace the air bags continues to lag. As of the middle of April, only 45 percent of Florida vehicles with Takata air bags had been fixed.
"That's unacceptable," Nelson said.
The senator said he wants the NHTSA to require automobile companies to inform consumers about what they're doing to get the cars fixed by June 30. The plans from automakers should include a commitment to service people with recalled vehicles as quickly as possible and provide alternative transportation, like rental cars.
"Folks shouldn't have to choose between driving a car with a ticking time bomb facing them in their steering wheel or not be able to drive at all," Nelson said. "While the automakers need to step up their efforts to fix these recall vehicles sooner, consumers have got to do their part, too – by heeding the call to get in and get their vehicle repaired and the auto bag replaced. And do it as soon as possible because failure to do so could result in death."
Check for recalls on your vehicle by putting in your vehicle's VIN number on the NHTSA's online tool
here
. For more information on Takata air bags, click
here
.
Stay on top of Orlando news and views. Sign up for our weekly Headlines newsletter.