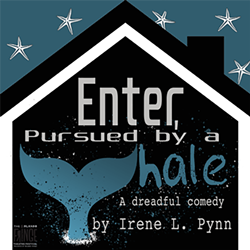 "Exit, pursued by a bear" may be the most famously confounding stage direction in Shakespeare, but
Enter, Pursued by a Whale
is every bit as head-spinning, and far funnier. This new play by Orlando author Irene L. Pynn stars Ken Pruess as Hawel, an atheist Bible salesman who has been involuntarily retired. His wife, Mel (Traci McGough), and boozy, bickering neighbors (Peri Goldberg, Jim Cundiff) have gathered for surprise celebration of his newfound freedom, but Hawel is more worried about the massive marine mammal that's inexplicably following him.
In Pynn's perplexing yet fascinating one-act, the characters engage in circular debate over the significance of Hawel's unseen stalker, invoking literary allusions to Melville and Joseph Campbell along the way. The only one who seems to have a grip on what's going on is the D&D-obsessed pool boy, Leviathan (Daniel Molina), who counsels Hawel as his reality begins to crumble.
Under Rob Cunha's breathless direction,
Enter Pursued by a Whale
is like a lost Pinter play without any of the pauses. The rapid-fire repartee is confusing yet clever, with each character functioning as both a comic foil to Hawel's haplessness and a metaphor for his mental breakdown. There's a message about finding your passion and pursuing it into the belly of the beast, and you may find yourself mulling over the enigmatic ending's true meaning for hours after. I emerged more than a bit muddled, but this play harpooned my attention until the final moment, which is the true white whale for every Fringe show to pursue.
Enter, Pursued by a Whale
Renie and Rob Productions, Atlamonte Springs, FL
13 & Up - Some PG-13 Language
60 Minutes
Blue Venue
Friday, May 18, 2018 @ 7:30 PM
Saturday, May 19, 2018 @ 1:00 PM
Tuesday, May 22, 2018 @ 6:00 PM
Friday, May 25, 2018 @ 10:30 PM
Saturday, May 26, 2018 @ 6:00 PM
Check out ALL of our Fringe 2018 reviews at orlandoweekly.com/fringe2018