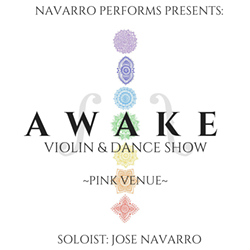 For artists, choosing between pursuing their passion and gainful employment in an eternal struggle; now it's also the subject of
Awake
, a show combining dancing with live violin playing by the multi-talented Jose Navarro. A frequent collaborator with Blue's VarieTease, Navarro has broken away from the Black Venue for his second independent Fringe production, in which he plays a frustrated instrumentalist who drinks and drugs his way through the drudgery of a desk job. Desperate to silence the self-defeating voice in his head, he nearly self-medicates into suicide until a spiritual presence – portrayed at the preview by Katrina Anne Soricelli – shows him a brighter path.
Navarro's pantomime movement piece tells a simple but still powerful story, and he does it in an undeniably idiosyncratic personal style. Each performance is improvised around a basic structure, and will therefore be unique. At the preview, the opening captured the morning commute with mirrored pedestrian movement; then the impossibly long-limbed Soricelli later cut loose with gorgeously gangly grace as the plot approached its apex.
Playing violin while simultaneously dancing is Navarro's signature trick, which he doesn't deploy here until the show's final 10 minutes. When he finally does, it's a bit of a gimmick; it's physically impossible to do both full-throttle, so his movement becomes restricted, and his vibrato-heavy bowing is sometimes out of tune and tempo with the pre-recorded soundtrack by acts like Radiohead and Rampa. But when the combination does click it's wondrous to watch, making
Awake
a welcome eye-opener at the end of my long first day of 2018 Fringe reviews.
Awake
Navarro Performs, Orlando, FL
18 & Up – Mature Themes
60 Minutes
Pink Venue
Wednesday, May 16, 2018 @ 10:15 PM
Saturday, May 19, 2018 @ 5:15 PM
Tuesday, May 22, 2018 @ 7:00 PM
Wednesday, May 23, 2018 @ 5:30 PM
Friday, May 25, 2018 @ 9:15 PM
Saturday, May 26, 2018 @ 5:00 PM
Sunday, May 27, 2018 @ 10:45 PM
Check out ALL of our Fringe 2018 reviews at orlandoweekly.com/fringe2018