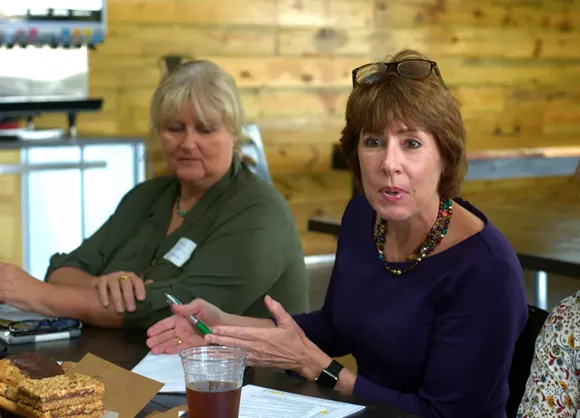 Photo by Monivette Cordeiro
Democratic candidate Gwen Graham is actually considering Republican David Jolly as a potential running mate in the Florida governor's race.
The former Congressman ran on the Republican ticket for U.S. Senator in 2016 before ultimately leaving to run for his seat again in Florida's 13th congressional district. He lost that race to former Florida Gov. Charlie Crist, and has since
re-branded
himself as an anti-Trump Republican. Just last month, Jolly was teasing a bipartisan run for governor with his one-time rival, former U.S. Rep.
Patrick Murphy
.
Politico
reports Graham made the comments about Jolly in an interview with the host of the Miami podcast "
Strange Days With Fernand Amandi
."
"I see my lieutenant governor selection as someone who's going to be right by my side helping me get this state back on the right path," Graham told Amandi. "Patrick would certainly fit that definition, as would David, as would all the other candidates for governor on the Democratic ticket at the moment. So it's really going to be, for me, a thorough analysis of who can bring the most to help make the biggest difference in the state of Florida."
Although Graham does clarify that she's looking at multiple candidates, it's a bit strange for Graham to consider Jolly in a year when the Democratic base is so energized, not to mention just days after competitors accused her of not being progressive enough.
Last week, Graham's campaign tussled with Tallahassee Mayor Andrew Gillum's after The Collective Super PAC launched an attack ad calling Graham a "fake progressive" who opposed President Barack Obama's agenda during her time in Congress. In a statement, Graham said she was "disgusted" at Gillum for allowing dark money from an outside group to attack her on his behalf. The campaigns clashed further when one of Gillum's supporters called Graham a "
skank
" in a political column. Gillum has since denounced "name-calling" in the race.
Some of Gillum's supporters took to Twitter on Monday to criticize Graham for considering Jolly as a lieutenant governor.
UPDATE:
In a series of tweets, Democratic gubernatorial candidate Gwen Graham says she will choose a Democrat for lieutenant governor who "reflects my progressive values: a woman's right to choose, supporting public schools, raising the minimum wage, fighting climate change, expanding health care with a public option and passing bold gun safety legislation."
Stay on top of Orlando news and views. Sign up for our weekly
Headlines newsletter
.