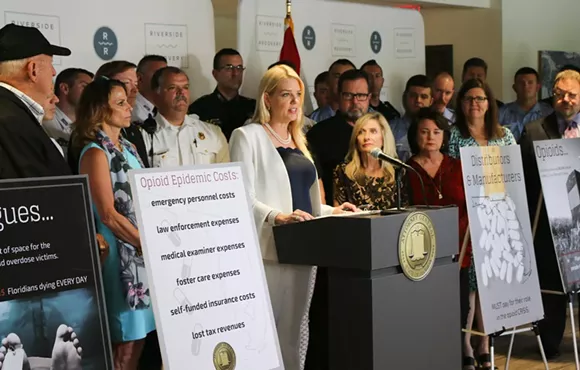 This afternoon, Florida attorney general Pam Bondi announced at
Riverside Recovery of Tampa
that she has filed a lawsuit against five of the nation's largest manufacturers and distributors of opioids, calling it the "the most comprehensive lawsuit in the country."
"We are in the midst of a national opioid crisis claiming 175 lives a day nationally and 15 lives a day in Florida, and I will not tolerate anyone profiting from the pain and suffering of Floridians," said Attorney General Bondi in a statement. "The complaint I filed today seeks to hold some of the nation's largest opioid manufacturers and distributors responsible for their role in this crisis and seeks payment for the pain and destruction their actions have caused Florida and its citizens."
The lawsuit alleges that drug manufacturers funded front groups to promote their "dangerous products," while distributors used deceptive marketing. "The distributors failed in their duties under Florida law to stop the suspiciously high orders of opioids they received. Instead, the distributors placed profit over safety and continued filling the suspicious opioid orders," reads
the complaint.
According to Bondi the defendants violated the Florida Deceptive and Unfair Trade Practices Act, the Florida RICO Act, as well as common law public nuisance and negligence.
The opioid manufacturers and distributers listed in the lawsuit include Purdue Pharma L.P., Endo Pharmaceuticals, Inc., Janssen Pharmaceuticals, Inc., Cephalon, Inc., and Allergan plc and related companies, and opioid distributors AmerisourceBergen Drug Corporation, Cardinal Health, Inc., McKesson Corporation, and Mallinckrodt LLC and related company.
Stay on top of Orlando news and views. Sign up for our weekly Headlines newsletter.