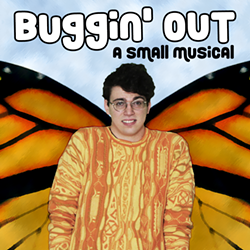 Mitch (Austin Palmer), a recently molted monarch butterfly with self-esteem issues, is the newest arrival in Bugville, flying into town just as a shady timeshare-shilling wasp (Kenny Nisbett) warns that a catastrophic storm is en route. Can Mitch and his newfound friends – including Tina the toothless termite (Melanie Leon), commitment-phobic lovebug Lewis (Marcus Davila), and Lewis' arachnid ex, Stacy (Kelly Sardiñas) – bond together and ride out the rain, or will they all be washed down the waterspout?
There are several large-scale musicals with mature themes at this year's Fringe, but
Buggin' Out: A Small Musical
is not one of them. This pocket-sized production's scale and polish may be on the modest side, with klutzy choreography and under-supported singing. But this show by writer-director Grace Trotta still somehow manages to pack a mountain's worth of gentle charm into its molehill of a venue.
Buggin' Out
's original songs (composed and performed by SAK keyboardist Ryan Goodwin) have childlike melodies and nursery rhyme schemes that bring back memories of Sesame Street, and you can't quibble with the pro-friendship message. This one is clearly aimed at the kids, but at least it's entertaining enough that their parents won't want to commit suicide before the sunny ending of this itsy-bitsy entomological extravaganza.
Buggin' Out: A Small Musical
Ugly Bug Productions, Orlando, FL
7 & Up
60 Minutes
Purple Venue
Wednesday, May 16th 7:30pm
Saturday, May 19th 3:30pm
Monday, May 21st 9:00pm
Wednesday, May 23rd 6:00pm
Friday, May 25th 8:30pm
Sunday, May 27th 11:00pm
Check out ALL of our Fringe 2018 reviews at orlandoweekly.com/fringe2018