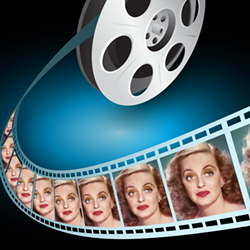 A Fringe classic has returned. Eleven years after she debuted in Orlando, everyone's favorite Bette Davis impersonator is back in John Ryan's comedy
My Pal Bette
.
To call Tammy Kopko an impersonator is not doing her justice – she fully embodies the legendary actress, nailing Davis' mannerisms, dialect and persona, if not quite her appearance. But
My Pal Bette
is not just an act of mimicry with some old film clips thrown in. Instead, this campy creation – which enjoyed success in New York following its Fringe and Parliament House runs – is the story of Tommy Klein, an awkward little boy in need of a guardian angel to see him through the trials of youth. Instead, heaven sends down a "guardian diva" in the form of Davis.
A wise theater critic recently reminded me that every show finds its audience. That is certainly true of
My Pal Bette
, which will undoubtedly be embraced again by Fringe. Still, the subjective truth is that this revival, directed by Tara Kromer, could be better. Kopko's presence is so strong that she upstages almost every other facet of the production while exposing some of the play's weaknesses, such as the incomprehensible puppet sequences and overreliance on subplots involving Tommy's family. Kopko almost makes one long for a one-woman show.
Still, the supporting performers give it their all and are clearly having a blast. Original cast member and Orlando gay icon Janine Klein is effective as Tommy's mother; Joshua Siniscalco is excellent in multiple roles; Clark Levi does most of the dramatic heavy lifting as 15-year-old Tommy; and scene-stealing Melanie Leon delivers a memorably manic turn as Tommy's wannabe girlfriend. Their energy mostly compensates for the imperfect timing and jokes that don't land, such as the ill-advised inclusion of a Margot Kidder jab.
This reviewer doesn't wish to be the Joan Crawford in this pro-Bette crowd, so I'll simply encourage you to enjoy the show for its premise – which is both genius and utterly ridiculous – and the welcome return of Kopko as a chain-smoking, booze-guzzling, advice-peddling Hollywood legend.
My Pal Bette
Ms. B Productions / Tammy Kopko, Brooklyn, NY
13 & Up - Language, Mature Themes
75 Minutes
Gold Venue
Thursday, May 17, 2018 @ 10:30 PM
Sunday, May 20, 2018 @ 9:45 PM
Wednesday, May 23, 2018 @ 8:45 PM
Saturday, May 26, 2018 @ 10:15 PM
Sunday, May 27, 2018 @ 5:00 PM
Check out ALL of our Fringe 2018 reviews at orlandoweekly.com/fringe2018