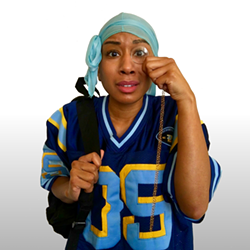 Detroit Price (Melissa Cole) is a single father in the Bronx, struggling to make ends meet by working in an off-brand cereal factory, when he loses his optical insurance. His son Detroit Jr. (Melissa Cole) is forced to wear a monocle, the only eyewear they can afford, and is bullied at school for looking like the Monopoly guy. Desperate to exercise his Second Amendment right to self-defense, the teen turns to his Uncle Sugarfree (Cole again), a country music-loving pimp who introduces the boy to his hookup girl, Laverne (yup, more Cole), leading to a violent conclusion.
The plot outline of
Mo-to-the-oncle
may sound tailor-made for an urban tragedy, but in the capable hands of writer-performer (you guessed it!) Melissa Cole, it becomes fertile fodder for a socially conscious one-woman comedy showcase. Cole inhabits a range of ridiculous characters, rapping and singing Motown ripoffs as she rips through a string of racial stereotype-skewering character skits. The ribald result resembles a lost solo female episode of
Chappelle's Show
. Not every left-field pop-culture reference lands, some pre-recorded voice-overs are hard to understand, and long costume changes deadened the pacing during the press preview performance. But it's always wonderful to discover a fresh, funny voice like Cole's at the Fringe.
Mo-to-the-oncle
Melissa Cole, New York, NY
13 & Up – Strong Language, Violence
60 Minutes
Purple Venue
Thursday, May 17th 5:30pm
Saturday, May 19th 2:00pm
Sunday, May 20th 7:00pm
Tuesday, May 22nd 7:00pm
Friday, May 25th 7:00pm
Saturday, May 26th 9:30pm
Sunday, May 27th 12PM noon
Check out ALL of our Fringe 2018 reviews at orlandoweekly.com/fringe2018