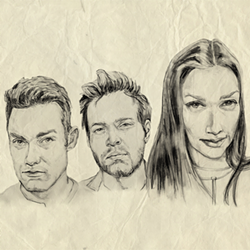 Awkward Al (Colton Butcher) has been in love with artistic Celia (Cameron Gagne) since school, and arrives on her doorstep begging her to run away with him. Celia says she doesn't love Al, but keeps stringing him along under the nose of her sweaty significant other, Gunnar (Jack Kelly). Gunnar doesn't seem to love anyone except himself, but he's happy to make out with anything that moves. The only thing they all seem to agree on is that they want each other to leave, but nobody – including the audience of
Jealousy
– seems able to find the exit.
Ricardo Soltero-Brown's three-character drama won the 23rd annual Florida Playwrights Competition, and was performed at Valencia College in 2014. Producer Julia Gagne and director Jeremy Seghers have revived the play for Fringe and in a sense it's of a piece with Seghers's previous productions, like
Mysterious Skin
and
This Is Our Youth
, with its angst-ridden 20-somethings trading sexually charged barbs. But while I found those previous shows fully engaging,
Jealousy
proves that the only thing more unpleasant than being trapped in your own unrequited love triangle is being a silent witness to somebody else's, especially when the
ménage
in question is as thoroughly unpleasant as this
trois
.
Seghers stages the verbal slugfest with maximum velocity, and thanks to Gagne's supermodel appearance and incisive intellect, it's easy to understand why these men pursue Celia as their muse, despite her self-centered disregard for their desires. What's mystifying is why she sticks around either of these emotionally battering creeps – especially since both male actors give mannered performances, which only increased my impression that this unmoored melodrama could only plausibly take place in a Sartrean void or a college dorm. There are flashes of fine acting and writing in
Jealousy
, and even a few big laughs (usually at things that aren't really funny) between the undergrad arguments, but long before the end I was praying that none of the characters would end up with anyone, lest they ever reproduce.
Jealousy
Carbon Productions, LLC – Orlando, FL
13 & Up – Strong Language, Mature Themes
75 Minutes
Green Venue
Wednesday, May 16th 6:30pm
Saturday, May 19th 3:30pm
Sunday, May 20th 10:00pm
Tuesday, May 22nd 9:30pm
Thursday, May 24th 5:30pm
Sunday, May 27th 8:45pm
Check out ALL of our Fringe 2018 reviews at orlandoweekly.com/fringe2018