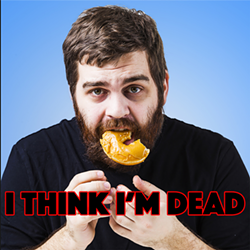 After seeing
I Think I'm Dead
, I can't believe that Al Lafrance is still alive, after suffering through a childhood drowning, a life-altering untreated limb injury, decades of severe insomnia and a psychotic obsession with the movie
Fight Club
. What's even more surprising is that he manages to turn these tales of terrifying trauma into a machine-gun manic monologue that's one of the fastest, funniest self-help shows I've seen at the Fringe.
Lafrance's one-man show is overstuffed with witty observations on mental illness, hilarious hurricane-survival anecdotes and egocentric existential philosophy. He'll whipsaw from suicidal ideation to Billy Joel's "Uptown Girl," barely pausing for a swig of water before diving into his next near-fatal experience. Most amazingly, he maintained his composure and my attention throughout his preview performance, despite construction in the ceiling echoing off the Purple Venue's dome like chili farts in a cathedral.
Al warns us never to trust a "true story," but I hope we're living in a timeline where all these things really happened to Lafrance, and he's finally rewarded for his journey with jam-packed audiences.
I Think I'm Dead
Thunder Blunder – Montreal, Quebec, Canada
13 & Up – Strong Language
60 Minutes
Purple Venue
Friday, May 18th 10:00pm
Saturday, May 19th 8:30pm
Sunday, May 20th 2:00pm
Wednesday, May 23rd 10:30pm
Friday, May 25th 10:00pm
Saturday, May 26th 6:30pm
Sunday, May 27th 4:30pm
Check out ALL of our Fringe 2018 reviews at orlandoweekly.com/fringe2018