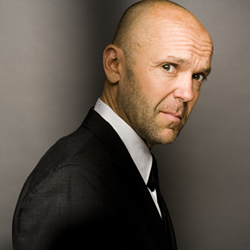 Bremner Duthie has enjoyed stage success around the globe, and he deserves it, as his unique blend of cabaret, experimental theater and one-man storytelling sets him apart from other Fringe acts. And though he divides his time between Paris, Montreal and New Orleans, it's the latter city that infuses
The Haunting of Saint River
, which is getting its world premiere this year at Orlando Fringe.
Billed as a ghost story,
Saint River
is more a meditation on ghostly themes. Frankly, it's more mysterious and thought-provoking than scary. And it's more an experiment in sound, lighting, puppetry and bluesy jazz than a conventional narrative. Regrettably, it's also technically challenged, as one of Duthie's projections didn't work well during the press preview, and other aspects – such as Duthie executing all sound and vocal effects himself – are a tad clunky, though they will likely fascinate fellow musicians in the audience.
Not being a musician myself, I was more interested in Duthie's tales of an empty old house (as empty as the man who lived here) and with Duthie himself, who seems haunted by lost possibilities, as we all are. I was equally intrigued by his idea that, "if you don't listen to all the ghosts from the past, then all you have is now."
Saint River
seems like a work in progress and will probably get better by the end of Fringe. But if it doesn't, it's still fun to be part of Duthie's experiment.
The Haunting of Saint River
Bremner Duthie, New Orleans, LA
13 & Up – Strong Language, Mature Themes
70 Minutes
Pink Venue
Monday, May 21, 2018 @ 6:00 PM
Thursday, May 24, 2018 @ 10:45 PM
Saturday, May 26, 2018 @ 8:45 PM
Sunday, May 27, 2018 @ 11:00 AM
Check out ALL of our Fringe 2018 reviews at orlandoweekly.com/fringe2018