Jen Cray
Backstabber at Will's Pub
THIS LITTLE UNDERGROUND
Backstabber, O'rchard and Nuclear Pistachio, Will's Pub, May 21

In a laudable and important attempt to turn up the local soil for new discoveries,
Norsekorea Presents
recently put on a showcase of relatively unfamiliar area bands.
Jen Cray
Backstabber at Will's Pub
Easily, the revelation of the night was Orlando shred punks
Backstabber.
They're a
tech-punk
band, which is kind of strange, a bit oxymoronic and pretty original. As required by their chosen path, these four guys are all aces of their instruments and work as a flashy and together unit. Naturally, they can't help but invoke
heavy metal
with their technical flourishes, but their music is decidedly punk in style, just with bonus flair.
Jen Cray
Backstabber at Will's Pub
On guitars, they charge hard and often rise into squealing prog-metal triumph, even tricking it out with fancy finger taps and dueling solos. Their rhythm section can go from a punk gallop to speed metal velocity with five-string bass, occasional blasts and lots of double kick drumming. It's all a combination that's less odd on stage than it looks on paper, and the live result is as wowing as it is fun.
Jen Cray
O'rchard at Will's Pub
Also decent were St. Cloud indie-rock band
O'rchard.
Their likeable songs beam with brisk, hooky melodies and a distinctly John Darnielle-esque vocal delivery by singer Austin Courtney.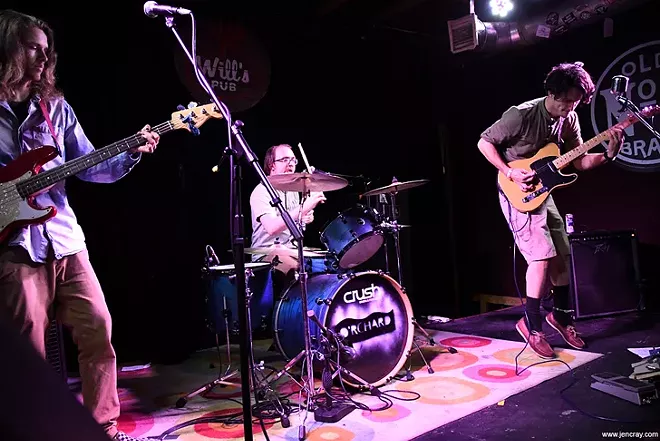 Jen Cray
O'rchard at Will's Pub
Live, however, the band kick things out with a gusto that lands them a touch closer to folk-punk territory than their recordings suggest, more Against Me! than the Mountain Goats. Although sometimes a little unfinished, they're a vibrant young band crackling with scrappy energy.
Jen Cray
Nuclear Pistachio at Will's Pub
Opening the night was
Nuclear Pistachio.
Typically, a goofball name like that only comes from either a jam band, a funk band or a collision of the two. This Orlando group, however, are more a combination of blues, rock and funk. They do have enough of that loose-limbed, noodling groove that hippies just find irresistible though. And though they played competently, it's the kind of music that probably just belongs on a
college campus.
Follow Bao on Twitter (@baolehuu)
Email Bao: baolehuu@orlandoweekly.com