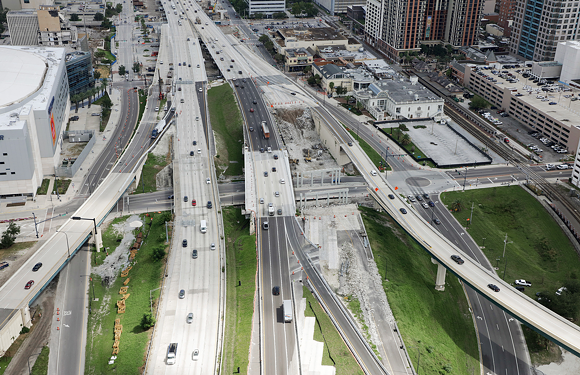 Prepare to spend a lot of your weekend shouting obscenities at clueless tourists on Interstate 4.
More than 36.6 million Americans will hit the road this Memorial Day weekend, a nearly 5 percent jump from last year, according to a
forecast
from auto club AAA. Travel delays on major roads could be up to three times longer than normal, especially on May 24 and May 25 as commuters mingle with holiday travelers.
This is a particular problem for Orlando because the city has again topped this year's list of the most-visited Memorial Day destinations in the U.S., a figure which AAA calculates from advance travel bookings. The auto club says Hertz also estimates the busiest airport pick-up location for travelers renting a car this Memorial Day is expected to be at Orlando International Airport (MCO). AAA estimates about 41.5 million Americans will travel on Memorial Day weekend using cars, plans, trains, cruises and other forms of transportation.
"The highest gas prices since 2014 won't keep travelers home this Memorial Day weekend," said Bill Sutherland, senior vice president of AAA Travel and Publishing, in a statement. "A strong economy and growing consumer confidence are giving Americans all the motivation they need to kick off what we expect to be a busy summer travel season with a Memorial Day getaway."
To make matters worse, Orlando's weather is predicted to be
pretty revolting
.
The National Oceanic and Atmospheric Administration predicts rain and thunderstorms from Thursday until Monday for Orlando. Florida Gov. Rick Scott has also issued a warning about a potential tropical storm heading for the Gulf Coast.
Be safe on the roads this weekend, and for the love of everything holy, don't throw on your hazard lights while driving in the rain. Aside from being
illegal
, the lights can be misleading to other drivers.
Stay on top of Orlando news and views. Sign up for our weekly Headlines newsletter.