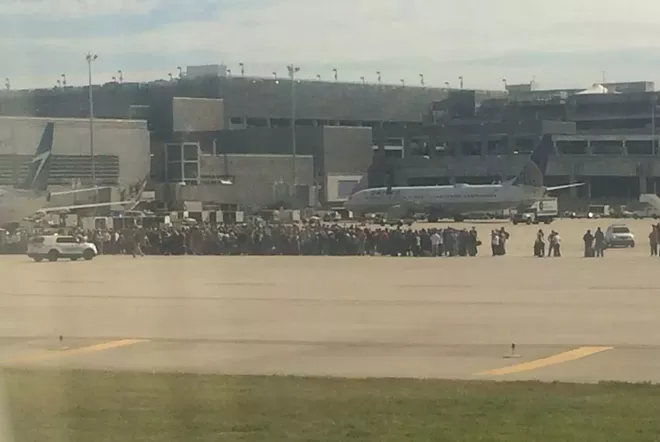 An Alaska man pleaded guilty Wednesday to federal charges in a mass shooting last year at a Broward County airport that left five people dead and others injured, prosecutors said.
Esteban Santiago-Ruiz, 28, pleaded guilty to five counts of committing acts of violence at an international airport causing death and six counts of committing acts of violence at an international airport causing serious bodily injuries, according to a news release from the U.S. Attorney's Office in the Southern District of Florida.
Photo via Broward County Sheriff's Office
"Today the man responsible for the horrific, devastating, and tragic attack on numerous innocent people at the Fort Lauderdale airport was held accountable for his crimes," U.S. Attorney Benjamin Greenberg said. "Although this conviction cannot restore the lives lost or forever changed by his egregious acts of violence, it shows our unwavering and united commitment to seeking justice for the victims."
Santiago-Ruiz pulled out a handgun and started shooting in a baggage claim area inside the Fort Lauderdale-Hollywood International Airport terminal on Jan. 6, 2017, according to court documents.
The Anchorage, Alaska, man aimed "at the victims' heads and bodies until he was out of ammunition" before a Broward sheriff's deputy confronted him, the records show.
Santiago-Ruiz will be sentenced in August by U.S. District Judge Beth Bloom and faces up to life in prison on each of the counts related to the deaths, and up to 20 years in prison on each of the counts involving injuries.
"When the active killer fired indiscriminately in the baggage claim area on that fateful day, lives were lost and other lives were forever changed by his heartless, violent actions," Broward County Sheriff Scott Israel said in the release. "I commend the work of our law enforcement partners and the U.S. Department of Justice that led to today's outcome. I can only hope that the resolution of this case brings some peace to the affected families."
Stay on top of Orlando news and views. Sign up for our weekly Headlines newsletter.