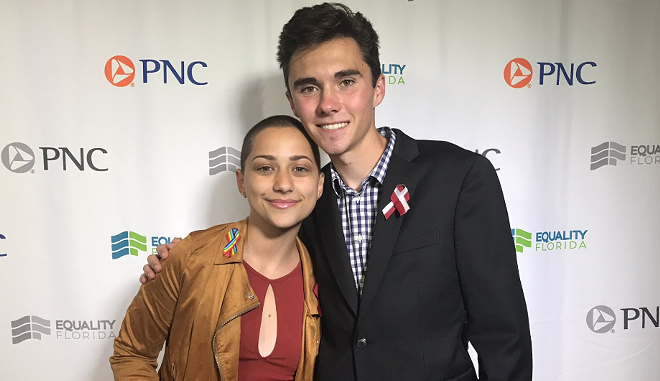 Photo via David Hogg/Twitter
Following a report from the
Tampa Bay Times
report that Publix has supported and continues to support self-described "
proud NRA sellout
" Adam Putnam to the tune of $670,000, school shooting survivor David Hogg is now calling on the grocer to also support the victims of last February's massacre in Parkland, Florida.
"I call on Publix to donate double the money they gave to Putman to the Stoneman Douglas Victims fund, $1,000,000. And never support an A rated NRA politician again," tweeted Hogg Thursday evening.
The
Stoneman Douglas Victims Fund
was set up to support the families, survivors and those impacted by the 17 students and teachers who were murdered with an assault-style rifle at Marjory Stoneman Douglas high school on February 14. So far, the fund has collected more than $8.7 million and will remain open until June 30.
Hogg's request comes before today's
planned "die in" protests at Publix stores across the country
beginning at 4 p.m, urging the Fortune 500 company to discontinue its unprecedented support of Florida GOP gubernatorial candidate Putnam, who has a long history of attempting to loosen Florida' already lax gun laws.
Leading up to today's protest, Hogg drew chalk outlined bodies at a Publix in Coral Springs this morning, which were later removed by custodial workers.
Since the
Times
report, Publix has not said whether or not they will discontinue support of Putnam, who as Florida's Commissioner of Agriculture removed failing Publix health inspections from the public website, and then changed the labeling from a failing grade to "re-inspection required."
The revelation of Putnam's apparent favoritism for the Lakeland-based grocer has drawn wide criticism, especially from Orlando lawmaker Carlos Guillermo Smith, who called his actions "pay to play."
"[Adam Putnam] is in charge of inspecting grocery stores. After 7 Publix stores FAILED health inspections for rat shit, bugs, meat at unsafe temps + more, Putnam pulled reports from his site + eliminated pass/fail system. We call that pay to play," argued Smith in a tweet.
Stay on top of Orlando news and views. Sign up for our weekly Headlines newsletter.