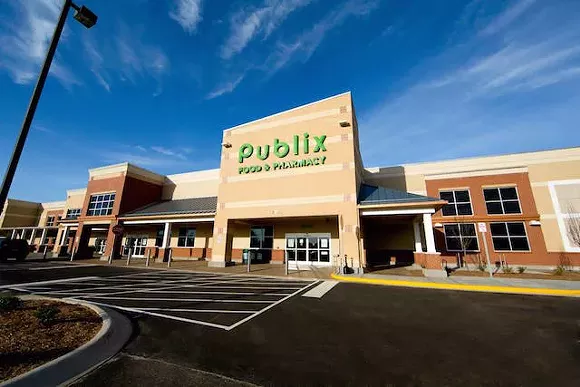 Photo via Publix on Facebook
Following a week of online outrage, Publix announced this afternoon that they will suspend all political donations after a
Tampa Bay Times
report revealed the company gave an unprecedented $670,000 to self-described "proud NRA sellout" Adam Putnam.
"We would never knowingly disappoint our customers or the communities we serve," said company spokesman Dwaine Stevens in a statement received by the
Orlando Sentinel.
"As a result, we decided earlier this week to suspend corporate-funded political contributions as we re-evaluate our giving processes."
The announcement was made just before Parkland school shooting survior and outspoken NRA critic David Hogg's planned "die-ins" at Publix stores across the country.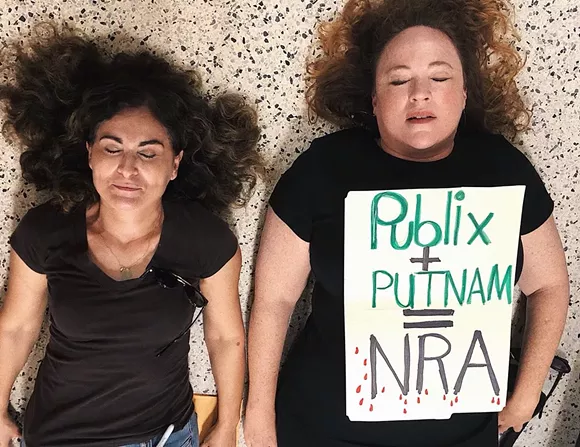 In Orlando, about 15 people laid down in front of the deli aisle at the Publix store on Shine Avenue and Colonial Drive. They stayed silent on the ground for about 10 minutes before they started chanting "Boycott Publix! Boycott Publix! Boycott Publix!" The protesters from several local organizations were on the ground for 12 minutes in honor of the 10 people killed by a shooter at Santa Fe High School in Texas last week.
Tim McCoy, 17, says he's grown up in Florida his whole life, and Publix has always labeled itself as a place everyone can feel welcome and safe. His perspective shifted dramatically after learning about the grocery chain's contributions to Putnam.
"It just feels like Publix loses its value," he said. "It's like learning a loved one turned on you."
McCoy, who just graduated from Boone High School, says he feels strongly about gun reform partially because he lives near the site of the gay nightclub Pulse, where 49 people were killed in a mass shooting in 2016. After the shooting at Marjory Stoneman Douglas High School where a gunman killed 17 students and teachers in February, McCoy helped organize a walkout at his school and the March For Our Lives protest at Lake Eola.
"We're boycotting Publix today so they can own up to it, change their ways and stop supporting this guy," he says. "Adam Putnam is like the conduit for the NRA. The NRA isn't passing these laws, but if Adam Putnam was governor, he would enact them."
After 12 minutes, protesters got up and walked around the Orlando store, continuing to chant, "Hey hey, NRA: How many kids did you kill today?" Anna Eskamani, an activist and Florida House candidate, says Publix staff did not try to stop the die-in, but a customer did run his cart into some protesters. None of the protesters were removed from the store or arrested.
"I want to stress our support of Publix staff," Eskamani says. "This is an employee-owned company and we need to support employees in asking Publix not to contribute to candidates that are hurting Floridians every day. Adam Putnam has branded himself as an NRA sellout proudly. It's dangerous to every Floridian, including Publix employees."
Eskamani applauded Publix for their decision to suspend political contributions but added that the grocery chain needs to rectify the situation by giving to groups who work to prevent gun violence.
"I think that it would demonstrate that they understand they made a mistake in making this large of a gift to Adam Putnam and that they want to be part of the solution to reducing and preventing gun violence in the state, not adding to it," she says.
David Hogg recently requested that the grocer suspend support of Adam Putnam's campaign and donate
$1 million to the Stoneman Douglas Victims Fund.


Stay on top of Orlando news and views. Sign up for our weekly Headlines newsletter.