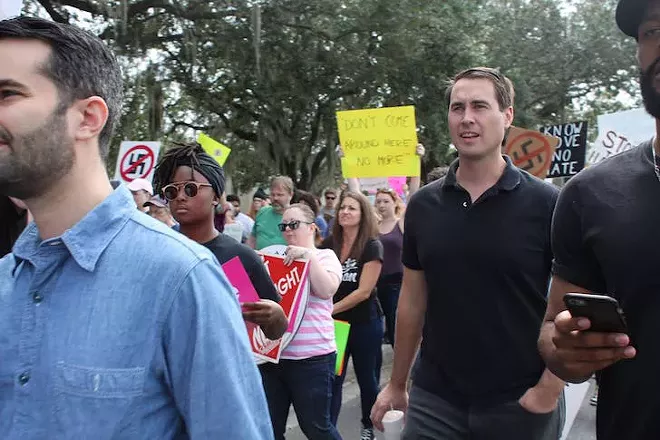 Photo via Chris King/Facebook
King at the Richard Spencer protest in Gainesville
Chris King
, a Winter Park businessman and Democratic gubernatorial candidate for Florida, has an interesting idea.
King wants to implement a tax on weapons and bullets to pay for gun violence intervention and prevention programs, school safety measure and studies of gun violence.
Going further, King also wants to use the tax to pay for medical costs for victims of mass shooting.
"I'm proposing the 'Every Kid Fund' for gun violence prevention because every child deserves to grow up in a state free from the scourge of gun violence, whether it's everyday gun violence of mass shootings," King said in a news release.
According to the release, the Every Kid Fund would come from three funding mechanisms. First, by dedicating sales taxes generated from firearms and bullet sales in Florida. Second, by directing revenue from a new "safety fee" of 6 percent on the sale of bullets – however, public safety officials required to carry firearms such as police, corrections officers and security personnel would be exempt. Third, by using revenues generated by ending mass incarceration and legalizing, regulating and taxing legal marijuana.
"We should be investing in new and innovative ways to keep Floridians safe and that's why I'll bring my bold, progressive policy to Tallahassee and send 'proud NRA sellouts' like Adam Putnam packing," King said.
King's not alone among the rest of the Democratic playing field in his call for a ban on assault weapons. But even so, his plan to tax gun and bullet sales is reason alone to stand out from the pack.
Stay on top of Orlando news and views. Sign up for our weekly Headlines newsletter.