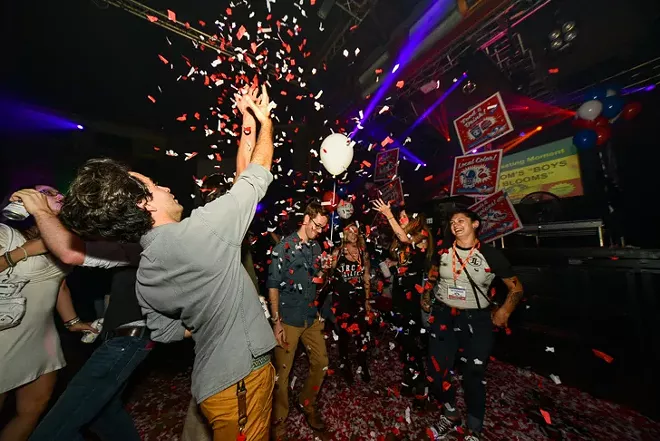 Photo by Holly Whelden Carpenter
The 2016 Best of Orlando party
While our annual Best of Orlando issue aims to celebrate what we and our readers love about this city, every year the Readers Poll portion seems to upset a few people – perhaps they were ineligible to win, or didn't understand the rules of our polling process.
We're flattered that people take this event so seriously, because so do we – which is why we thought it might be a good idea to answer some frequently asked questions and concerns people typically have.
Here we go:
Only advertisers win Best of Orlando awards.
If this were the case, the majority of our six full-time editorial staff members wouldn't still have student loans. The fact is, our sales department is completely separate from editorial, and they have no say in who may or may not win. In fact, our sales staff are just as surprised by the winners as you. Our sales team does contact local businesses to see if they want to buy ads (it's our biggest issue of the year), but there's no guarantee of winning.
"Seems like Orlando Weekly just picks places they like!"
Not on the Readers Poll! The Writers' Picks are where you'll find our choices of the best of the year. In the Readers Poll, all we do is tally your votes. It is
literally
a popularity contest between your peers.
"I can't believe Orlando Weekly chose [insert outrage here*] as the best!"
We can't stress this enough: The Readers Poll is a tally of
your
votes. The editors have their say in the Writers Picks, where we try to highlight even more awesomeness. But the 1st, 2nd, 3rd thing is all you.
* If you are going to complain about who wins, talk to your 67 friends and neighbors who voted for [outrageously dumb choice].

Why are some chains allowed and not other chains? I thought this was a celebration of "local."
Fam, this is SO HARD to define and while we don't do a perfect job, we are trying every year to get it right. Some readers are constantly picking chains, while others don't want chains at all. Like we said: This is a tally of your votes, so if you don't like who's winning, try getting more people who think like you to vote.
Why isn't there a category for literally everything that exists? And why is a category that was on the ballot last year not there now?
We try to gauge reader interest by how many votes categories get, as well as taking into account allllll your feedback. (Oh, the feedback.) When a category stops getting votes, we might drop it out. When we hear from many readers that we're missing something, we try to add it.
Why isn't my favorite thing in the dropdown?
We aren't in the final round yet! You can
still nominate anyone
by writing them in. That dropdown is just a list of other things people have typed in so far. The nomination round ends this Sunday, June 10. The second and final round starts June 27.
Stay on top of Orlando news and views. Sign up for our weekly Headlines newsletter.