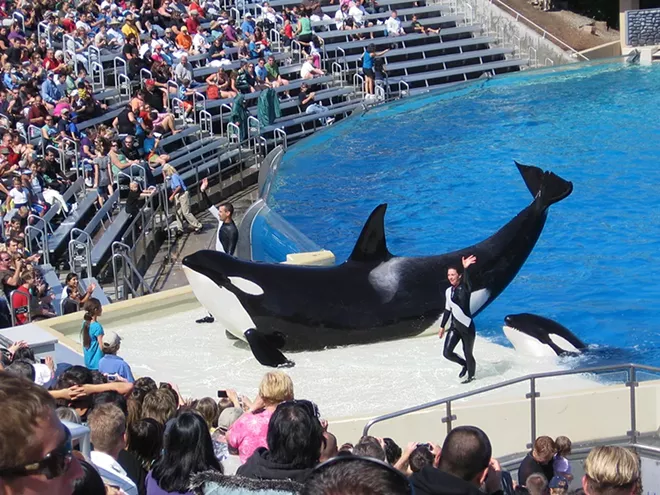 Last Friday, SeaWorld Parks and Entertainment stock hit a 52-week high of $21.18, coming within pennies of the highest it has been in years.
Since August 2014, when the stock plunged
more than 33 percent
in a single day, the company has struggled. Leading up to the fateful day on August 13, 2014 the stock was already being hit hard, losing more than 45 percent of its value over the past year.
But when earnings reports were published that acknowledged the decline in attendance after months of negative press, thanks in large part to the documentary
Blackfish
and Universal's Harry Potter-themed lands, Wall Street went into a sell-off frenzy that caused the stock to drop below its
IPO value of $27
a share. While still not anywhere near that critical threshold, things are starting to look up for the Orlando-based company.
Attendance and revenue
are both up
in recent reports, though the company is still losing money due in part to severance packages it paid out as part of an extensive restructuring of leadership.
The August 2014 drop caused many shareholders to question the direction leadership was taking the company, and then in December
the CEO resigned
. In the months that followed, many top executives at the company were replaced and Joel Manby, formerly of Herschend Family Entertainment, was announced as the new CEO the following March.
Under Manby's leadership, the company began a multi-pronged approach to recovery that included ending its more theatrical shows, partnering with numerous
animal organizations
and, in what was easily his most controversial move, announcing an
end to all orca breeding
by the company.
New non-animal-based attractions were quickly developed for most of the parks and more education-focused shows debuted in all three of the SeaWorld parks.
The changes, while praised in the mainstream media, did little to stop the hemorrhaging of money and guests. Then this past February, as the company reported yet another lackluster quarter, Joel
Manby abruptly resigned
. John C. Reilly, previously the Chief Parks Operations Officer, was named as the Interim Chief Executive Officer.
Within a week
of Manby's departure, both Anthony Esparza, Chief Creative Officer, and Brian Morrow, Vice President of Theme Park Experience Design,
were
also gone.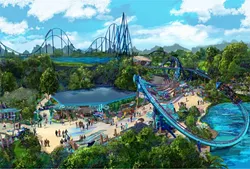 Photo via SeaWorld
Mako at SeaWorld Orlando
While some were surprised at the speed of the creative department departures following Manby, many in the industry saw it coming.
At SeaWorld Orlando, Mako, Orlando's tallest and fastest coaster, opened to much fanfare but within days of the opening, the queue was already regularly reporting wait times of
less than an hour
. The big bump in attendance the new coaster was
expected to provide
never materialized.
Out in California things were even worse when their new family ride, an
elevated "submarine" ride
reminiscent of Disney's PeopleMover, closed within months of opening after numerous complaints from guests who couldn't see the screens along the ride due to glare from the sun.
Many in the industry question
if the attraction, now entirely missing from SeaWorld San Diego's website, will ever reopen.
A new off-the-shelf coaster with little theming opened earlier this year at SeaWorld San Diego and does
look like it's helping
draw some guests back to the struggling park.
But the leadership shakeups aren't just among the creative department. Five of the eight people listed on the company's
Leadership Team
have been in their current positions for less than a year. Only one person, Chief Legal Officer, General Counsel and Corporate Secretary G. Anthony (Tony) Taylor, has been in his current position since before 2016.
Around the same time as Manby's departure, SeaWorld hired a new VP of Digital Marketing and Media,
Chantal Stephens
. She is no stranger to the industry despite working most recently in marketing positions at Florida Hospital and Orlando Health. Previously, she was the Director of Marketing for Ritz-Carlton and has marketing experience at Disney. Her impact at SeaWorld was felt almost immediately.
In the weeks following her arrival, the company made some of its boldest marketing moves since the company began its struggle to survive in the
Blackfish
and Potter reality it found itself in.
Campaign
, a PR news-focused website owned by Haymarket, obtained internal documents from SeaWorld that confirmed they had ended their partnership with Push Digital, the creative firm behind SeaWorld's successful "
From Park to Planet
" campaign, within weeks of Stephens' arrival.
Campaign
reported that the proprietary documents they uncovered show "brand favorability for SeaWorld increased 7 percent in the first quarter of 2018 – its first improvement in sentiment since July 2016." The article goes on to quote the document as stating that the brand favorability was increasing: "Those with a better opinion of SeaWorld increased slightly while those with a worse opinion decreased slightly."
Campaign
also pointed to recent quarterly earnings reports from SeaWorld where the company promised the "most comprehensive marketing and communications strategy bolstered by the largest investment in such efforts in the company's history." SeaWorld retained the rights to the "
From Park to Planet
" campaign and have continued to use the campaign.
At the end of April, SeaWorld and Busch Gardens made one of the biggest announcements the parks have made in years: free beer. The summer campaign announced for Busch Gardens Tampa and SeaWorld Orlando where guests 21 years old and over can receive two 7-ounce beers per day, gained some of the most
positive news
articles the company has seen in years and plenty of fans excited to see what was one of the most iconic features of the parks return, if just for the summer.
Photo via SeaWorld
Sesame Street at SeaWorld Orlando
The company made international news once again when it announced it would be opening at life-size
Sesame Street land
at SeaWorld Orlando.
The new land will include life-size replicas of many of the icons from the kids' television series and feature multiple family-friendly rides. The company's successful Sesame Place theme park in Pennsylvania has been one of the few bright spots for SeaWorld in recent years. SeaWorld also has plans for a second Sesame Place park, though specifics on its location or offerings have yet to be announced.
Rumors point to
it possibly going next to Busch Gardens Williamsburg.
Beyond the free beer and the new SeaWorld Orlando land, things have been quiet at SeaWorld after all the shakeups earlier this year; that is, until this month. On June 6, SeaWorld announced a brand-new position at the company. The Chief Strategy Officer position will be filled by
Walter Bogumil.

"We are pleased that Walter is joining us as our Chief Strategy Officer," said John T. Reilly, Interim Chief Executive Officer of SeaWorld Entertainment, in a prepared statement. "He has extensive experience setting effective strategic plans and a strong track record of driving substantial operating improvements. We look forward to the contributions he will make as we continue to focus on key growth opportunities."
Bogumil has previous experience as a financial analyst at Walt Disney World and served in financial leadership positions at both Sun International Resorts and Penn National Gaming. He most recently served as the Chief Financial Officer and Interim CEO at
Affinity Gaming
. Affinity is known for their smaller Nevada resorts including Buffalo Bill's, where a number of rides also operate.
Following the announcement of Bogumil joining the Leadership Team at SeaWorld, the stock closed above $20 per share.
Since Manby's departure, SeaWorld has been silent on its future plans, but Bogumil may point to the company still planning to
add resort hotels
at its parks. Those plans were some of the first announced by Manby, but since being confirmed in 2015, the company hasn't given many details on the hotel projects, though in May of 2017
Manby did announce
they were still in the works.
One good place to look for signs of what's to come is with Interim Executive Chairman of the SeaWorld Board of Directors. Yoshikazu Maruyama has served on the Board since Zhonghong Group, where Maruyama serves as the President of Zhonghong Group's American division, purchased 21 percent of SeaWorld in May 2017.
Since then, there has been plenty of speculation on what Zhonghong plans are. We've seen announcements of new Zhonghong managed
SeaWorld parks going to China
, but the American division of the company has mostly taken a backseat with SeaWorld here. The recent leadership shake-ups might point to them flexing more power within the company
than
many have given them credit for, though both companies have been silent regarding any such interactions.
SeaWorld Parks and Entertainment still has a long way to go in its recovery, but with new leadership and bold new plans like free beer and a life-size Sesame Street at SeaWorld Orlando – plus possibly new hotels and maybe even a whole new theme park in the works – things are starting to look much more favorable for the company.
Stay on top of Orlando news and views. Sign up for our weekly Headlines newsletter.