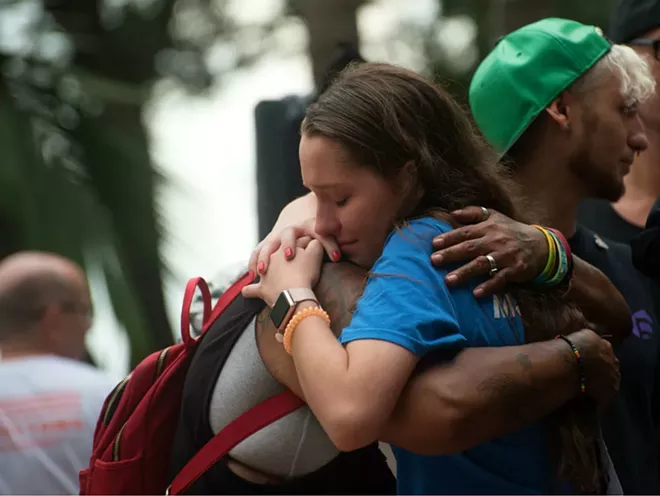 Photo by Monivette Cordeiro
Brandon Wolf can still remember the smell of blood and smoke burning the inside of his nose as he escaped from Pulse two years ago.
He was washing his hands in a bathroom at the gay nightclub when he heard gunshots ring out, one after the other, around 2:02 a.m. on June 12. Just minutes earlier, he had been partying with his two best friends, Christopher "Drew" Leinonen and Leinonen's boyfriend, Juan Guerrero, during "Latin Night" at the club. Leinonen told Wolf he loved him and asked his friend to always remind others how much he cared about them.
As the bullets continued to fly, Wolf bolted for the door and pushed into the panicked crowd. Leinonen and Guerrero did not have the same luck. They and 47 other people were killed by a gunman in those early morning hours. Since the massacre, Wolf says, he has committed himself to fight against gun violence.
"Time and time and time again, we had thoughts and prayers with a heaping side of inaction," Wolf told the crowd outside Orlando City Hall. "I don't know about you, but I am sick and tired and ready for some goddamned action."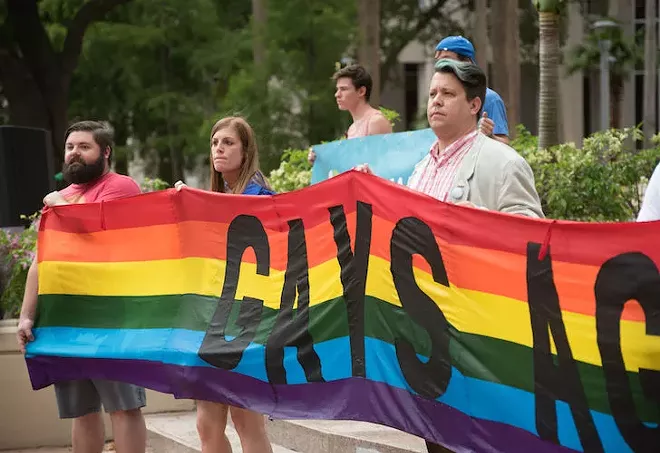 Photo by Monivette Cordeiro
Despite the rain, about 200 people joined Pulse survivors, LGBTQ activists and gun violence prevention groups at the #HonorThemWithAction rally in Orlando Monday, on the eve of the two-year mark of Pulse. The group was also joined by student survivors of the mass shooting at Marjory Stoneman Douglas High School, where a gunman killed 17 people last February.
"Six hundred and twelve days," Wolf said. "That's how long it took for Pulse headlines to become Parkland headlines. Six hundred and twelve days. That's how long it took for 49 lives lost to become 17 more. And in those 612 days, nothing changed."
"We are tired of the recycled tweets when tragedies happen," said Ricardo Negron-Almodovar, another Pulse survivor. "We don't need social media thoughts. We're here to honor them with action. … We will remember those who sought to erase us, and we will vote them out!"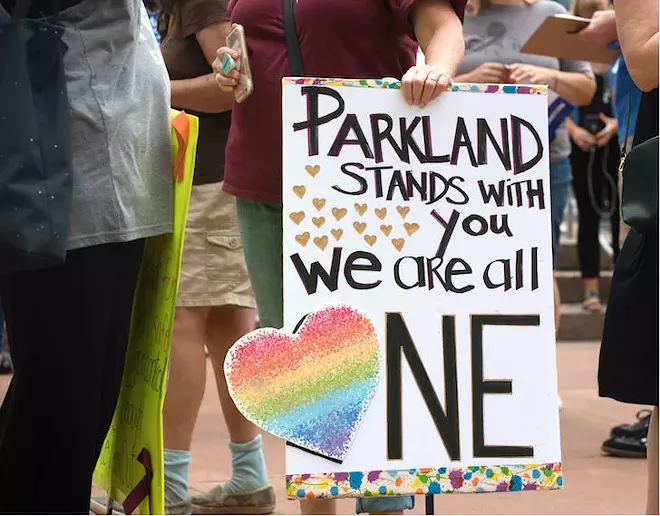 Photo by Monivette Cordeiro
Advocates say Florida lawmakers did nothing to address the epidemic of gun violence after Pulse. After Parkland, the Florida Legislature finally passed a measure that bans bump stocks, establishes a three-day waiting period for gun purchases, raises the minimum age to purchase a rifle from 18 to 21, and creates a program for arming certain school employees. LGBTQ advocates also say Gov. Rick Scott "broke his promise" to sign an executive order protecting LGBTQ state workers from discrimination, while his office has maintained that federal anti-discrimination guidelines already exist to protect LGBTQ people.
"The governor proudly wears a red Marjory Stoneman Douglas ribbon on his jacket but he refuses to wear the rainbow Pulse ribbon," state Rep. Carlos Guillermo Smith said to the crowd. "Why?​ After Parkland, Rick Scott sent $1 million in taxpayer funding to build a memorial but sent nothing to our Pulse memorial. Why?"
Smith, D-Orlando, says after Pulse, state leaders pushed the community back in the closet.
"Two years after, we honor them with action by lifting the voices of Pulse, of Parkland, of everyday gun violence [victims] to say our lives are equally important and deserve equal action," Smith said.
Photo by Monivette Cordeiro
About four months ago, Aly Sheehy said, she found herself huddled on the floor with her classmates at Stoneman Douglas High School thinking they were going to die on Feb. 14.
"We sat in silence, texting our parents, 'I love you' because we feared we would not get to say that to their faces," she said. "That day feels like it was a year ago, but at the same time it feels like it was yesterday. … For too long, we have had to beg for our lives."
Sheehy, who is now 18, says she plans to take her fight to the ballot box in November.
"I'm going to fight for the future that our friends don't have anymore," she told the crowd. "To the politicians: I hope you hear our screams now – because they're only growing louder."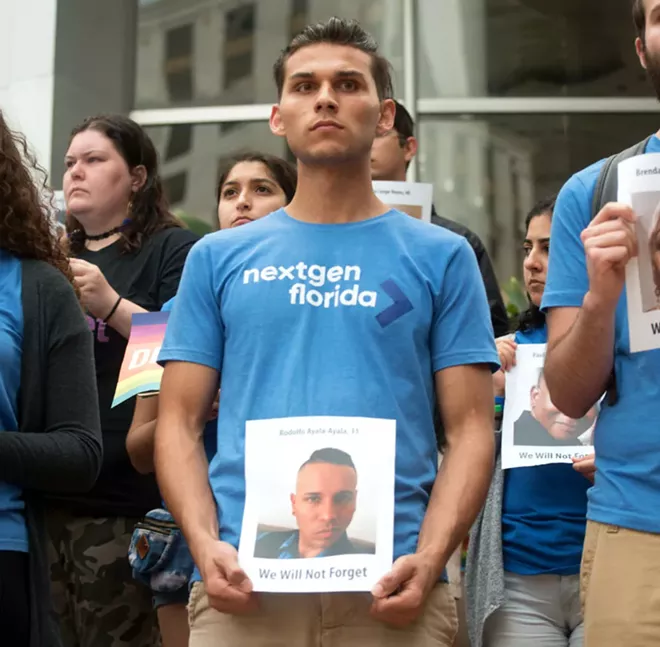 Photo by Monivette Cordeiro
María Jose Wright remembers the pride she felt in beloved son, Jerry Wright, and how it was "smashed and destroyed by hate and bullets" when he was gunned down at Pulse.
"My beloved son and 48 other sons and daughters, mothers and fathers, sisters and brothers, lovers and friends, were ripped from our lives," she said. "It is not normal for our children to die while they sit at school, eat at a restaurant, pray in church, listen to music at a concert or dance at a club."
Wright added that it's not acceptable that 96 Americans die by a gun every day.
"Our children deserve better," Wright told the crowd through tears. "My Jerry wasn't just a name on a list of victims. He wasn't just a face on a wall of photos of those slaughtered. He was my son whom I loved with all my heart. He was a person and his absence has left an irreplaceable hole in our hearts and in our lives. Every day, I have to wake up to realize he's gone. I will never again touch his face, hold his hand, feel his hug, hear his voice."
Photo by Monivette Cordeiro
Orlando organizers read the names of the 49 Pulse victims, and afterward, Parkland students read the 17 names of their dead classmates and teachers. The rain, which soaked people at the rally, finally stopped, allowing a rainbow to appear across the sky.
"My friends – our 49 angels – they deserved a future," Wolf said. "They deserved a voice. Gun violence, corruption and greed stole that from them. This year, I'm challenging every single one of you to register, to vote and to honor them with action."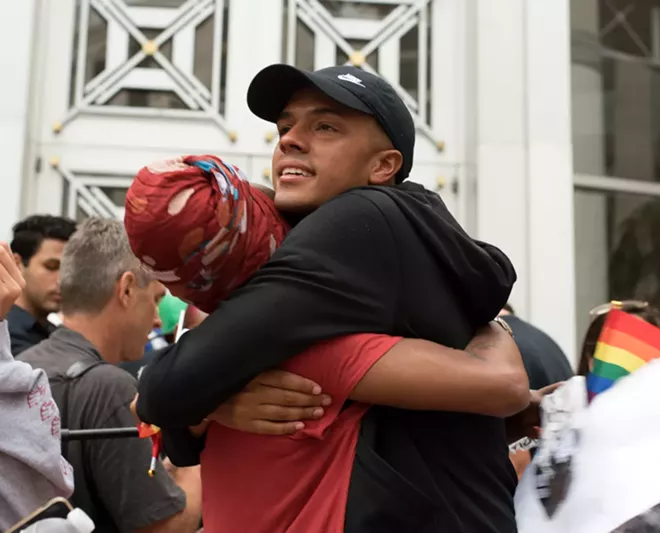 Photo by Monivette Cordeiro