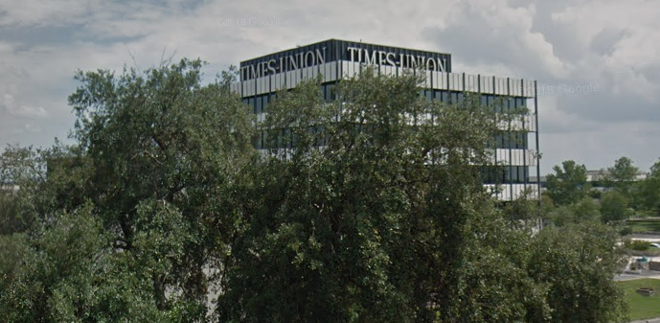 Screen grab via Google.com/streetview
On Tuesday, the newsroom at the
Florida Times-Union
announced it had started the process that will lead to a vote on whether to unionize.
The newsroom, a group of 35 to 40 individuals that includes reporters, photographers, copy editors and desk editors, hopes the move will help them "gain a seat at the table," "ensure fair wages, appropriate severance and stable benefits" and "preserve worker rights," according to the group's mission statement.
If the push to form a union is successful, the
Times-Union
will become the third Florida-based GateHouse Media newspaper to do so. The
Lakeland Ledger
and the
Sarasota Herald-Tribune
both moved to unionize in 2016.
The
Times-Union
intends to join The NewsGuild-CWA, a union that represents 25,000 journalists and other media workers in the U.S., Canada and Puerto Rico. It represents employee at the
New York Times
, the
Guardian
and the
Washington Post
, among others, and already includes 15 GateHouse bargaining units, which represents 580 workers at 17 newspapers, according to
its website
.
From the newsroom's mission statement, signed by six reporters:
Our union is under no illusion that revenues associated with the news business will magically improve, and that is precisely why we have decided to unite our voices. We fear that GateHouse's short-term strategies will lead to more and more cuts in the future. As of today, there are fewer than 40 full-time employees working across the Times-Union newsroom in metro, opinion, life, sports, photo and the copy desk – a third of the staff we had just five years ago. Once-filled desks now sit empty.

There will be tough times ahead. A union won't necessarily stop that. But a strong contract will help to protect the work of the men and women who report, edit, photograph and put together the stories of the newspaper. In this way, a strong contract will help to preserve good jobs and impactful journalism in Jacksonville.
"Our newsroom has lost co-workers in recent years," says Steve Patterson, a veteran reporter with the paper, in a statement. "Our staff wants some stability. A union can't solve all our problems, but it can be an advocate for us when we really need it."
Another employee, Beth Reese Cravey, who's reported for the paper since 1987, says she has yet to hit $40,000 a year in salary.
"Other reporters have come and gone at starting salaries higher than mine," she says in a statement. "I cover nonprofits, among other things, and I often qualify for the income-based programs I write about."
Earlier this month, the
Times-Union
was named newspaper of the year and editor Mary Kelli Palka was named Editor of the Year by its parent company. According to GateHouse, the award "recognizes newspapers that have a significant impact on the communities they cover, expertly engage with audiences and take coordinated steps to reach new readers."
GateHouse bought the paper in August 2017, but in December, it announced it would sell the paper's building and lay off about 60 employees – 10 of whom were newsroom employees.
Stay on top of Orlando news and views. Sign up for our weekly Headlines newsletter.