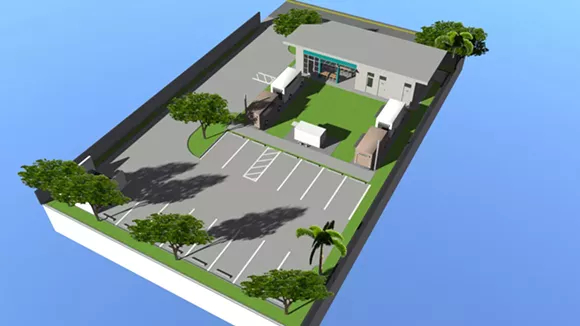 Photo via À La Cart Street Food and Craft Beer
À La Cart Street Food and Craft Beer announced the lineup of its five on-site food trucks to help serve guests at the new food truck park.
Vendors PokeKai, Vinny & Kory and Steak It Easy will become the resident food trucks at the new family-friendly eating experience
set to open in July
.
SwedeDish and Adao Pastel Gourmet will share a fourth spot at the location, trading off appearances. In addition, a rotating food truck will also occupy a fifth space at the park.
The new 10,400-square-foot property was designed to create a social eating area where foodies can come out and enjoy not only some of Orlando's best food truck meals, but conversation with other locals.
"From fresh fish and pho to Brazilian barbecue, homemade empanadas and Orlando's only authentic Swedish food truck, the diverse culinary offerings will have something for everyone," says April Williams, owner of
À La Cart Street Food and Craft Beer
.
PokeKai is a Hawaiian food truck vendor from Miami that serves poke bowls, poke burgers, "Avokai" (their specialty poke served in a half-avocado) and bao. On Tuesdays, they will also serve poke tacos.
For Korean and Vietnamese cuisine, guests can head to the Vinny & Kory food truck, which specializes in pho and bibimbap.
Steak It Easy serves Brazilian meals, specifically picahna, Brazilian sausage and chicken with chimichurri, as well as their "Espetinho," charcoal-grilled meat on skewers. Also with Brazilian food, Adao Pastel Gourmet serves a variety of empanadas that rotates through 45 different recipes.
Every Wednesday to Friday, SwedeDish will park at the eatery and serve authentic Swedish food, including their most popular dish, Leif: fresh ground beef meatballs with homemade mashed potatoes, cream sauce, cucumber salad and lingonberry jam.
The outdoor eatery is located at 615 Irvington Ave. in the Milk District and will be open 11:30 a.m. to 10 p.m. Sunday though Thursday, and from 11:30 a.m. to 11 p.m. Friday and Saturday.
So many restaurants, so little time. Find out the latest dining news every Friday morning with our weekly Food + Drink newsletter.