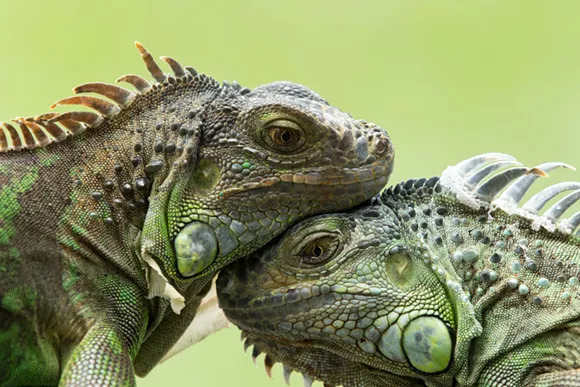 Two iguanas in Boca Raton put on a show in a Starbucks parking lot on Saturday, halting traffic. However, viewers are still unsure if the lizards were fighting or "sexing."
A Boca local, Shannon Moskoff, caught the action on video during her morning coffee run, the
Palm Beach Post
reports.
Iguanas are the largest lizards in America, so it's no surprise that this caused a commotion. And for only eating plants, these are some pretty burly lizards.
Whether this was an aggressive face-off or sexual encounter may never be known. But what is certain is that South Florida is an absolute jungle, and these non-native green iguanas have been invading the southern end of the state.
In order to control the invasive iguana population, the Florida Fish and Wildlife Conservation Commission reports that
bashing iguanas' heads into really hard objects
is the best and most humane way to kill them quickly.
Stay on top of Orlando news and views. Sign up for our weekly Headlines newsletter.