Photo by Monivette Cordeiro
Displaced Puerto Rican families who could be evicted from Central Florida hotels this week set up a "tent city" protest outside the Gaylord Palms resort to demand Gov. Rick Scott's help with housing.
After Hurricane María caused catastrophic damage to Puerto Rico in September, thousands of people evacuated to the mainland for shelter under FEMA's hotel voucher program called Transitional Shelter Assistance (TSA). Nine months later, more than 600 families remain on hotel vouchers across Florida, with the majority staying in Orange and Osceola Counties.
On June 30, FEMA is cutting off aid to the hotel voucher program for Puerto Rican evacuees – the agency has even offered to pay for their plane ticket back to the island. Advocates say ending the TSA program could leave many families homeless.
"These tents are symbolic of what could became a reality in the next three days," says José Castro, spokesperson for Vamos4PR Action, a coalition of local organizations. "FEMA vouchers expire this Saturday. Gov. Rick Scott has said he's a person who wants to help Puerto Ricans. This is the perfect moment to put actions behind those words."
Photo by Monivette Cordeiro
Photo by Monivette Cordeiro
Castro says Puerto Rican evacuees were outside the Gaylord Palms Resort and Convention Center on Wednesday to ask for emergency help and demand stable, affordable housing from the Republican governor. Ignoring heavy rain and lightning, they set up their tents and chanted in Spanish, "Rick Scott, where is he? Rick Scott, where is he?" The Florida GOP is holding its Sunshine Summit there this week, and advocates say they plan to return with their tents on Thursday and Friday.
"The situation is very frustrating for these families," Castro says in Spanish. "Less than half of them have found a place to stay. Some of them have returned to Puerto Rico because of the fear and uncertainty of what's going to happen."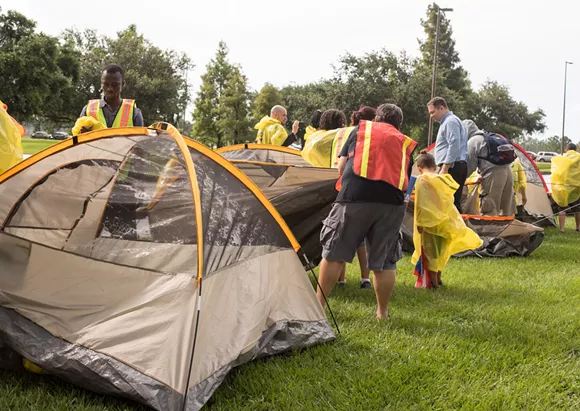 Photo by Monivette Cordeiro
Photo by Monivette Cordeiro
Although most have been able to find jobs in Central Florida's low-wage tourism industry, many displaced Puerto Rican families are finding it almost impossible to find affordable housing in the Kissimmee and Orlando area. The waitlist for public housing can be years long. Rentals sometimes ask applicants for two to three times the amount of rent as a security deposit, which is hard to afford on Florida's minimum wage of $8.25.
The
National Low Income Housing Coalition
recently listed the Orlando-Kissimmee-Sanford area as currently tied for second worst metro in the country for available affordable housing.
Scott and the Republican-controlled Florida Legislature have been
heavily criticized
for raiding an affordable housing trust fund to plug budgetary holes or fuel pet projects. The Sadowski Affordable Housing Trust Funds is money collected from documentary stamp taxes on all real estate transactions in Florida. Since 2001, almost $2 billion has been diverted from the fund. Ignoring the concerns of housing advocates, Florida lawmakers did it again this year –
$185 million
was swept from the fund in 2018.
When Puerto Rican evacuees asked Scott for help with housing earlier this week, a spokesperson for Scott's office said the governor continues to work with FEMA to help displaced families.
"While TSA decisions are made by the Puerto Rican government and implemented by FEMA, Gov. Scott has continued to do all he can to ensure state resources are available to help families in need," communications director John Tupps said in a statement. "He will continue to bring up this issue to federal officials and fight for every family in Florida."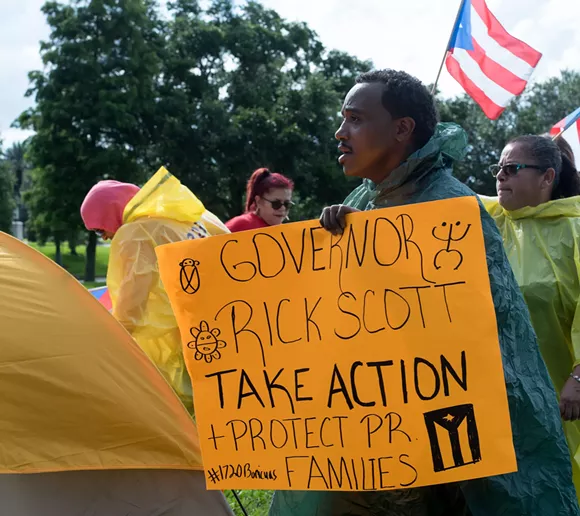 Photo by Monivette Cordeiro
Photo by Monivette Cordeiro
Bethzaida Crespo, 36, is currently staying at a Holiday Inn on Highway 192 with her husband and two children. They fled Puerto Rico after both Hurricanes Irma and María left their home without power and came to Kissimmee in November. The room they're staying in doesn't have a kitchenette – for months, Crespo has been cooking meals for her family with a microwave, a hot plate and other small electrical appliances.
Crespo says she thought she would have an easier time adjusting to Florida because she grew up in Poinciana and speaks English, but that hasn't been the case.
"I thought it was going to be better," she says. "I thought I was going to find a job faster, which I haven't been able to. I thought we were going to be able to move up faster. I honestly did, because if not, I would have gone to another state."
Like many other evacuees, Crespo says her experience using FEMA's hotel voucher program has been extremely stressful.
"They don't let you know when you're gonna get extended until like two days before it happens," she says. "So you're living with that constant fear of ending up in the streets with your two children."
FEMA has contacted her twice this week, though it hasn't been to inquire about her living status. The federal agency wants her to know she has until July 1 to decide if she wants a free plane ticket back to Puerto Rico.
"They want to pressure us to go back to Puerto Rico," she says. "There is no way I'm going back. I've honestly decided to ignore it because that's not an option for me. … I've seen families get here, get a car, find jobs and not be able to find somewhere to live. They have to pack up everything again, sell the car and go back to Puerto Rico."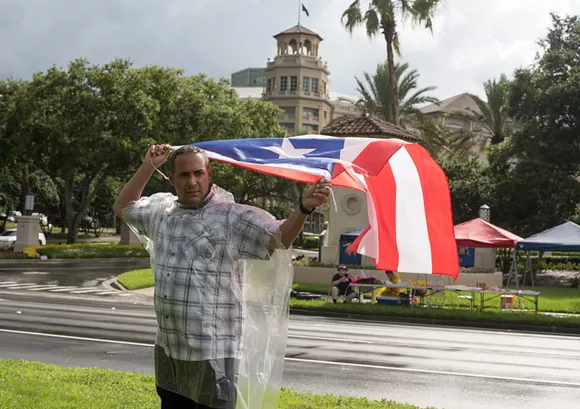 Photo by Monivette Cordeiro
Crespo does not want to return to the island because thousands of people still don't have access to medical care, reliable electricity or potable drinking water. Schools are shutting down and the environment has become unsafe, she says.
But she hasn't had luck finding an affordable apartment. Crespo was looking to move her family to an extended stay motel after the June 30 deadline, but the monthly charge was $1,450.
"I'm just hoping that this protest ends up in something," she says. "Because right now, we have nowhere to go."
Crespo says her family needs more from state officials than just a list of apartments she can possibly apply to – she needs an actual solution.
"[Rick Scott] needs to see that we're willing to do whatever," she says. "What we're trying to get out of this is to pressure them to see if they actually do something to help us – really do something."
Stay on top of Orlando news and views. Sign up for our weekly Headlines newsletter.