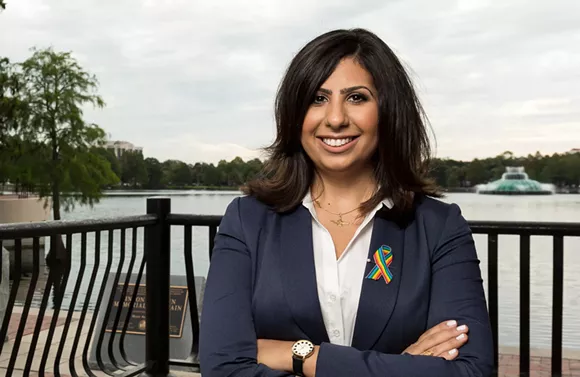 Photo via Anna V. Eskamani campaign
Florida House candidate Anna Eskamani has filed a lawsuit against her Democratic primary challenger, Lou Forges, after her campaign accused him of failing to properly qualify as a candidate.
Eskamani, a former Planned Parenthood official and grassroots activist from Orlando, had been running for months without Democratic opponents for House District 47, which runs through Winter Park, Orlando and Belle Isle. Forges, an Ocoee real estate agent, filed his paperwork to run in the race about a day before the qualifying deadline, which came as a surprise to Orange County Democrats.
The lawsuit, filed in Leon County, accuses Forges of having his candidate paperwork notarized by his wife, Patricia Forges.
Florida law
states that a notary public "may not notarize a signature on a document if the person whose signature is to be notarized is the spouse, son, daughter, mother, or father of the notary public." Eskamani points out that the
penalties
for a notary public who "falsely or fraudulently makes a certificate as a notary public" include a felony charge.
Democrats say Forges has received help from known Republican consultants in town. In his qualifying paperwork and voter registration, Forges lists home addresses in Apopka and Ocoee, both of which are well outside the district.
"All signs indicate that Lou Forges was recruited by the Republican Party to run against me, creating a fake primary," Eskamani says. "Republicans know they can't win this seat legitimately, so they've resorted to what they know best: dirty tricks and corrupt tactics."
Orlando Weekly
reached out to Forges for comment but did not receive an immediate response.
Eskamani says she feels confident a judge will grant their request for declaratory and injunctive relief.
"I have committed my life's work to fighting for what is right, and voters can count on me to always fight for them, whether it be in the streets, in the legislature, or in a courthouse," she says. "Rules and laws matter, that's why we have them. Though the GOP is great at playing games, they should think twice before trying to play games with our democracy, and with the people of House District 47."
House District 47 is currently represented by Republican state Rep. Mike Miller, who is leaving to run for Congress. Mikaela Nix, a lawyer, and businessman Stockton Reeves both qualified for the Republican primary for the seat.
Stay on top of Orlando news and views. Sign up for our weekly Headlines newsletter.