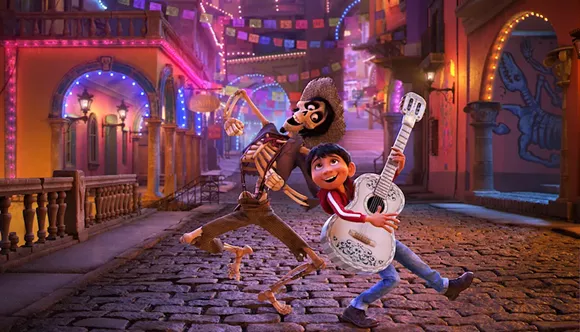 Epcot's major reimagining is beginning to take shape, with new ride buildings rising above the park's skyline. But as the park looks ahead to the confirmed additions of
Ratatouille
and
Guardians of the Galaxy,
other rumors still persist – none stronger than
Coco
heading to the Mexico pavilion.
While the
rumors of Coco replacing
the Donald Duck-led Three Caballeros-themed boat ride still look very promising, another
Coco
attraction has popped up inside the Mexico pavilion, the interactive Mirror de
los
Muertos video screens in the entrance foray.

Back in November
, Disney announced the new exhibit known as "Remember Me! La Celebración Del Dia de Muertos." Most of the displays were installed by the first of the year, but the framed mirror-like video
screens sat unused
. Then, completely unannounced, the video screens
came alive
last week just in time for the 4th of July.
Similar to how Test Track allows guests to design their own cars, here guests can design their own Dia de Muertos skeletons by selecting things like hairstyle, eyeglasses, eye color and skull designs. Then via a screen capture technology guests "become" the skeletons and can move the skeleton around on the screen via their own movements.
The creations are saved via the Disney PhotoPass that is linked to a guest's MagicBand. A MagicBand reader on the bottom of the kiosk links the designs to each guest's account even before they begin their designs.
Image via Bioreconstruct | Twitter
If a
Coc
o overlay to the boat ride in the pavilion does happen, these skeleton designs could be seen on the rides, similar to how guest-designed cars are seen on Test Track or how the proposed but never implemented custom-designed It's a Small World dolls were rumored to be showcased on that ride.
Disney hasn't commented on the speculation about
Coco
coming to the Mexico pavilion, but the popularity of the new interactive exhibits and the
numerous retail offerings
throughout the pavilion show that this is a franchise with plenty of staying power.
Get our top picks for the best events in Orlando every Thursday morning. Sign up for our weekly Events newsletter.