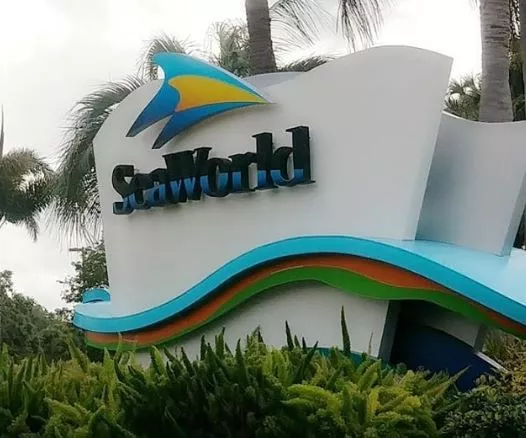 Despite strong revenue, last quarter Orlando-based
SeaWorld Parks saw net losses
of $62.8 million.
As the company continues to focus on cost-cutting initiatives, we are starting to see some of the boldest moves yet regarding new ways to drive revenue. Since 2016, Disney has used
dynamic pricing
, similar to that used for plane tickets or on the upcoming I-4 Ultimate toll lanes, for tickets at its U.S.-based parks.
The ticket prices can fluctuate by more than $20 per ticket based on the expected demand for that specific date.
As early as 2013, SeaWorld was publicly commenting on their interest in dynamic demand-based pricing at their parks, with one executive at the company
calling it
"a big opportunity" for the industry as a whole.
During a quarterly earnings report
conference call
last November, Joel Manby, the CEO of SeaWorld who would leave the company just three months later, explained that SeaWorld Parks and Entertainment was looking at different pricing options. "We are committed to returning our business to growth through compelling products, enhanced pricing strategies, and new marketing and advertising," Manby said in his opening statement on the call.
Later in the same call, Manby gave more details on some of those enhanced pricing strategies. "Following our work with a leading pricing consultant, we have begun implementing a good-better-best ticket and annual pass model across all of our parks to help simplify guest choice and encourage upgrades to the higher revenue products. Trends from these changes are very positive. Even with a higher season pass mix, admission-per-caps have increased in three of the last four months."
SeaWorld has been offering different priced tickets based on when and where a guest purchases them, with online tickets being lower than those bought at the front gate for the past few years now, but new, even more dynamic pricing structures now seem to be rolling out.
In late June, parking prices at SeaWorld Orlando shot
up
$8 overnight – guests arrived at the park to find $30 general parking. Many turned to Twitter for information.
SeaWorld replied to the confusion
on Twitter stating that they hadn't raised their parking prices; the only problem is they technically had.
Despite
the tweet
claiming they hadn't raised prices according to Orlando Park News, who SeaWorld had tweeted regarding the confusion, SeaWorld reached out to at least one account on Twitter via a private direct message confirming they had, in fact, changed the parking rates.
In a direct message
shared by Orlando Theme Park News
SeaWorld is quoted as saying "Parking cost is dynamic and reaches its peak price during busing days."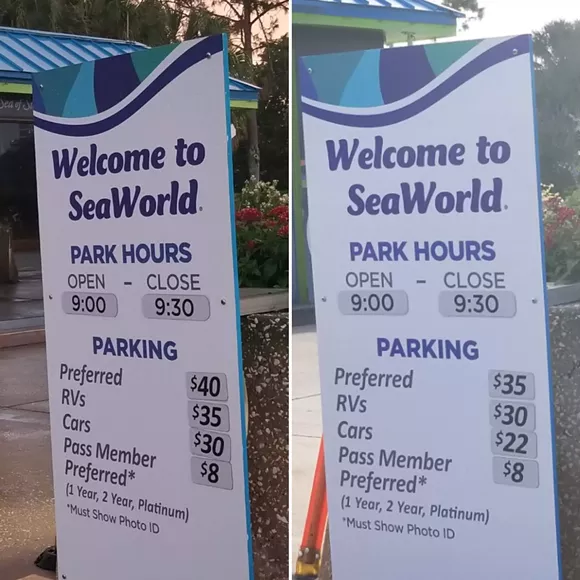 Image via Ken Storey
On the left is July 7th prices for parking. On the right is July 8th. Also, note the wording on the bottom of the sign that now indicates Platinum can upgrade to Preferred Parking despite their passes, at least according to the desktop site, including that level parking already.
Unlike the dynamic pricing at Disney, where prices are shared nearly a year in advance, SeaWorld prices are still a bit of a mystery.
On social media, SeaWorld pointed confused guests to
their website
for more information, but no information on the dynamic pricing is posted anywhere on their website. Instead, there's an option for guests to purchase their parking via the site where it's listed for $20.65 (or $22 after taxes), while Preferred Parking is listed online for $30 after taxes. The dynamic pricing used recently has seen rates as high as $40 at the front parking booth.
The online parking passes are good for 366 days after purchase and can be used on mobile devices, so for the time being the best option for those paying for parking might be looking to see if the price at the gate has increased, then quickly purchasing the lower rate via SeaWorld website.
As of July 9, the SeaWorld Orlando desktop website still listed Preferred Parking as a benefit of Platinum Passes despite the parking listed as an upgrade option for the same pass level on the park's parking booths
Along with the questionable mystery parking prices, SeaWorld also seems to have also cut out a significant benefit to most annual passes, again with nearly no acknowledgment of their actions.
Starting around July 1, Platinum Passes, the most expensive annual pass SeaWorld offers, now seems to only include general parking, previously the pass included Preferred Parking. The general parking is provided as a benefit for nearly all other annual passes with the option for those passholders to upgrade to preferred.
The
website
still lists the preferred parking as a perk for the Platinum level passes on some sections of it, but
at least one section
lists only general parking for platinum passes.
The park's website also mentions the free general parking is a $20 per visit value again with no mention of the new dynamic pricing structure. Signage at the parking booth indicates that all passholders, including Platinum, can upgrade to preferred parking for $8.

This section of the SeaWorld Orlando only mentions free general parking for Florida Platinum Annual Passes while other sections of the site list the upgraded Preferred Parking is included.
Over the past week, reports seem to indicate that Platinum Passholders are only being directed to the Preferred Parking some of the time with other times them being led into the general parking despite the website still listing the Preferred Parking as a benefit of the pass.
At Busch Gardens Tampa they seem to be also testing similar dynamic pricing with non-Preferred Parking for Platinum Passholders on select days. Starting in the
middle of last month
, the park moved to a dynamic pricing structure for Preferred Parking only with rates ranging from $26 to $34 with passholders able to upgrade from general parking for half of the posted price. The
Busch Gardens website
does allow for online purchases for parking but does show the differing amounts for Preferred Parking with the note that "Pricing is based on seasonality and subject to change."
The confusing mixed messages regarding parking prices at the parks come the same week as the company settles a class-action lawsuit from another passholder issue. The
$11.5 million settlement
means that SeaWorld doesn't admit fault, but an earlier court ruling found SeaWorld had violated a consumer protection law by charging monthly 'EZpay' passholders an extra month's worth of charges. Only those who purchased SeaWorld annual passes between Dec. 3, 2008, and Dec. 3, 2014, would be eligible for any type of settlement in the case though those details have yet to be shared. The settlement could mean nearly 132,000 individuals could see a check in the mail from SeaWorld in the coming months.
SeaWorld has tested dynamic pricing on other things, including on SeaWorld Orlando's SkyTower, though there most passholders are able to ride for free with other guests paying $2 or $3. Again, SeaWorld does not post a calendar showing what the ride will cost on specific days. SeaWorld also recently began charging for SeaWorld San Diego's gondola-style sky ride.
There's no telling what you'll pay in the parking lot or where you'll actually park, or even how many months the company seems to think are in a year, but at least once you get inside you can pick up a couple of free beers and that seems to be helping enough with both attendance and revenue up.
Stay on top of Orlando news and views. Sign up for our weekly Headlines newsletter.