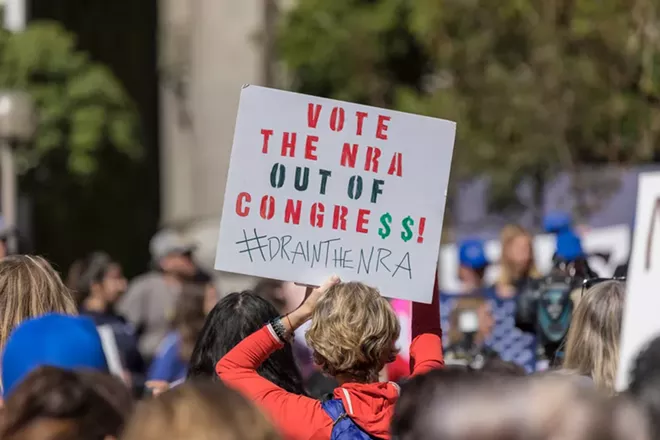 Marion Hammer, one of the nation's most renowned gun lobbyists and former president of the National Rifle Association, has a name that's almost synonymous with the debate around gun reform.
For decades, Hammer has helped lead the charge for various efforts to remove existing gun laws, using Florida as a sort of
legislative incubator
. And now, with the 79-year-old grandmother's legacy as a trigger-happy provocateur in the books, it seems as though the chickens are coming home to roost for Hammer, who's filed a libel and slander lawsuit in federal court in Leon County against California mediator Lol Sorenson and three others. She's seeking $1 million in damages.
"The Defendants have transcended mere criticism and employed threats, harassment and personal abuse to try to humiliate and intimate Hammer in a manner that is utterly intolerable in a civilized community," and that she's the "victim of cyber-stalking, harrassment, intentional infliction of emotional distress, and intrusion upon seclusion under Florida statutory and common law," the complaint says.
The lawsuit goes on to list some of the vulgarities allegedly lobbed in her direction, such as how she was called "a worthless cunt," a "disgusting bitch" and a "whore." It also mentions that she was told she should "get to experience a [sic] ammo dildo" and be the victim of "100 bullets between [her] eyes."
According to the complaint, Hammer says her troubles began after "the tragic shooting that occurred at Marjory Stoneman Douglas High School and continuing after the national debate over gun control took center stage." The lawsuit is referring to the Feb. 14 shooting in Parkland, which left 17 dead and 17 more injured.
Following a public outcry, the tragedy lead to the passage of the
Marjory Stoneman Douglas High School Public Safety Act
, which passed through the state Legislature and was signed into law by Gov. Rick Scott.
From there, according to the lawsuit, Hammer then became "the target of a coordinated attack intended to humiliate, harass and cause substantial emotional distress."
"For example, Hammer received the same postcards from various individuals throughout the United States, often mailed from the same location," the lawsuit says. "In several instances, the content of the communications (including email and social media) Hammer received used the same specific terms and phrases, thus demonstrating direction and cooperation."
The complaint also claims that the defendants "sought out Hammer's e-mail address" and one sent her "graphic photos of gunshot victims, including an unidentified person in a hospital bed with gaping leg wounds, and a photo of President John F. Kennedy's head after he was assassinated."
You can read the
full lawsuit here
, where it was first reported by the
Tallahassee Democrat
.
Stay on top of Orlando news and views. Sign up for our weekly Headlines newsletter.