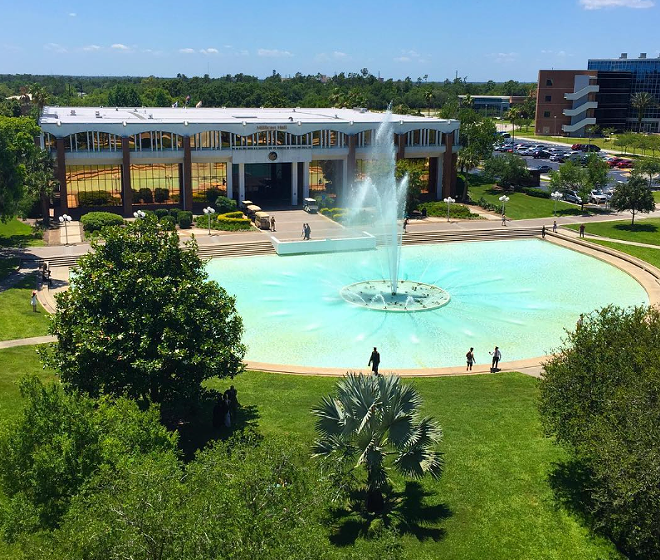 In less than one week, there have been three separate incidents involving assault and indecent exposure at UCF's main campus, two involving women being followed or flashed. As of today, the UCF Police Department said they don't have reason to believe the incidents involve the same suspect(s).
On
Twitter
, UCFPD shared details about a Thursday night incident involving multiple reports of a man exposing himself near the Recreation and Wellness Center before feeling campus through Research Park.
Last Sunday,
July 8
, a woman reported being groped from behind while walking near the Mathematical and Sciences building in the early hours of the morning. UCFPD said the woman is not a student and resides out of state. On Friday, they
announced
the investigation would soon end because the victim is "not cooperating with police" and there is "a lack of independent evidence."
Two days later, on July 10, two women reported being followed by an unknown man from the McDonald's on Alafaya Trail near the school to a garage on campus. They said he committed a "sex act" in front of them.
Surveillance footage
from both campus and off-campus housing cameras captured a car similar to the alleged culprit's vehicle. UCFPD said the women reported the incident immediately, but officers could not locate the suspect or the vehicle matching the description given.
Early in the spring 2018 semester, there was a string of sexual assault incidents reported across campus, leading to more people coming forward about incidents having taken place as late as Nov. 2017. In February, UCFPD
arrested
a 30-year-old student positively identified by victims as the perpetrator.
Anyone with information regarding these recent incidents is highly encouraged to contact UCFPD at 407-823-5555 or report anonymously to CRIMELINE at 1-800-423-TIPS.
Stay on top of Orlando news and views. Sign up for our weekly Headlines newsletter.