Photo via Facebook
Sasha Garden
A transgender woman was found dead Thursday morning at an Orlando apartment complex.
The Orange County Sheriff's Office says her body, which had signs of trauma, was found at around 5 a.m. in the back of the Reserve at Lake Buchanan Apartments on Holden Avenue, near Orange Blossom Trail.
The woman was identified as Sasha Garden, 27, by her family and friends.
Garden was originally from Milwaukee, Wisconsin, but had been living in Orlando on and off for the past two years, according to Mulan Montrese Williams, an advocate for transgender women and outreach coordinator for the HIV/AIDS organization Miracle of Love.
"She was traveling a lot, trying to find a new home and find herself," she says.
Montrese Williams says her house is known as an empowering safe haven for transgender women who are doing sex work – she passes out condoms, gives out water bottles and does HIV testing.
Garden was a sex worker who was good at doing hair and dreamed about becoming a stylist, though her current goal was saving up money for transition-related health care, Montrese Williams says. She believes it's likely that Garden was working when she was found dead.
Montrese Williams says she used to be a sex worker. This isn't the first time she's had to identify a trans woman killed while doing sex work. LGBTQ advocates say trans women of color, especially black women, face increased levels of violence.
"I know how it is," she says. "You know when something happens, we don't call police. We don't want to be judged by the police. We don't want to be misgendered by officers – they still tell us, 'We have to call you by your government name, what's on your ID.'"
Montrese Williams says many in the community are worried after Garden's death and the murders of three transgender woman in Jacksonville this year.
"The girls are scared," she says. "I'm trying to get them some mace, something for them to protect themselves as they're going to work out here. For some of them, this is their livelihood."
Montrese Williams says Sasha Garden was very outgoing but misunderstood.
"She was a firecracker – very outspoken," she says. "She didn't hold her tongue for anyone or anybody. Her womanhood was one of those things she stood up for. She didn't tolerate any disrespect at all."
Montrese Williams says Orange County deputies came to her house around 7:30 a.m. for her help identifying Garden.
"They were very uneducated," Montrese Williams said, regarding the deputies. "As soon as I opened the door, I get, 'I hear a bunch of transvestites stay here.' I had to let them know, I'm a transgender woman and I'm the only one that stays here."
Montrese Williams says she corrected the deputies' terminology and after identifying Garden's from a photo of her body, made sure to tell deputies her name was "Sasha" and that she was a trans woman.
"[The deputy] acted like he couldn't even pronounce transgender," she says.
Despite Montrese Williams telling deputies that Sasha Garden was a trans woman, in the official report they described her as a 27-year-old man from Jacksonville, who "was wearing a wig and was dressed as a female."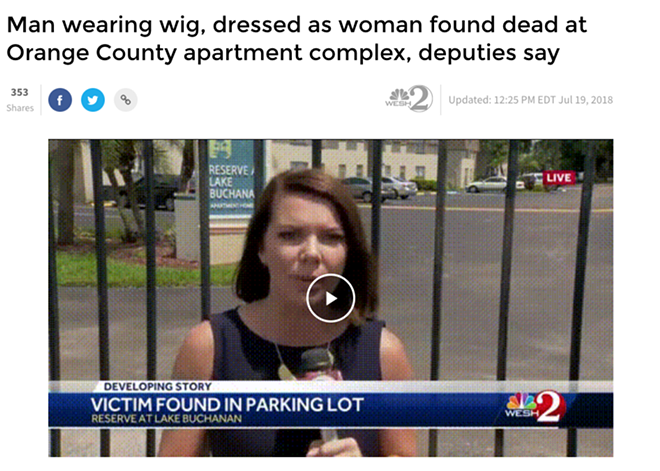 Naturally, after the Orange County Sheriff's Office released their report to the media, Orlando television stations followed suit with headlines that described her with phrases like a "
man in a wig
" (WESH) or a "
man dressed as a woman
" (WFTV).
Garden's friends called the stations, desperately asking them to respectfully issue a correction, to which they initially declined.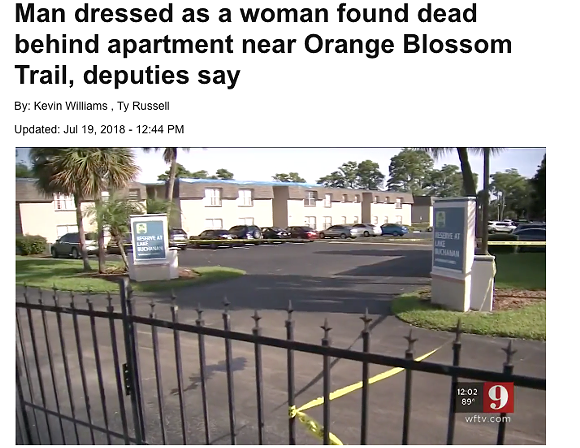 When reached for comment, the news director for WFTV said they only report what the police give them. WESH had a similar response, saying that people had contacted them saying the victim was transgender and went by the name "Sasha," and requested a correction to the story. But when WESH went back to OCSO with this information, they said they couldn't change the story because while authorities did confirm that Garden was a trans woman, the gender marker on her driver's license said "male."
Local LGBTQ support group
QLatinx
released a statement regarding today's stories from WESH and WFTV, describing the articles as "flagrant disrespect" and a "desecration of her memory."
"The news of the passing of our beloved sister from the community, Sasha, is one of absolute heartbreak and tragedy," the statement said. "We hold her spirit and those of her loved ones in our hearts. We are equally heart broken by the flagrant disrespect and desecration of her memory by the media that has chosen to dishonor and misgender her in their reporting. We are calling for our media partners to be more reflective of their practices, issue an apology for their coverage, and commit to improving their efforts for authentically reporting the stories of our beloved transgender and gender non-conforming communities."
OCSO did finally send an updated report, six hours later, referring to Garden as "transgender." At that point WESH and WFTV updated their headlines. WESH referred to her as a "transgender woman," and WFTV called Garden a "woman." But six hours in the news cycle is an eternity, and the damage was already done. Pageviews were already logged, and the people who read these articles on Facebook or Twitter had already snickered at the headlines.
Not everyone got it wrong.
Ryan Gillespie's story for the
Orlando Sentinel
simply used "body" in the headline, which follows the
Associated Press
Stylebook
guidelines for reporting on transgender and gender-nonconforming people. In fact, there are plenty of ways to correctly reference this topic.
GLAAD
has a stylebook.
BuzzFeed
has one too, and it's among the more thorough and progressive style guides.
The Orange County Sheriff's Office told
Orlando Weekly
that they currently do not have any written policy for discussing the trans community in crime reports. However, Public Information Officer Jane Watrel added they do have a trans deputy, Rebecca Storozuk, and the office does have a policy for "providing equitable opportunities in hiring and promoting transgender and gender non-conforming employees."
By contrast, the Orlando Police Department has had a written policy on the matter since 2015.
But policy or not, degrading Garden's existence by referring to her as a "man who dressed up as a woman" was not only a lapse in judgement from both our television stations and our law enforcement, it also completely erased her identity.
The Orange County Sheriff's Office should have known that the report was humiliating to Garden, and Orlando's media should have known that provocative headlines don't trump showing respect to the deceased.
We at
Orlando Weekly
are constantly trying to write punchy headlines. It's part of the business, and admittedly sometimes we get it right, sometimes we go too far. However, there's a difference between punching up and punching down, and sadly the trans community has historically been marginalized again and again. Today was no different.
Stay on top of Orlando news and views. Sign up for our weekly Headlines newsletter.