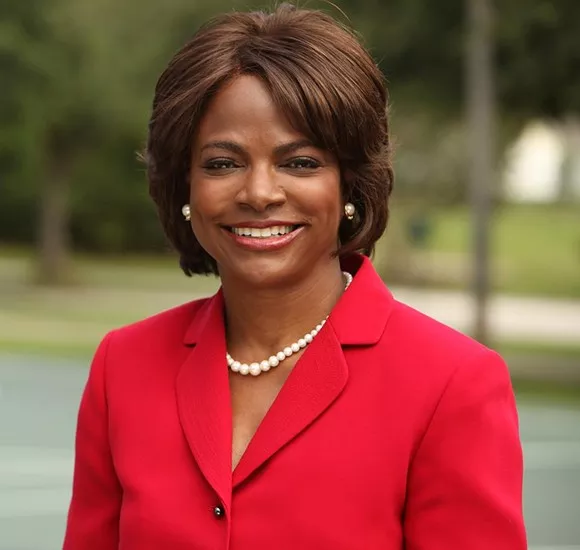 Photo via Val Demings' campaign
Rep. Val Demings (D-Florida) announced today that she's joining a group of bipartisan congressional lawmakers in introducing the
Secure America from Russian Interference Act
.
According to a news release from Demings, who represents Florida's 10th congressional district, the new legislation incorporates previous bipartisan bills, such as the
Defend Against Russian Disinformation and Aggression Act
. The release says two provisions from that bill were incorporated into the
National Defense Authorization Act
in May.
"The president has been habitually reckless, weak and divisive, and his cowardly performance in Helsinki removes all doubt," Demings says. "He is protecting Putin's agenda, and Putin's agenda is to destroy the [U.S.]"
She adds: "In this vacuum of leadership, it's up to Congress to step up and protect the American people. Russia and others will attack us again through the gaping hole in our security left by President Trump. It's time for my Republican colleagues to find their political courage and take action."
The release describes the latest Russian meddling legislation as a "strong and wide-reaching response to Russian aggression against the [U.S.] and our interests." The bill seeks to expand the scope and resources of national intelligence agencies to further investigate Russia's subversive campaigns and financial assets, counter Russian influence, strengthen sanctions, require the president to designate election systems as critical infrastructure, safeguard the nation's political institutions and those of our allies.
It also seeks to expand our coordination with NATO, as well as honor our international agreements, expose Kremlin corruption and support Russian civil society while producing direct dialogue with the Russian people.
The news comes just days after President Trump
failed to denounce Russian meddling in the 2016 presidential election
during a press conference in Helsinki held alongside Russian President Vladimir Putin, following their private two-hour meeting as part of a summit. Meanwhile,
U.S intelligence agencies have concluded with "high confidence"
that Russia was behind the interference efforts.
Earlier today, following a back-and-forth game of comments about whether Russia did play a part in election interference,
Politico
reports that Trump claimed that the media "wants so badly" for the U.S. to be in a "major confrontation with Russia." The president, in what seems like his latest mental leap, says the evidence is there in what he lamented as negative coverage of his summit with Putin.
Stay on top of Orlando news and views. Sign up for our weekly Headlines newsletter.