Screen grab via Bridgewater Middle School/Facebook
The Orange County school district is set to spend an additional $11.6 million to boost security measures on campus in the coming year. However, citing state law in a post on
the schools' Facebook page
, the district says it will remain mum on the details for now.
According to the update, the district has spent $20.3 million on security measures since 2014 and is currently in the process of spending an additional $11.6 million, such as how they're working to hire more school police officers and "[focusing] on hardening school facilities, emergency preparations, preventative measures and mental health services."
In 2012, as a result of an increase in school shootings nationwide, the Orange school district hired the consulting firm Safe Havens International to review security across campuses and make recommendation on how to approve. Following the Feb. 14 mass shooting at
Marjory Stoneman Douglas High School in Parkland
, the same consultants were asked to return for a second review, according to the district's statement.
"In our opinion, OCPS has aggressively, proactively and professionally confronted the topic of school safety in a manner that stands out to our analysts as among the most impressive efforts of this type we have seen during our assessment projects for more than 6,750 K-12 schools," the consulting firm writes.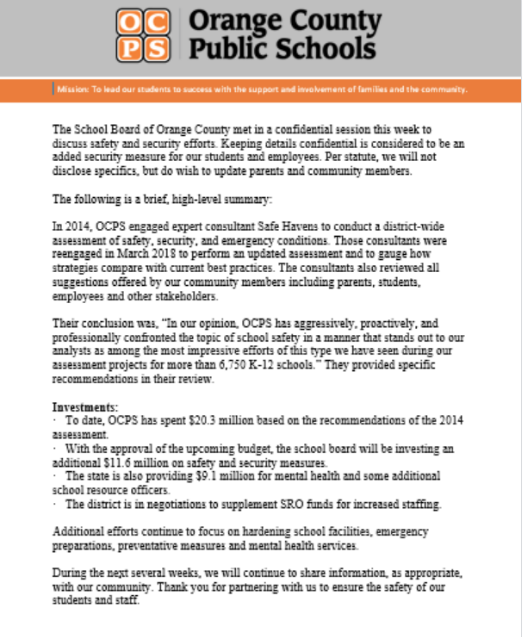 Screen grab via Facebook.com/OrangeCountyPublicSchools
Earlier this year, in light of the Parkland shooting, the state approved the
Marjory Stoneman Douglas High School Public Safety Act
, which will provide Orange schools with an additional $9.1 million to hire mental health professionals and new school resource officers.
On Tuesday, the Orange County School Board met to review the planned security measures.
Stay on top of Orlando news and views. Sign up for our weekly Headlines newsletter.