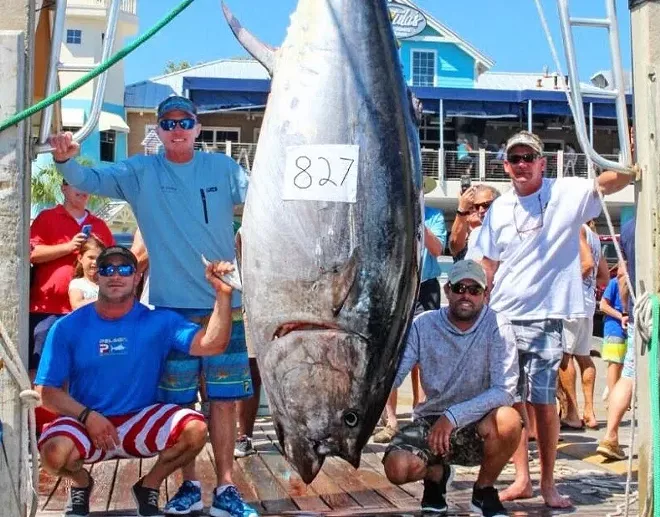 Photo courtesy of Rick Whitley
A meaty 826-pound, 8-ounce tuna, which comes out to roughly 3,307 cans of Sunkist, was the biggest catch on record for the state of Florida, announced the Florida Fish and Wildlife Conservation Commission.
This 114-inch-long bluefin tuna was caught on the boat "You Never Know" off the coast of Destin in May 2017 by fisherman Rick Whitley, Capt. Joey Birbeck and fellow fishers, Dennis Bennett and Josh Goodson.
The FWC confirmed that it was the largest this week.
According to the FWC, this catch filled the final vacancy in the conventional tackle category.
The FWC also confirmed four other record catches of 2017, including a 4-pound, 8-ounce hardhead catfish caught by Ethan Pillitteri; a 35-pound, 9-ounce almaco jack caught by Lewis Sapp; a 2-pound kingfish (whiting) caught by Raymond A. Hathorn, Jr.; and a 26-pound horse-eye jack caught by Sharon Kartrude Pryel.
The FWC monitors the state's all-tackle records for the heaviest marine fishes caught in Florida or federal waters for 77 species in conventional tackle and fly-fishing categories.

Stay on top of Orlando news and views. Sign up for our weekly Headlines newsletter.