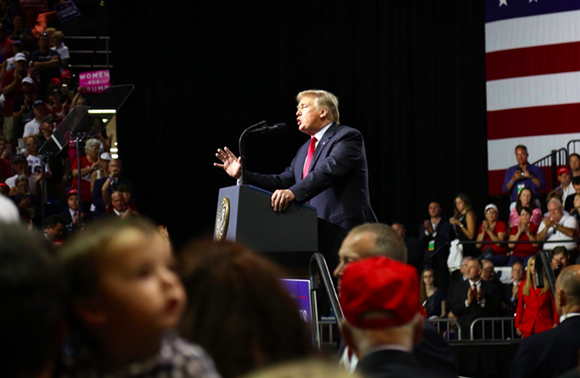 They — the president's faithful posse of fans — showed up by the thousands.
Wearing red, white, and blue, and anything you could stamp the name "Trump" across, the Trump army were there to treat the president as if he were the only car running the Daytona 500.
Quite frankly, on this occasion he was.
But that was only in part why Trump was in Tampa on a muggy Tuesday evening. He came to not only flaunt his administration's economic agenda and its draconian immigration policies, but to also endorse U.S. Rep Ron DeSantis in his bid to win the GOP gubernatorial primary against Agriculture Commissioner Adam Putnam.
The "formal" endorsement, as Trump called it, followed two previous endorsements via Twitter — the first of which came in December, followed by another social media endorsement in June.
For Putnam, who's recently fallen behind in some polls, it must've felt like one more nail in his political coffin.
But for Trump, this was just another opportunity to insert his trademark braggadocio. In fact, that was why many of his followers showed up.
Todd Garrity, who works locally in the air conditioning and refrigeration industry, told
Orlando Weekly
that it was Trump's economic message that initially wooed him as a constituent. He says he was never really into politics until he saw what was happening to his paycheck.
"I know Trump isn't the most eloquent speaker," Garrity says. "He does do stuff that embarrasses me. But still, I'm a former Marine and I support my president."
However, that sentiment wasn't shared by everyone. A group of counter-protesters, situated next to Palm Beach real estate investor and Democratic gubernatorial candidate Jeff Greene's campaign bus, chanted and waved signs as they dealt with Trumpian hecklers.
Bob Wells, a Monmouth city councilman who owns a nearby farm, was one of the counter-protesters. He said he was there to call out Putin's aggressive push toward a white ethnostate and how that translates to the U.S. through Trump's presidency.
"What used to be 'the South will rise again' is now 'make America great again,'" Wells says, holding a sign featuring Putin and Trump (caption: "Putin won it.") "They don't care about anything other than whites in America."
Wells adds, referring to what many analysts have called a potential Democratic Party wave in the 2018 midterms: "All the blue people, get the voter registration rolls, the voter registration forms, and walk down your neighborhoods and bang on doors of those who aren't registered to vote. That's how it's done."
Besides formally endorsing DeSantis, Trump called for stricter voting laws, specifically voter ID cards. "Only American citizens should vote in American elections," said Trump.
"Which is why the time has come for voter ID, like everything else. You know, if you go out and you want to buy groceries, you need a picture on a card," claimed Trump claimed.
"You go out and you want to buy anything, you need ID and you need your picture. In this country, the only time you don't need it, in many cases, is when you want to vote for a president, when you want to vote for a senator, when you want to vote for a governor or a congressman. It's crazy."
Since you don't need an ID to buy groceries, we suspect Trump has never been to a grocery store.
Former U.S Rep. David Jolly, a moderate Republican who represented Florida's 13th congressional district, and who's a frequent critic of the president, was also in attendance. He said he bought a ticket for the sake of "respecting those who came out in support of the president."
"Obviously I often provide commentary of my opinion," Jolly says (he's a political commentator on MSNBC). "But at the same time it's important to see where the party is – and see it in person."