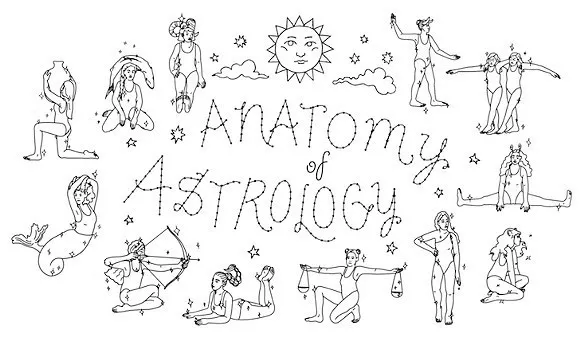 Illustration by Anna Cruz
Most people I meet are not interested in sitting for a full 90-minute natal chart reading. Typically, that is, until I explain I offer compatibility readings. When it comes to love and matters of the heart, even the average skeptic will sit with me to determine if they've found their soulmate.
When analyzing two natal charts I can see how a couple will relate, disagree and, most importantly, interact in the bedroom. I can also tell how many times lovers have known each other in past lives. In Vedic astrology, there is a mathematical system that calculates your compatibility based on a series of factors. If you score too low, it's usually a sign that you should have swiped left on Tinder.
I don't use this number system. I simply study which signs merge and which repel. If you've ever met someone you instantly fell in love with, than I can confidently say that the attraction is also clear in your charts. Same will apply for someone you can't be around for more than a few minutes.
To be clear, not all relationships are meant to last "forever" in order for someone to be a soulmate. The 7th house in a natal chart represents relationships and will determine qualities in the people you are attracted to.
Soulmates are those you will have the most planetary connections with and, undoubtedly, the most heartfelt experiences. This doesn't necessarily mean marriage, kids and the white picket fence – but I can at least analyze what you'll learn from one another based on your star signs.
Astrology provides insight to deep emotional needs of the heart. I enjoy compatibility astrology because I believe it is in these connections that we fulfill our karma or destiny. I enjoy helping people break patterns. Everyone can live happily ever after realizing their expectations and fears about love are often illusions carried from past experiences.
So I say, enjoy every relationship, take risks, wear your heart on your sleeve and open yourself to the possibility that many soulmates are out there. They are going to meet us when we least expect it and change us for the better.
August Horoscope for Sun Signs:
Aries (March 21-April 19)
The August heat is scorching and Mars (your ruling fiery planet) is retrograde this month and exalted in Capricorn. The Martian warmth burning above is helping you feel more independent. Mars is how we exert our willpower and when it transits the sign of Capricorn, he feels cool, calm and collected. This polar energy may even have you feeling conservative in your spending. (Maybe you really don't need that new iPhone case?) Using Capricorn's logic and stamina can help balance your checkbook and physical health as well. Capricorn energy harnesses your endless fuel and helps you set clear goals in both work and health, as well as to actually achieve them. This month as the sun enters Virgo, you may also feel a bit more critical and tense towards others around you. The balance to this is when Venus enters Libra on August 6th. Libra energy is the perfect feminine balance to continue cooling your flames. With the sun in Virgo representing organization and meticulous planning – and Venus in Libra offering a feminine touch – you may feel like going on some fun, casual dates with romantic partners or friends! If you are already in an established relationship, you will feel ready to make a stronger commitment and deepen future plans.
Taurus (April 20-May 20)
This month Mars, the planet of desire, drive and warriors, is exalted in Capricorn and will switch from retrograde to direct by the end of the month. Mars guides our direction: what we want and how we're going to go out and get it. In astrology, Taurus and Capricorn are best friends and business partners. They play off and feed each other's strengths. This pairing is especially good for work and can help you harness the wild, fiery energy of Mars into something potent and effective. You will soar this month in mastering elements of the material world. You will truly feel like a winner. With the sun this month in Virgo (your other best earth sign friend) you will have the drive to sit and plan your next steps for your future career. When Venus enters Libra, you will also feel ready to meet a new love interest or commit to an already existing relationship. This is truly your month to take control!
Gemini (May 21-June 20)
With the new moon in Leo at the end of this month and sun entering Virgo, you will be focusing a lot on your creative pursuits. This month will build up to a grand finale of some kind. The organization of Virgo with the combined fire and dramatic passion of Leo, will push you past your creative limits and help you begin building on something tangible. This is a great month to start working on your photography again or taking a gig at the club you've always wanted to play. Whatever it is that inspires you, this is the month to feel supported in your goals. With the full moon in Pisces at the end of the month, you will be asked to analyze your recent emotional state and if you have been feeling shut out or shutting others out. Moon in Pisces will test your usually nonchalant nature and make you pause to consider your true feelings in matters of the heart.
Cancer (June 21-July 22)
This is the last month Mars is going to remain retrograde in Capricorn, your polar sign. Cancer and Capricorns are a wonderful pairing, as their opposing energies offer balance to each other. Cancer is warm and emotional. Capricorns are cold and logical. Mars loves being in Capricorn because it can harness all that potential red energy into success of any kind. In Capricorn it is typically material success. For a Cancer, this can mean both material and romantic success, as Mars rules our desires in love as well. Cancers can use all this energy to remain balanced in their emotional sensitivity and use their natural intuition to make the right choices in love, work and art to gain exactly what they crave. The new moon will enter Leo on August 11th and this fire sign will give you the confidence to find balance between all of the water (emotions) and fire (passions) circulating this month.
Leo (July 23-Aug. 22)
As the new moon transits your sun sign, you are going to receive a dual energy towards gaining leadership skills and better confidence. You take pride in always being honest and care about integrity at all costs. This month is about learning to believe in yourself again and being honest with yourself. You're a fire sign, with a lot of warmth and heart. This month you will be asked to look at yourself to cultivate some of that inner self-love. Leos can lose their temper at times but it's often masking a sensitive, sweet heart. This boom of celestial energy will ask you to believe in yourself in a way that you haven't in a long time. This is your time to harness your natal energy and get out to a local yoga class or take a long walk around Lake Eola by yourself. Remember how powerful you are.
Virgo (Aug. 23-Sept. 22)
The sun will enter Virgo on August 23rd and you will begin to feel a surge of energy towards planning and cultivating a secure future. Virgos are known for being meticulous and unparalleled in their focus. This month may give way to feeling like you need to get a lot in order. The intense planetary transits right now (Mars retrograde in Capricorn) will have you feeling like you need to move in a million directions at once and plan your life accordingly. As we transit through August closer towards your sun sign, you will feel a breath of fresh air when you remember to let go of the big picture and start focusing on the little details that make each day move smoothly and easily. With the full moon in Pisces, your polar sign, you will remember to truly go with the flow and release. Hold onto the faith that things will work out. This month could be the time to let go of planning every detail and, instead, focus on who you want to be in the present moment.
Libra (Sept. 23-Oct. 22)
Hello there beautiful, Venus (the planet of love) will be transiting your sun sign this month making you feel extra artistic, agreeable and romantic. With Venus at your back and the new moon in Leo, you will feel in tune with others around you. You may feel like the peacemaker this month. Perhaps those around you will turn to you for advice, perhaps you'll break up some fights or simply be a shoulder to cry on. You are a great sounding board this month to offer a balanced perspective to those who need you most. You'll be filled with loving energy that will inspire others. Leo and Libra are merging to create harmony and beauty. With the sun's energy in Virgo, asking us to meticulously plan out the details of our lives, you will feel pressure to make a lot of decisions – which is not exactly your specialty. Spend some time seeking out beautiful spots in Orlando (Bok Tower Gardens anyone?) and you may find your soul feel fulfilled with inspiration and peace.
Scorpio (Oct. 23-Nov. 21)
Get ready to dive deep, the full moon will take place in Pisces at the end of the month. As a fellow friend and water sign, you are both extremely passionate in your emotional nature. Leading up to the Pisces full moon with a Virgo sun, you may feel inclined to help others this month. Pisces is the sign of unconditional love, Virgo is all about planning and Scorpio represents deep emotional understanding. This celestial combination may have you feeling eager to help a local charity or friend in need. You may feel inclined to give back this month, as that type of energy exchange releases you from the guilt you carry in either not being "enough" or rather, being too much. You will find that it is in helping others you realize your greatest potential and incredible emotional power. Food Not Bombs is a non-profit organization that shares vegan food to those in need in front of Orlando City Hall every Monday at 10 a.m. and Wednesday evening at 5 p.m. Anyone can show up to volunteer and help serve food.
Sagittarius (Nov. 22-Dec. 21)
With Mars retrograde in exalted Capricorn this month you may find yourself confronting issues of shyness. This is not your typical nature, Sagittarius, as you are one of the friendliest, most outgoing signs. However, you probably experienced shyness as a child and used your natural wit, intuitive charm and intelligence to overcome that obstacle later in life. However, this transit will ask you to reflect and go deeper in areas where we need more inner work. One of the celestial lessons this month is asking you to explore areas where you may experience social anxiety. Do you feel like you have to act a certain way in front of certain groups of people to gain their acceptance? Do you also project a happy demeanor to protect yourself from showing people how you're really feeling? This month, with Leo about to enter into the new moon, you will be asked to be find that confidence to be exactly who you want to be and conquer any doubt.
Capricorn (Dec. 22-Jan. 19)
This month is going to be an emotional powerhouse for you. With Mars in retrograde, exalted in Capricorn and then turning direct again by the end of August, this month is all about new beginnings for you. Mars in your natal sun sign will help you cut ties from things or people that have been holding you back. This fire planet may push you to boss others around at times, but it is only because you are feeling at your most confident and determined. With the sun in Virgo, your fellow earth friend will have you soaring through work life, organizing your ideas carefully and planning things exactly how you want it. Usually burdened with the need to constantly be working or doing "enough," Capricorns rarely take the time to slow down and actually feel accomplished. The transits this month will help you truly understand your orderly, ruling nature – so you can ease into a space where you feel strong and accepted by others.
Aquarius (Jan. 20-Feb. 18)
When the sun and moon sit together in Leo this month, you will feel potent energy to fight for independence. You are the universal sign representing freedom and autonomy. You may experience the drive and desire this month to break away from limiting beliefs, people or other influences that have been controlling your lighthearted nature. Perhaps you will feel inclined to fight for those who are seeking to be heard. You have a gift to offer the world. Your carefree spirit values love through independent action and you inspire others to let go of the illusion of control into full acceptance of individual expression. This is a great month to be a leader or help someone find their voice.
Pisces (Feb. 19-March 20)
This month, as a water sign ruled by the influence of the moon, you may experience many waves of emotions. Coming down from our recent (and super intense) blood moon this past month, you may be feeling incredibly sensitive and needing some alone space. As the moon enters into your natal sun, you may feel like you are picking up on everyone else's intense emotions around you. This would be a great time to head to a day at the beach with only 1 or 2 close friends. Get away from the hustle and bustle of the city and let our local beaches help you heal and emerge again from the depths transformed. You are also one of the most romantic signs and, if you're in a relationship, you may be feeling closer to your significant other. If you're single, you may be feeling more ready than ever to open your heart. An interesting month where you will need time to reground and center, as well as open yourself to love again.