Photo by Monivette Cordeiro
U.S. Rep. Darren Soto comforts Alejandra Juárez
Alejandra Juárez was exhausted as she took the first steps away from the life she built in Central Florida for the past 18 years.
For months, she fought to prove her humanity to federal immigration authorities who wanted to deport her back to Mexico, forcing Juárez away from her husband, a U.S. Marine combat veteran, and two American daughters in Davenport.
But appeal after appeal was rejected. Facing an Aug. 3 deportation order, Juárez tearfully headed toward the Orlando International Airport Friday to board a plane headed to Mexico.
"I've been fighting this for so long," Juárez said as her daughters clung to her. "I don't have the strength."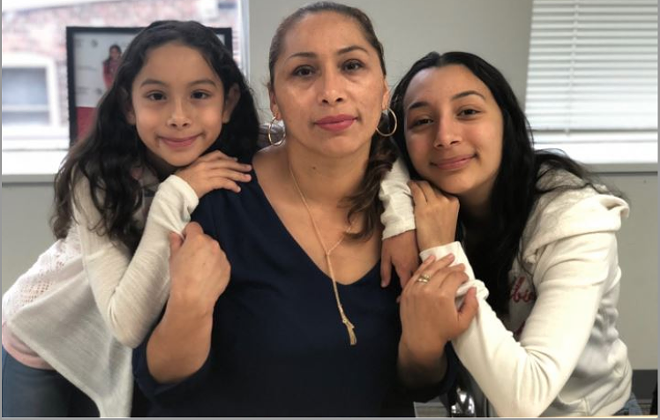 Photo courtesy of FWD.us
Alejandra Juárez and her two daughters.
The Polk County military family's ordeal with immigration authorities began after a 2013 traffic stop exposed that Juárez, 39, was undocumented.
Juárez was 19 years old in 1998 when she left Mexico City, fleeing a violent situation for the United States. Her lawyer, Richard Maney, says she presented herself at the border. During an interrogation with border officers, she told them she had lived in the U.S. before and attended high school in Memphis, Tennessee, but later clarified she was a Mexican citizen. Officials, though, said she was falsely claiming to be a U.S. citizen.
Even though Juárez only spoke Spanish, officials made her sign documents in English so that she could be released immediately and avoid six months at a detention center. But Maney said the paperwork for her expedited removal also banned her from entering the country for five years and barred her for life if she violated that order. She also signed away any future rights to permanent residency or naturalized citizenship. Without knowing the consequences, Juárez crossed the border again a few days later.
She met former Marine Sgt. Cuauhtemoc "Temo" Juárez, a naturalized citizen. They married in 2000 and eventually settled in Davenport. Temo Juárez, who had been previously deployed to Africa and South America, joined the Florida National Guard as a reservist, according to
Stars and Stripes
, an independent military newspaper.
After the 9/11 attacks, Temo Juárez was deployed to Iraq, leaving behind his wife and a baby girl. Alejandra Juárez was his rock during the hard months of service, her husband told Stars and Stripes.
When he came back from Iraq, Temo Juárez opened a flooring business to support his wife and two daughters – Pamela, who is now 16, and Estela, 9. After Alejandra Juárez's status was revealed during a 2013 traffic stop, she checked in with U.S. Immigration and Customs Enforcement officials twice a year. She wasn't a "high-priority" deportation for them back then because she didn't have a criminal record.
All that changed under President Donald Trump. Temo Juárez, a 41-year-old conservative, didn't think his vote for Trump would affect his wife's status. But under the Trump administration's "zero-tolerance" immigration policies, people like Alejandra Juárez suddenly became a priority for deportation.
Photo by Monivette Cordeiro
Before boarding her flight on Friday, Alejandra Juárez said in Spanish that she was "disillusioned" with the way Trump was treating her husband.
"My husband served this country," she said. "Mr. President, you deporting me is not going to hurt just me. You're making a veteran suffer. You always say you love veterans. If you really love veterans, why didn't you pardon me? He's not only punishing me – he's punishing my husband who served this country."
Trump became president because of voters like her husband, she added.
"I hope God softens [Trump's] heart, and that justice is served," she said.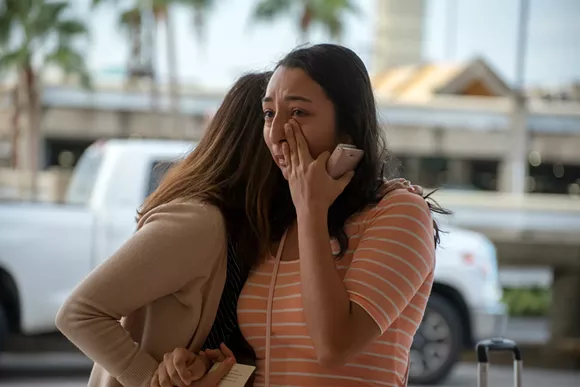 Photo by Monivette Cordeiro
Pamela Juárez weeps as she's hugged by a staffer from U.S. Rep. Darren Soto's office.
Between wrenching sobs, Pamela Juárez said her mother was a "good person."
"She's not a criminal," the 16-year-old cried in frustration. "Fuck ICE! Fuck them!"
The mother left her children and husband at the airport Friday, choosing to leave of her own volition instead of waiting for immigration authorities to detain her on the Aug. 3 deportation order and send her back in handcuffs.
Pamela will stay behind with her father in Davenport as she finishes high school, but Estela will eventually leave and join her mother in Mexico, said Katie Aragón, an advocate with the organization
FWD.us
who has worked with the Juárez family. They don't have family in Mexico, but plan to find somewhere to live among a community of other deported veterans and military spouses in the southern part of the country.
"Estela's so young, so Alejandra and her husband decided it was likely best for her to stay with her mother," Aragón said. "Estela has friends here – she's been going to school. She's a typical American girl. She doesn't speak Spanish. She can understand it, but that's not her native language."
The transition will also be extremely difficult for Pamela.
"She wants to go to college," Aragón said. "Her future is here. But her mother is in Mexico. It's just a really horrible situation."
Photo by Monivette Cordeiro
Estela Juárez
U.S. Rep. Darren Soto apologized to Alejandra Juárez on Friday before saying goodbye.
The Orlando Democrat has written
multiple letters
to Trump and officials in his administration seeking to stay Juárez's deportation order. Soto even filed a
private immigration bill
asking for relief in her case and a path to permanent residency. All of his office's work, though, was not enough to stop her from being forced to leave.
"Today's deportation of a patriotic spouse is an utter disgrace," Soto said. "It serves no moral purpose, but rather leaves a hole in our community here in Polk county. We now see firsthand the work ICE is really doing, deporting our military families. These low-priority deportations of long-time residents are not helping the Unites States. It is not helping our national security. It is not helping Florida. This case was the perfect opportunity for both parties to come together and make sure we're standing by our military families. It is devastating that the Trump administration denied and ignored our multiple requests to grant Alejandra a stay of removal."
Soto said he will continue to pressure the Trump administration to reconsider Juárez's case and the cases of other military spouses facing similar situations.
"It's an absolute disgrace by the Trump administration," he said. "They're literally ripping a family apart."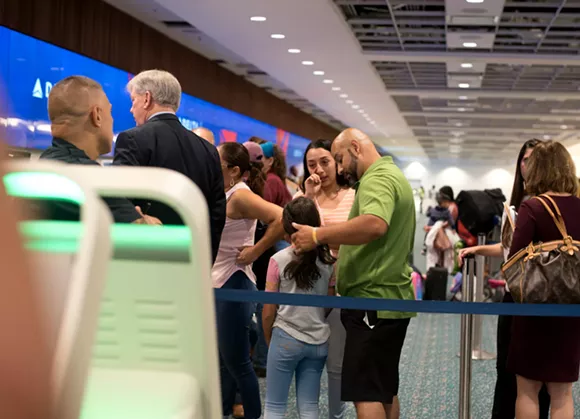 Photo by Monivette Cordeiro
The Juárez family waits for Alejandra Juárez to check in.
The Trump administration is on a "warpath" to remove immigrants with and without legal status, Aragón said, but advocates thought Juárez would be treated differently because of her ties to the military community and the hundreds who called ICE in her favor. FWD.us and other organizations will continue to try to help Juárez come home, but it will be extremely difficult, she said.
"It will be potentially a decade before she's able to apply to re-enter," Aragón said. "There's no reason for this to happen at all. It's completely arbitrary. It's cruel. To watch a family and two young girls come to that realization is heartbreaking. I am ashamed as an American that those girls had to go through this and that they now face a life with a mother thousands of miles away."

Stay on top of Orlando news and views. Sign up for our weekly Headlines newsletter.