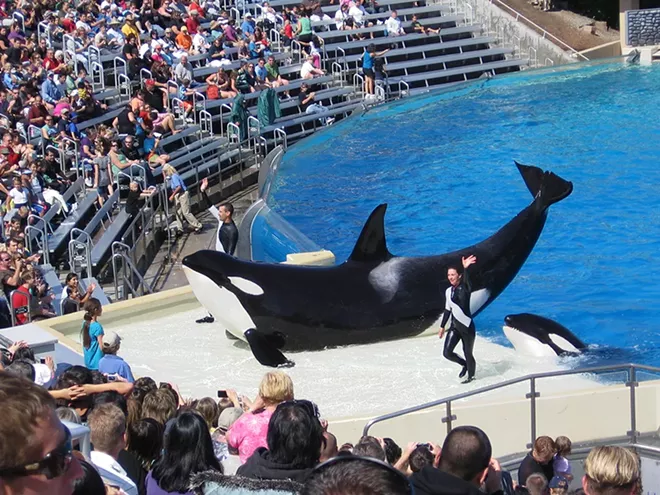 SeaWorld Parks and Entertainment has been on a roller coaster of mixed news lately.
July saw one of the
worse months in years
for the company, with a major tour operator suspending ticket sales, to the parks and the company's largest shareholder struggling to stay afloat and their own CEO on the lam from the Chinese government.
Then August saw
positive quarterly
results, with a boost in attendance and income. But the good news didn't last long and
125 salaried positions were cut
the very next day.
It's thought that the 125 positions that were cut are part of the company's $50 million in cost-cutting slated for this year (originally the company had announced $40 million cost-cutting but more recently confirmed they had increased that by ten million). That's on top of tens of millions in cost-cutting already achieved by SeaWorld Parks in recent years.
The stock is still pushing upwards, a trend that began late last year, with the price now the highest since it took a dive four years ago this month. This year has also seen the company's CEO, Joel Manby, and a number of other high-ranking executives abruptly leave the company, with
many new leaders
joining the struggling Orlando-based company.
In last week's conference call, Interim Chief Executive Officer, John Reilly,
pointed to new
seasonal offerings and "new pricing strategies" for the positive results. Also, annual pass sales saw double-digit growth this year compared to last.
But not all news was positive. Reilly acknowledged the unexpected delays at SeaWorld Orlando, where the new Infinity Falls family raft ride has missed its summer opening with the new attraction just now beginning tests.
It's thought that it should open within the next few weeks, likely before the busy holiday season kick-offs in early October but with schools returning this week, SeaWorld Orlando has already missed the critical summer crowds.
Despite the delays in Orlando, things are beginning to look up for the company.
According to SeaWorld leadership, the positive turnaround is thanks in part to successful marketing that showcases the company's animal rescue efforts. Earlier this year, SeaWorld
ended its partnership
with ad agency Push Digital nine months early, despite the agency creating the successful
"Park to Planet" campaign
for the company.
This came just weeks after SeaWorld brought in a new Vice President of Digital Marketing and Media, Chantal Stephens, and not long after the company's Chief Marketing Officer, Denise
Godreau,
resigned. SeaWorld retained the rights to the "From Park to Planet," campaign even though they ended the contract with Push Digital early. The campaign is still in use throughout the SeaWorld brand of parks and is seeing continued positive results.
Also, still in use is partnerships that former CEO Joel Manby announced as part of his attempt to shift the company's image from one that imprisoned animals to one that helps protect them. Partnerships ranging from
The Humane Society
of the United States to the
Guy Harvey Research Institute
have helped SeaWorld gain positive media attention and create unique in-park experiences, including Guy Harvey themed weekends, where the famous marine artist hosts meet-and-greets with guests.
With things starting to turn around, the focus is now on the future. Interim CEO Reilly said even more festivals and themed events, like the Guy Harvey weekends and the highly successful Electric Ocean summer event, are planned for the coming years.
Just last week SeaWorld Orlando announced a new "
Thrill Fest Ride Night
" for August 17 that will keep the park open until midnight. The event will feature behind-the-scenes coaster tours included in park admission, and exclusive ride photo deals. The plan is really
a continuation of one
that the former CEO laid out nearly a year ago, when he announced that the company was "committed to our capital investment strategy and will continue to invest in new rides, attractions, and festivals across our parks."
What is new is the specific price tag of what that commitment means.
During last week's quarterly earnings conference call Reilly announced that each of SeaWorld's twelve parks would receive a new attraction, event, or show each year moving forward as part of a $150 million per year in capital expenditures plan.
This comes as the company aims to hit $500 million in adjusted earnings by 2020. While $150 million sounds like a lot, it doesn't go far when spread across twelve parks. As
Josh Young pointed out
on his Theme Park University news site, this capital expenditures budget may signal to a shift in focus at SeaWorld. "Considering Disney and Universal can spend that in just one of their parks, it seems like a drop in the bucket. Understandably, the business models are different for SeaWorld parks and should be moving forward. They really should operate like a higher-end regional park in a destination market and I think we are starting to see signs of that."
Image via Premier Rides | Facebook
Electric Eel, SeaWorld San Diego's new Sky Rocket II coaster
While still yet to be officially confirmed, we do have some idea of specific attractions that will open in the coming years. At SeaWorld San Diego, the company plans to recreate the success of this year's Electric Eel coaster with another new roller coaster,
likely a Skywarp Horizon
by Orlando-based Skyline Attractions. This small figure-eight coaster sits below the 30-foot height limit that SeaWorld San Diego can only pierce with a handful of times while still providing the park with a unique, high-thrill attraction
thanks to a mid-ride inversion that guests travel through multiple times.
Both the yet to be named Skywarp Horizon coaster and this year's Electric Eel are off-the-shelf coasters. The Electric Eel is a Sky Rocket II roller coaster by Premier Rides. It's believed the SeaWorld signed a three coaster deal with Premier Rides, with the first opening at Busch Gardens Williamsburg in 2015, where it takes the name Tempesto. The third and final Sky Rocket II for SeaWorld Parks
is rumored to be opening
next year at Busch Gardens Tampa, where the Tidal Wave attraction was formerly located. Construction has already begun at Busch Gardens Tampa in this area, but the park has yet to confirm what will be opening on this site.
Recently filed permits at Busch Gardens Williamsburg point to
a new custom-built coaster
for that park, possibly using the park's central ravine for more thrilling drops. Prior to the recent permits,
it was rumored
that Busch Gardens Williamsburg would be receiving an S&S Screamin' Swing, similar to the one found at Fun Spot Kissimmee but much taller than that one. Those plans may still be in the works with the coaster coming in 2020 instead of next year.
Also rumored for Williamsburg is a new Sesame Place theme park. As part of a contract extension between Sesame Workshop and SeaWorld Parks and Entertainment
announced in May
of last year, SeaWorld agreed to open a second Sesame Street theme park "no later than
mid 2021
in a U.S. location." Earlier this year,
a leaked survey
showed concept art for a Sesame Place in what is currently one of two kids areas at Busch Gardens Williamsburg. With the quick timeline required to open the new Sesame Place park using this already built Sesame Street-themed kids area would allow SeaWorld to instead focus its energy on adding to it instead of having to build a new park from the ground up.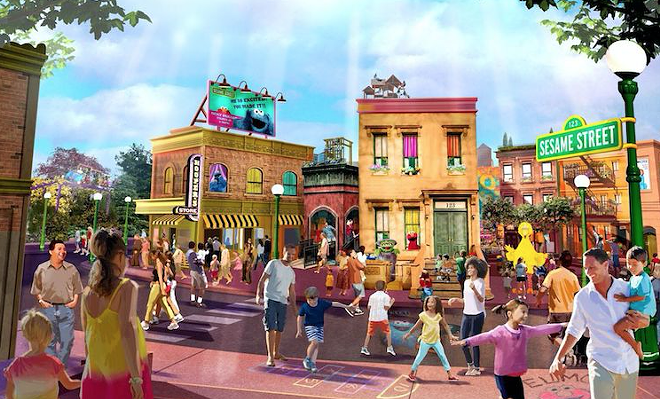 Photo via SeaWorld
Sesame Street at SeaWorld Orlando
At SeaWorld Orlando, a
Sesame Street-themed kids area
is already under construction. It replaces the Shamu's Happy Harbor kids area. Similar to what SeaWorld has been doing with many of their other new rides, this Sesame Street land will mostly feature off-the-shelf rides, albeit highly themed ones. A dark ride is also rumored for the area, but that has yet to be confirmed by SeaWorld. A
Sesame Street-themed parade
, similar to one that opened recently at SeaWorld San Antonio, has been confirmed for the new land.
It will be the first parade in the history of SeaWorld Orlando.
Across the street at Aquatica Orlando, recently filed
permits confirm
a new 2019 attraction is in the works. No details on what it might be have been announced, but one possibility is a hydromagnetic water coaster, similar to the water coasters found at Volcano Bay and Typhoon Lagoon. Interestingly, this same style water coaster is also rumored for Water Country, USA, the water park next door to Busch Gardens Williamsburg.
In Texas, there are a number of rumored updates headed to SeaWorld and Aquatica. Many of these rumors are far from confirmed but most interesting among them is a revival of the formerly announced, and assumed to be canceled, Blue World project that calls for a massive expansion of the orca habitat. The orca habitat in Orlando was
decreased in size
earlier this year when a group of rescued pilot whales was moved into the back two tanks after they outgrew the dolphin tanks they were previously held in but if an increase in San Antonio does happen, and the company chooses to use the larger habitat to house more orcas, the orcas currently housed in San Diego are more likely the ones the company will move to Texas.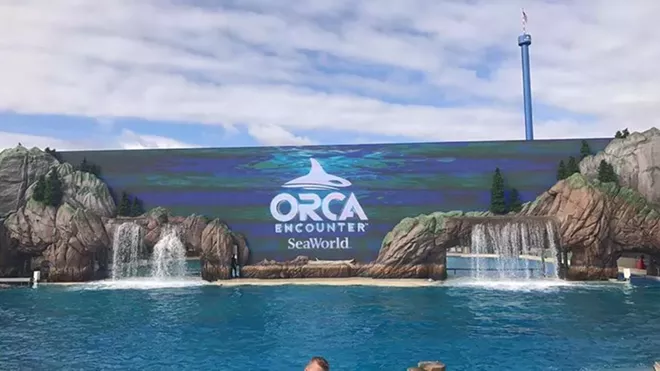 Image via Stand with SeaWorld | Facebook
Orca Encounter at SeaWorld San Diego
Previously announced plans
call for the One Ocean orca shows in both SeaWorld San Antonio and Orlando to close within the next few months. Both of those shows are to be replaced sometime in 2019 with a more educational show, similar to one that SeaWorld San Diego debuted in 2017.
Also rumored for San Antonio is an updated version of the Turtle Trek attraction. This Falcon's Creative Group designed attraction, which opened in Orlando in 2012, is, according to the theme park news site
Behind The Thrills
, rumored to include 4K High Definition Projection and 4D style in-theater effects. If this updated version of the attraction opens in San Antonio, the Orlando version would likely receive an update in the coming years, as well.
A second
Skywarp Horizon
would also make sense as part of the SeaWorld San Antonio expansion plans where a number of new attractions and animal habitats are rumored.
With little in the way of confirmed plans beyond the 2019 ones, some have speculated that the company is preparing for a buyout, but currently, no suitors have been identified.
Merlin, Parques Reunidos, Cedar Fair, and Six Flags have
all been pointed to
as possible buyers, but each has either remained silent or downright denied any interest in buying the company as a whole. Last year
Merlin publicly expressed interest
in purchasing the Busch Gardens parks, but SeaWorld seems uninterested in selling off pieces of the company, especially the Busch Gardens parks, which remained one of the positive parts of the company as the SeaWorld branded parks struggled.
A more likely scenario moving forward is Zhonghong, who is struggling with their own massive financial problems, selling off their stake in the company. As the largest current shareholder, Zhonghong also has a chair on SeaWorld's Board of Directors and wields an impressive amount of power within the company.
While the Zhonghong-based international plans for a SeaWorld park in China were canceled, plans for a park in Abu Dhabi are still moving forward.
Those plans, like the ones in China, call for a mostly indoor park with a significant focus on rescue efforts and family thrills.
SeaWorld Abu Dhabi
is slated to open in 2022. It will likely include many of the same attractions found at the current SeaWorld parks, including Turtle Trek, which might explain why this attraction is getting a new life here in the States.
Merlin pointed to the ability to add hotels to the Busch Gardens parks as part of the appeal of those parks. Previously, SeaWorld announced plans for new resort hotels at a number of their parks with specific plans given for SeaWorld San Diego. All of those plans seem to now be
on an indefinite hold
with no mention of hotels or commercial districts since the idea was announced by Manby in late 2015.
With $150 million in capital expenditures per year planned for the parks there are plenty of options on what SeaWorld may do, but like Young pointed out, these plans won't be on the scale of those at Disney or Universal, instead the future of SeaWorld is likely one with off-the-shelf rides, uniquely themed experiences, educational shows, and a regional park focus.
Stay on top of Orlando news and views. Sign up for our weekly Headlines newsletter.