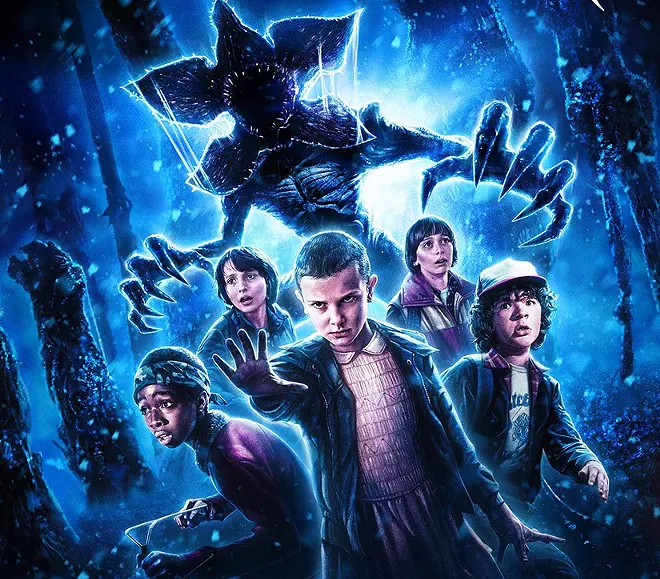 Photo via Universal Studios
Since its debut on 1991, Halloween Horror Nights at Universal Orlando has become the nation's premier Halloween event, and this year is set to be the biggest yet.
With a
record number of haunted houses
, known as "mazes," five scare zones and a live stage show, this year is one for the history books.
Taking inspiration from 1980's horror films, this year's event doesn't have the individual iconic character that previous events occasionally featured,
instead
choosing a time period to draw inspiration from.
The highlights of this year include houses themed to
Stranger Things
,
Poltergeist
and
Trick 'r Treat
. The
Stranger Things
house will be based on Season One, with scenes rumored to include Hawkins Middle School, Joyce Byers's Christmas light-filled house, the Hawkins National Laboratory and, of course, the Upside Down.
Less is known about the more recently announced
Poltergeist
house, but there should be a static-filled television and plenty of light vortexes.
In the blog announcement
for the
Poltergeist
house, Charles Gray, a show director for Halloween Horror Nights, explained what guests can expect:
"We're taking this iconic horror film we all grew up watching and bringing it to life for everyone to experience. We will be taking you, the guest, through all the fan favorite moments, and then
guiding
you
into
the place we always wanted to go … that bright and terrifying light."
The cult classic film
Treat 'r Treat
was featured in a scare zone last year, but this year it gets its own house. It is thought that the infamous Halloween Horror Nights school bus might be used in the final scene of the house, where the rock quarry from the film will be likely re-created.
Two other iconic
1980s film franchises are also being brought to life, but as scare zones at this year's event. First,
Chucky
will lead a toy-filled scare zone that will be like the ultimate nightmare edition of Disney's recently opened Toy Story Land just down the street. And next, reaching deep into the 1980s archives, Universal has secured the rights to
Killer Klowns From Outer Space
. This carny-themed scare zone will even feature the ice cream truck from the film.
Still unannounced, but highly rumored and seen on leaked marketing materials, are two other film franchises: Michael Myers will likely be making his fourth appearance at Halloween Horror Nights in a
Halloween 4-
themed house, and a mashup house themed to Blumhouse films is also strongly rumored.
Update:
Michael Myers was
just added
.
For Orlando, this will likely include scenes from both
Happy Death Day
and the most recent
Purge
film. Unlike previous years, this year will not see a
Purge
-themed scare zone.
This year will also be the first in what seems like a lifetime without
The Walking Dead.
Instead, the zombies will be found in an original house,
Dead Exposure: Patient Zero
. Breaking a longstanding tradition, this year Universal's first announced house wasn't a film or television franchise.
Instead
it was this original concept based on the 2008 house Dead Exposure. This year's house, viewed as a prequel to the 2008 house, is set in 1982 Paris. The original Dead Exposure house used blacklight strobes; those same strobe lights are expected to be used again in this zombie-filled house.
Photo via Universal
Seeds of Extinction at HHN 2018
Other original houses this year are also inspired by classic 1980s horror films. Seeds of Extinction features carnivorous plants that are out for human blood, guests will have to make their way through a graveyard filled with the meat-eating foliage.
Images released by Universal
show what looks like a 1980s-themed commercial district with various advertisements and business signs. No word on whether any of the plants will be begging you to feed them.
A carnival-themed house,
Carnival Graveyard: Rust in Pieces
, will give classic carnival rides a touch of horror. Ride parts will be used as torture props, and a Tunnel of Love that will most certainly not be filled with love will make this house a must-see for amusement park fans.
One of the most talked-about houses this year is
Slaughter Sinema
. The drive-in cinema is a theme that Halloween Horror Nights has returned to many times, but this year's Slaughter Sinema adds a heavy dose of camp. Drawing inspiration from campy 1980s films, this house will have guests battling everything from angry Sasquatches to killer barbers.
Another house likely this year, but still not officially confirmed, is Scary Tales: Deadly Ever After. From the Evil Witch to an evil Snow White, this house will reimagine classic children's stories in a horror theme. One of the more memorable elements of this rumored house will be the flying monkey scare actors, who will "fly" thanks to bungee cords.
New this year will
be houses
in the recently built parade buildings, where the daytime parade is usually housed when not in use.
Stranger Things, Trick 'r Treat
and Seeds of Extinction are rumored to be using these warehouses. This will shift the crowds slightly and may help with crowd flow at the event.
Three original concepts will be used in
various scare zones
. The Central Park area will be home to the jack-o-lantern filled Twisted Tradition scare zone. The popular Vamp '55 scare zone from HHN 2016 is reimagined this year with
a 1980s-
focused Vamp '85: New Year's Eve that will be populated with plenty of 1980s style from punks to big-haired vampires.
Near the entrance of the park, The Harvest scare zone will give guests an idea of what to expect through the rest of the event.
Universal explains
that this barn-themed zone will be filled with surprises and foreshadowing: "An old barn is the setting of every kind of horror. Its walls are decorated with ominous objects and images from each haunted house, hinting at the horrors to come. This barn is not as abandoned as it initially seems, and by the time you realize what lies within, it will be too late. Foul creatures lurk within, ready for a harvest of flesh and screams."
Initially, Universal stated that this year's event would have nine houses. The Shrek attraction's second theater has been used many years, but this year plans supposedly called for the Shrek attraction and both of its theaters to be demolished to make way for a new
Secret Life of Pets trackless dark ride
.
When that ride was put on the back burner, the idea of a trackless
Minion-themed dark ride
based around the Villain Con International expo was then proposed. When those plans were also apparently put on hold, the theater was suddenly available for use as a Halloween Horror Nights house.
While this year will have a record number of houses, one thing missing from the event will be the ever-popular Bill and Ted show. After numerous issues with the far-from-
PC
show,
it was announced
that 2017 would be the last year for the duo.
This year,
Academy of Villains
, a professional dance group that has called HHN Orlando home since 2016, will replace Bill and Ted with their first major theatrical show. In the past, the dance group used a stage set up on the street where guests might walk past during the performances. This year's
Cyberpunk
show will give the dance team special effects, Broadway-style lighting and their biggest stage ever at HHN.
With a nearly a month until HHN opens, there's still plenty of time for some surprises before the event kicks off. Halloween Horror Nights
runs
on select nights between Sept. 14 and Nov. 3. Tickets are on sale now.
Get our top picks for the best events in Orlando every Thursday morning. Sign up for our weekly Events newsletter.