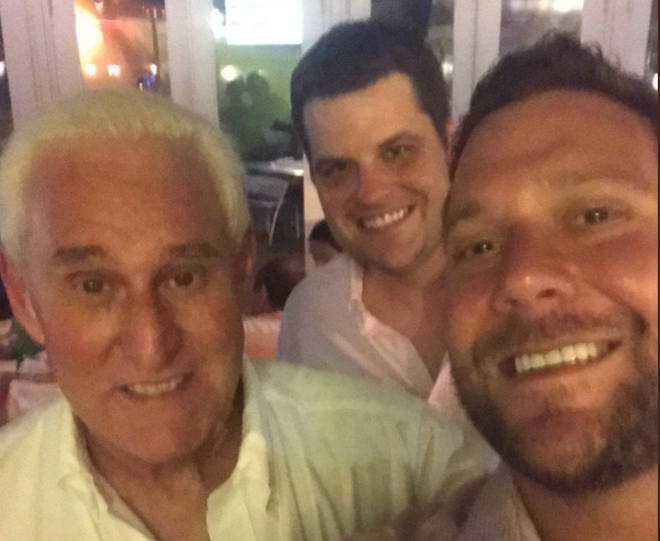 Screenshot via Joel Greenberg/Twitter
Roger Stone, Florida Rep. Matt Gaetz, and Joel Greenberg
Joel Greenberg, the Seminole County tax collector-turned-heel who refuses to resign, or even apologize, after
a streak of Islamaphobic social media posts
, is now insulting his political rivals, bragging about his net worth, and even threatening his constituents with the powers of his public office.
Last night, in an lengthy Twitter meltdown, Greenberg fought every urge to log off, and spent the evening getting mad online with Florida House candidate Anna Eskamani. The tweet storm started when Eskamani, who is of Iranian descent, called for his resignation. Greenberg then responded with threats to fund her opponent and influence the upcoming election.
"Never," said Greenberg in the tweet. "As a matter of fact, I will be donating $200,000 to your opponent."
Screenshot via Joel Greenberg/Twitter
After things escalated with commenters, specifically Wes Neuman, the vice chair of the Seminole County Democratic Party, Greenberg said he would spend up to $300,000 of his own money to defeat Eskamani.
Screenshot via Joel Greenberg/Twitter
Naturally, Greenberg then transitioned to bragging about his net worth, stating that his family business (Greenberg Dental & Orthodontics) is "worth nearly a billion."
"I make more money than you can spend" said Greenberg to a
critical Twitter user
, who was then threatened by the elected official and told to "pay your taxes on time this year." He also stated that he donates his entire government salary to charity, which we have not been able to confirm.

Screenshot via Joel Greenberg/Twitter
Not done with bullying his constituents and political adversaries, Greenberg then went after Ben Friedman, director of the Jewish Community Relations Council in Central Florida, saying, "You know exactly what the deal is you traitor. You are a slob and I'll get to you eventually." Greenberg is also Jewish.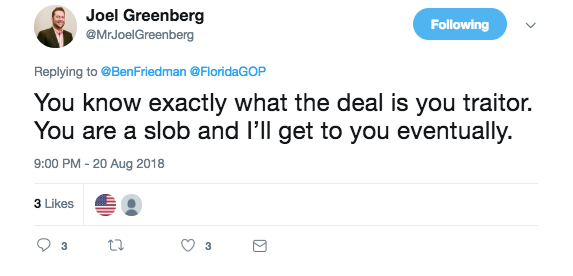 Screenshot via Joel Greenberg/Twitter
On Saturday, Friedman condemned Greenberg's hateful comment.
"Using offensive language and then claiming to want to start a genuine dialogue is unbecoming of public trust," Friedman told
Orlando Weekly.


Notably, Greenberg also admitted that he
intentionally quoted anti-Muslim rhetoric
when he wrote his initial Facebook post that started this whole mess: "Very simple question...Name just ONE society in the developed world that has benefited in ANY WAY from the introduction of more Muslims. Just one. Asking for a friend."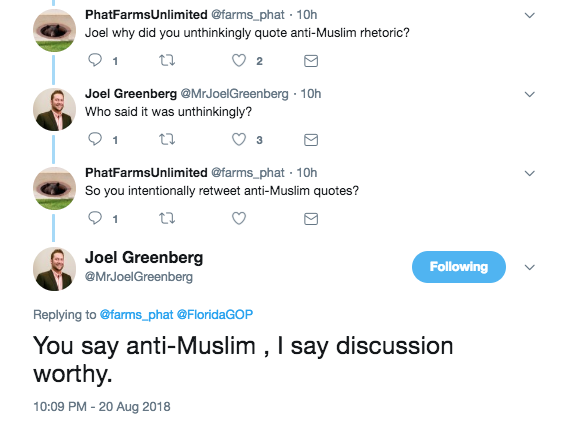 Screenshot via Joel Greenberg/Twitter
This of course does not fall in line with his
original statement
that he was merely "asking for a friend."
Local advocates and politicians have since condemned his comments and have called for Greenberg to resign. "From Islamophobia to anti-Semitism, to any kind of xenophobia, we all stand against it," Rasha Mubarak, president of the Young Democrats of Orange County, at a
Monday press conference
in front of the Seminole tax collector's Lake Mary office. "[Greenberg] is not 'asking for a friend.' He is in fact furthering his anti-Islamic agenda. … He's dismissive, and condescending and it's putting people in harm's way."
On Monday, when someone asked why he took down his original post, he replied, "I didn't delete it moron. FB took it down."
Last night's Twitter implosion shouldn't be much of a surprise to anyone familiar with Greenberg. The public servant has a
long history of bigoted social media posts
, like when he posted "This is the result of unchecked Muslim immigration," days following the London bombings in 2017. He also once pulled over someone for speeding with his tax collector badge, and on another occasion tried to get out of a speeding ticket by saying he was the tax collector.
Meanwhile, Greenberg has requested an additional
$6,400 a week on extra security
at his four office locations because as he says, "We live in a world that's extremely politically correct."
Greenberg isn't up for re-election until 2020, but there is a
petition
circulating asking for Attorney General Pam Bondi and Leon Biegalski, executive director of the state Department of Revenue, to urge Greenberg to resign.
Stay on top of Orlando news and views. Sign up for our weekly Headlines newsletter.