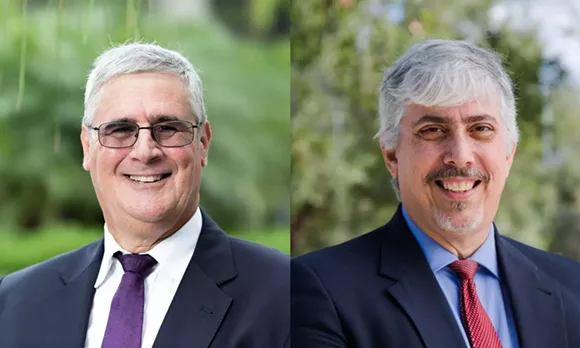 Jeff Ashton, left, and Howard Friedman, right, are both running for judge in the Ninth Judicial Circuit.
Most people have probably decided for whom they're going to vote in the primaries for Florida governor on Aug. 28, but few know their preferred candidate in the judicial races for Orange County and the Ninth Judicial Circuit.
These usually low-profile nonpartisan races, nonetheless, make a huge impact in our community. County trial judges hear criminal misdemeanors and civil cases in which the disputed amount is less than $15,000. Circuit judges deal with criminal felonies, domestic relations, juvenile delinquency, probate issues and civil disputes over $15,000. Murder cases end up in front of circuit judges, as well as financial fights like the one between local theme parks and the property appraisers office. Both circuit and county court judges are elected for six-year terms and don't have term limits. If no candidate in a judicial race gets a majority of the vote during the August election, they will appear again on the ballot in the Nov. 6 general election.
Although the judiciary makes up one-third of Florida government, the court system receives
less than 1 percent
of the state's total budget, said Judge Eric DuBois at a recent luncheon organized by the League of Women Voters of Orange County for judicial candidates. DuBois added that although the Ninth Circuit has qualified for additional judges, Florida lawmakers have not provided the funding. Last year,
Orange-Osceola Chief Judge Frederick Lauten
closed a commercial litigation division of the Ninth Circuit to give more resources to family court.
"We are often required to do more with less as every year goes by," DuBois said. "Being a judge is a lot of work, and what these candidates are asking you for is your support and your encouragement."
Circuit Judges
Group 15: Jeff Ashton vs. Howard Friedman

Former State Attorney Jeff Ashton took some time off to figure out what he wanted to do after losing his 2016 re-election bid against Aramis Ayala. Ashton is best known for his high-profile role as a prosecutor in the 2011 murder trial against Casey Anthony – he later wrote a book about the experience that landed on the New York Times Best Sellers list, and Rob Lowe portrayed Ashton in the Lifetime movie about the case. After more than three decades in public service, he realized it was something he still wanted to do, so Ashton decided to run for circuit judge.

"I think I've learned what it takes to be a great judge," Ashton said at the LWFOC luncheon. "You have to be fair. You have to listen. …You have to understand those aspects of your personality that will get in the way of you doing your job."

Ashton's opponent is Howard Friedman, who left his position as a general magistrate in the Ninth Circuit after 13 years to run for judge.

"My entire career I earned a reputation of being a fair-minded individual who strove to put justice first," Friedman said. "I believe what's important when you're electing your judges is you look for individuals who will put justice first and other things aside such as personal gain."

Though the men were cordial at the LWFOC luncheon last week, there's a fair amount of bad blood between the two.

In a campaign mailer, Friedman accused Ashton of discriminating against his wife, Annette Schultz, when she worked under Ashton at the State Attorney's Office. Schultz, who could not be as active after a cancer diagnosis in 2003, claimed Ashton fired her in 2014 because he wanted to move another attorney with medical issues into her position at the economic crimes division, which was less physically taxing. Before her termination, Friedman said his wife received a positive performance evaluation. The State Attorney's Office settled with Schultz after Ashton left for $85,000 but denied any wrongdoing.

"My opponent has done things in his past, which I think voters need to know about," Friedman said. "They bear on his ability to be a judge … If a candidate is morally corrupt and and morally unfit for duty, then it's my duty to bring it up. The public has a right to know."

Ashton told Orlando Weekly his opponent's attacks were misleading.

"This is almost unheard of in judicial elections, these type of negative mailings," Ashton said. "Quite frankly, a lot of people are offended. This race is supposed to be about qualifications – not attacking each other personally. It's just not right," Ashton said.
Group 26: Joseph Haynes Davis vs. Tom Young

Joseph Haynes Davis is a value adjustment board special magistrate attorney in several counties around Florida, and has vast experience in both criminal and civil law.

"I believe what distinguishes us is I'm the one with the quasi-judicial experience," Davis said. "You don't have to guess what my temperament is because I served in that capacity and have done so for the last 10 years."

Tom Young is one of only 181 board-certified appellate specialists in Florida and led the creation of a statewide guardian ad litem appellate division to give children a voice in the appellate courts. Young said it's important to have a judge on the bench with an "even temper."

"I don't know of many things worse in the judicial process than an unpredictable judge," he said. "I do have more trial experience. I do have more complex litigation experience."


Group 41: Lorraine DeYoung vs. Dean Mosley vs. Laura Shaffer

Former Assistant State Attorney Lorraine DeYoung has spent 20 years as a prosecutor focusing on cases of children who are victims of abuse and crime.

"I've spent most of my professional life, dealing with victims and helping them get through the court process when they were trying to seek justice," she said. "I've dedicated my entire professional life to public service."

Dean Mosley is a private criminal defense attorney with over 32 years of extensive legal experience and has been coach and chairman of the Orlando Comets, a girls AAU basketball team.

"I'm running for judge because I believe in impartiality," he said. "I understand that in order for a judiciary to be complete, it has to reflect its community. In this circuit, we have one African American male [judge], and he wants to retire. When I heard that, I thought, maybe this is time for me to step up."

Laura Shaffer is a former supervising attorney with the Department of Children and Families who opened her own private practice focusing on juvenile law. She's represented human trafficking victims in juvenile court, children with developmental disabilities and minors placed in residential treatment centers.

"I think that there needs to be a spotlight on some of the victims that I represent," she said. "That expertise is needed. I have the knowledge and the passion."
County Judges
Group 11: Adam McGinnis vs. Doricia "Dori" Miller Rivas

Judge Adam McGinnis is currently running for another six-year term after being elected in 2012. At the LWVOC forum, he said one of his main accomplishments has been reducing the caseload in his civil division by organizing en banc hearings of personal injury protections cases.

"When I took that division over, we had 8,000 cases," McGinnis said. "When I left the division, we had 6,000 cases. … It doubled and sometimes tripled the amount of time we could spend on cases."

Dori Miller Rivas is a former assistant public defender in the Ninth Circuit who now has her own Winter Park law firm focusing on criminal cases, landlord tenant disputes and family court.

"If I had the honor of becoming an Orange County judge, it is my commitment to treat every single person who walks into my courtroom with fairness and equal respect," she said. "I think that judges are here to serve people."
Stay on top of Orlando news and views. Sign up for our weekly Headlines newsletter.