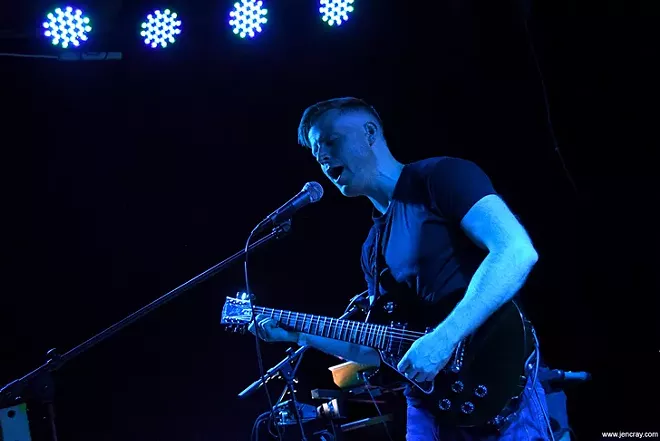 Jen Cray
Bound at Will's Pub
THIS LITTLE UNDERGROUND
Bound, Boston Marriage, Uh and Dearest, Will's Pub, Aug. 21

Bound
is a promising new D.C. band that just made their Orlando debut courtesy of local promoter
Endoxa Booking.
Being practically
post-everything,
they're not a group that's conveniently sorted. Stemming audibly from metal, post-rock, shoegaze and dream pop, their influences are many and varied. But in their hands, it all proves
complementary.
At once gossamer and heavy, their sound is a complex fog of slow-breath mood and bottomless, elegant melancholy. In its quiet stretches, it verges on evaporation. But when it rises, it comes in like a tsunami.
Jen Cray
Bound at Will's Pub
There are only two meaningful ways to experience this band: at volume on a stentorian stereo with no neighbors or
live.
In person, they don't just play, they envelop, like a magnificent hurricane of pristine fuzz and groan.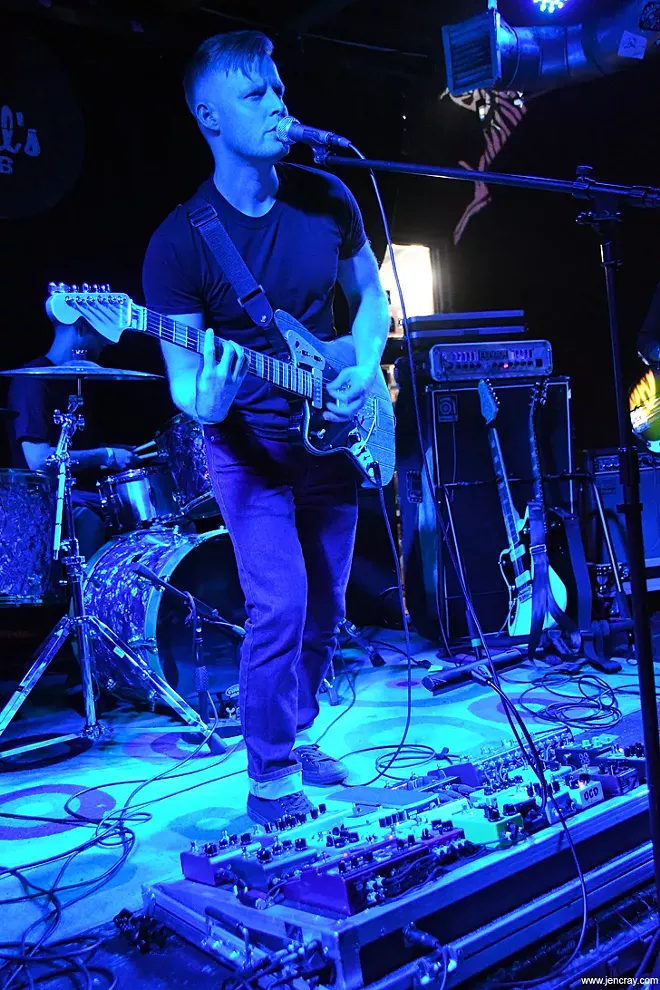 Jen Cray
Bound at Will's Pub
How committed to texture is this band? Just look at this
sick-ass pedal array:
Jen Cray
Bound at Will's Pub
All told, Bound's lush vision shows the
more beautiful possibilities
of heavy music.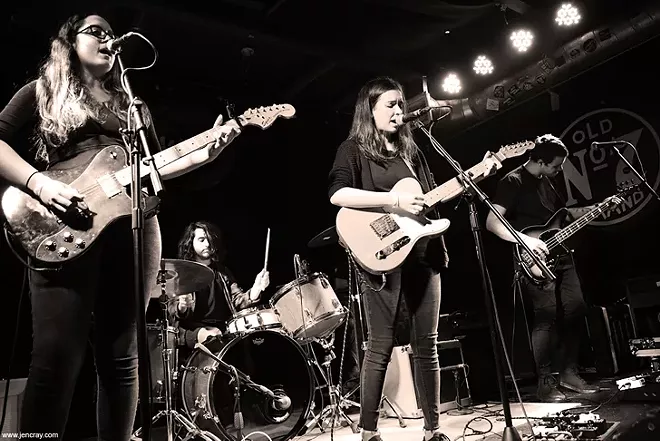 Jen Cray
Boston Marriage at Will's Pub
Good performances were also given by reliable local openers
Boston Marriage
and
Uh.

Jen Cray
Uh at Will's Pub
But showing a very new look was rising Orlando act
Dearest.
The solo loop-and-layer guitar vehicle of Tracy Farah has now spread its wings as a
full-band project.
Admittedly, a two-piece isn't everyone's idea of a full band. But with the capacity that Farah already handles alone, the mere addition of a drummer can qualify.
Jen Cray
Dearest at Will's Pub
Not to completely hang the work on gimmick, but there is a real magic to watching a skilled loop-and-layer act work alone, and Farah is a notably good one. Well, the looping still happens. But with just the addition of a drummer, Dearest's songs already take on whole new sense of
flight and scale.
What was a lovely, sparkling cloud before is now a gorgeous silver tower. They're still finding their footing as a unit but the case for expanding the Dearest sound is already made.
Jen Cray
Dearest at Will's Pub
Jen Cray
Dearest at Will's Pub
Follow Bao on Twitter (@baolehuu)
Email Bao: baolehuu@orlandoweekly.com