Henry Salgado, the two-time James Beard Foundation Award semifinalist and former chef/owner of the now-shuttered
Txokos
at East End Market and the Spanish River Grill in New Smyrna Beach, is back in the restaurant game.
Along with his wife Michele, Salgado has opened Ricky's Canteen — a fast-casual poke bowl and street food joint — in downtown New Smyrna Beach.
facebook.com/rickyscanteen
Henry and Michelle Salgado
Wait, what? Fast-casual? Poke bowls?? Street food???
I have to say, going balls-out Gen Z with such a concept is a bit surprising considering the Salgados' previous two ventures focused on high-end Basque cuisine and contempo Latin fare.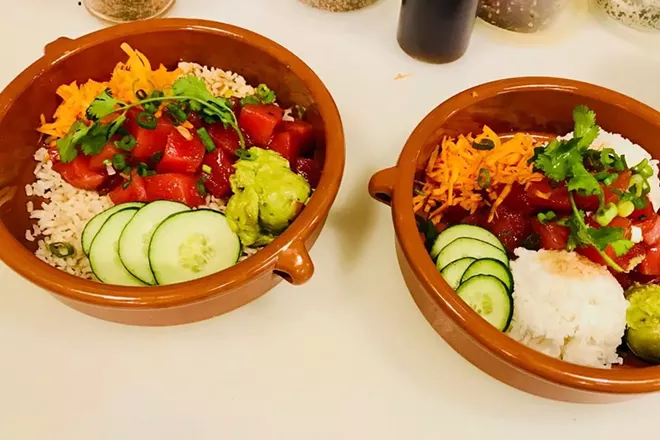 facebook.com/rickyscanteen
Poke bowls
But there's some interesting food to be had here. The "Gumbo" poke bowl fashioned from salmon, octopus, shrimp, tuna, radish, scallion, green beans, barbecue sauce, sesame oil and togarashi, for one, and the tortilla Espanola with saffron, potatoes, onion and garlic aioli look like standout items.
facebook.com/rickyscanteen
Tortilla Espanola
I still miss Txokos' pulpo gallego, so it's nice to see Salgado resuscitating it here as "grilled pulpo on a stick".
Ricky's Canteen will celebrate its grand opening Sept. 5 from 5-10 p.m. and will feature live music by
Jeff White
, a tap takeover by Crooked Can (recently voted
Best Local Brewery
) and a host of special menu items.
Oh, if you're wondering who Ricky is, it's simply a reference to Henry's nickname. "Enrique" is the Spanish equivalent of Henry and "Ricky" is just a nickname for "Enrique."
Follow Ricky's Canteen on
Facebook
,
Instagram
and the
web
, then fill up your tank.