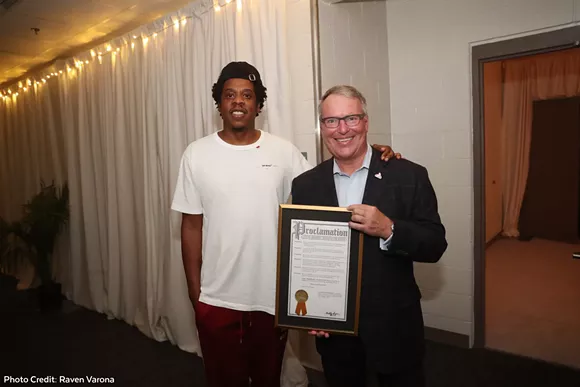 Orlando Mayor Buddy Dyer posted a photo of himself just casually meeting entrepreneur and producer Jay-Z before the rapper's Orlando concert with his wife, living legend Beyoncé.
"Our venues like [Camping World Stadium] allow us to welcome some of the world's most-recognizable entertainers to our city," Dyer said on
Twitter
. "Last night before he took the stage with Beyoncé, I was able to present JAY-Z with a proclamation marking the #OTRII tour's visit to Orlando."
We have so many questions: Did Beyoncé meet the mayor? What does the proclamation say? Did Dyer enter the Knowles-Carter pre-concert sanctum, and also, did he freak out? We've reached out to city staff for more information, and we'll update this blog if we get the deets.
UPDATE:
Rapper Jay-Z was apparently the one who initiated the meeting with Orlando Mayor Buddy Dyer, according to Cassandra Lafser, spokesperson for the mayor's office.
"Jay-Z's team reached out to Mayor Dyer, informing him about some of their philanthropic efforts and asked if he'd like to meet with him before the concert," she said. "They met there at Camping World stadium last night before the show."
For those curious, Dyer did not meet Beyoncé, Lafser said. The proclamation issued by Dyer, which marks Aug. 29, 2018 as "Beyoncé and JAY-Z Day," reads:
"WHEREAS, Beyoncé Knowles Carter and Shawn Carter (JAY-Z) are individually and collectively two of the entertainment industry's most celebrated and beloved artists; and

WHEREAS, as part of the On the Run II Tour, Beyoncé and JAY-Z are visiting 15 cities across Europe and 21 cities in North America, including The City Beautiful; and

WHEREAS, Beyoncé and JAY-Z are providing scholarships for one exceptional senior high school student in each North American city on the tour; and

WHEREAS, Beyoncé and JAY-Z have a long history of helping students through the BeyGood initiative and The Shawn Carter Foundation, including spearheading tours for high school students to HBCUs, and college preparedness and professional development programs; and

WHEREAS, through their philanthropic efforts and their music, Beyoncé and JAY-Z have inspired Orlando residents and people in Florida, the United States and around the world; and

WHEREAS, the City of Orlando is proud to welcome Beyoncé and JAY-Z and thousands of their fans to our Camping World Stadium;

NOW, THEREFORE, I, BUDDY DYER, Mayor of the City of Orlando, do hereby proclaim Wednesday, August 29, 2018, as "Beyoncé and JAY-Z Day" in the City of Orlando."
Get our top picks for the best events in Orlando every Thursday morning. Sign up for our weekly
Events newsletter.