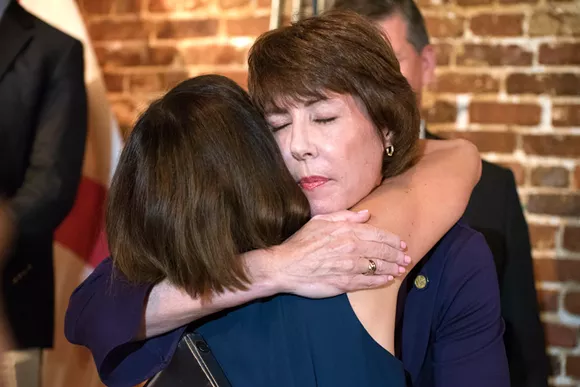 Photo by Monivette Cordeiro
After a bitter five-way primary fight, former Congresswoman Gwen Graham had some choice words for Democratic gubernatorial nominee Andrew Gillum: "Go out and win this damn thing."
Almost three hours after polls closed on Tuesday night, Graham stepped onto the stage at The Social in downtown Orlando for what pollsters and pundits had widely predicted would be a victory speech for the frontrunner. Graham's centrist message appealed to liberals in Florida's rural counties but Democrats in populous strongholds like Orange, Miami-Dade and Broward counties carried Gillum and his progressive campaign to victory, with a 34 to 31 percent voting margin. The Tallahassee mayor, who is the first African-American nominee for state governor, prevailed over Graham with slightly more than 47,000 votes.
"Obviously this is not the remarks I was hoping to deliver tonight," Graham told her forlorn yet faithful supporters. "Andrew and I have been friends for a very long time. We were friends before this race began, we are friends today and we will be friends into the future."
She said she called Gillum to congratulate him and give him a message.
"And I said, 'Now, Andrew, go out and win this damn thing,'" Graham said. "Because this is too important for the state of Florida. This is too important. This election was never about the candidate. It was always about the importance and future of the state we all love."
Graham quickly asked the crowd put their efforts behind Gillum to make sure he's elected governor.
"I give you my word that whatever Andrew asks of me, I will do," she added. "This election, again, is about Florida and the future of Florida. That's what we were fighting for."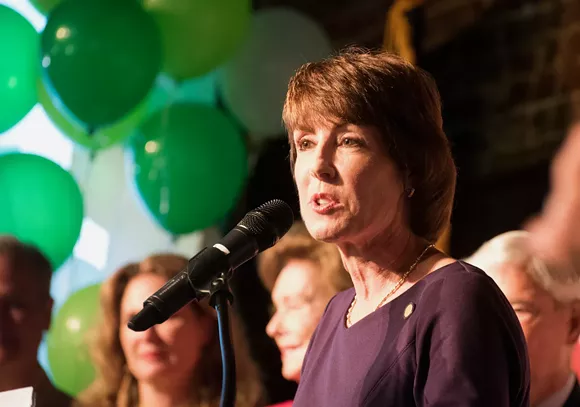 Photo by Monivette Cordeiro
State Rep. Amy Mercado said Tuesday she was slightly disappointed her endorsed candidate Graham had not won, but the Orlando Democrat was still excited to support Gillum.
"My chosen candidate wasn't the one who won, but Andrew has done an amazing job," she said. "He's gone through entire state and energized people from the Panhandle to the Keys. You can't beat that."
Mercado said the results of the Democratic primary show "people power" and a grassroots campaign focusing on the issues important to Floridians does make a difference.
"The general population is sick of national polarization and the way Trump has pulled our country apart," she said. "Now we have to work our tails off to get a win in November."
At a victory party in Tallahassee's The Hotel Duval on Tuesday, Gillum told supporters the race was not about him, but about "everyday, hard-working people in this state who believe that they deserve a voice in our government."
"This race is about every last single one of us," Gillum said. "Those of us inside this room. Those outside of this room. Those who voted for me. Those who didn't vote at all. And those who didn't vote for me because they are Republicans. But I want to be their governor, too."
In Central Florida, Gillum's ecstatic supporters
cheered
his win at Dexter's in Winter Park, chanting Gillum's campaign's slogan, "Bring it home!
State Rep. Carlos Guillermo Smith, one of Gillum's early supporters, said he had an intangible feeling before the election that "we were going to make history."
"The progressive message Andrew Gillum was giving Florida voters was finally resonating," the Orlando Democrat said. "This is a huge victory for progressives and for Democrats. The political world is feeling an earthquake right now."
For years, Florida Democrats have nominated "boring" and "middle-of-the-road" candidates in hopes of persuading voters but have always lost, Smith argued.
"For some reason, even people on our own side have convinced themselves the only way Democrats can win is if we nominate a Republican-lite," he said. "For some reason, they believe we're going to win over enough moderate Republicans, enough independents if we only shy away from our values – when in reality, the way we win is by turning out your own voters. We need to inspire them, not just give them something to vote against. That's something we finally have with Andrew. He's candidate we've been waiting for."
Gillum was outspent by all the other Democratic candidates, Smith said, but "money don't vote – people vote."
Smith said it was hard to put into words the meaning and symbolism behind Gillum being the first black person to be a gubernatorial nominee in Florida.
"It's not just about saying we've elected the first black governor of Florida," he said. "It's about the unique experience that comes along with that identity. For so many marginalized communities in Florida who have been disenfranchised, who have had the deck disproportionately stacked against them, we'll finally have someone who has lived that experience, who will be able to enact policies and lead this state in a way that ensures every single Floridian – no matter what zip code they came from, what side of the tracks – that they'll be able to get a fair chance to live the American Dream."
Stay on top of Orlando news and views. Sign up for our weekly Headlines newsletter.