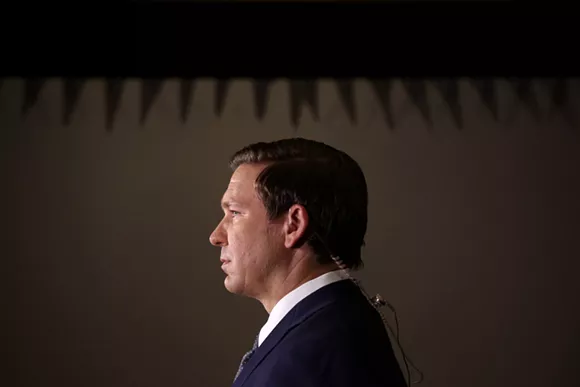 Photo by Joey Roulette
Republican gubernatorial nominee Ron DeSantis prepares for a late-night interview with Fox News' Laura Ingraham on Aug 29 2018.
Less than 24 hours after his nomination, Republican gubernatorial nominee U.S. Rep. Ron DeSantis has already framed his opponent Andrew Gillum as an extension of Venezuela-style socialism and a Tallahassee mayor "embroiled" in controversy.
The Florida governor's race sank to uglier depths after an early morning appearance by DeSantis on Fox News Wednesday. Within hours, he was blasted by Democrats for saying Florida voters shouldn't "monkey this up" by electing Gillum, the Democratic nominee who could become Florida's first African-American governor.
"Let's build off the success of Gov. Scott. The last thing we need to do is to monkey this up by trying to embrace a socialist agenda," DeSantis said live on Fox, where he has made nearly
120 televised appearances
since December.
The night before, at the Rosen Shingle Creek resort in Orlando, after an energetic election party packed with loyal primary campaign donors and volunteers, the Trump-backed nominee revealed how he feels about going head-to-head with Gillum, making his first political salvo against the Democrat during a late-night interview with Laura Ingraham.
"He is the most liberal candidate that the Democratic party has ever nominated in the state of Florida by a country mile in a governor's race," DeSantis told Ingraham, which is a declaration Gillum — the most left-wing candidate among his more centrist primary rivals like Gwen Graham and Philip Levine — would embrace as the core reason his campaign prevailed.
DeSantis listed some highlights of Gillum's progressive agenda, illustrating the conservative's worst nightmare: single-payer healthcare, abolishing ICE and instilling corporate tax increases to bolster the state's public education budget. "I'm trying to make Florida better, he wants to make Florida Venezuela," DeSantis said.
Although Venezuela has a collapsed economy, vast food shortages and violent protests sparked by authoritarianism and President Nicolas Maduro's strive to consolidate power, Trump acolytes like DeSantis find it to be a palatable comparison that Republican supporters can rally behind, as inaccurate of an analogy for Gillum's left-wing policies as it may be. And DeSantis has doubled down, saying the Tallahassee mayor is to blame for what he calls "the most crime-ridden city in all of Florida year after year."
An immediate foray into attack mode isn't surprising from a candidate heavily promoted by President Trump. For most of DeSantis' supporters, the president's endorsement was the selling point. Or as Priti Shukla, a DeSantis supporter from Orlando, puts it: "I voted for the president, and if somebody's not really behind him, then it's going against my vote."
"That's probably one of the biggest selling points for me. Following the vision of the president," Shukla, who attended the candidate's election watch party, added. "If it's what Trump put in place, then he's my pick."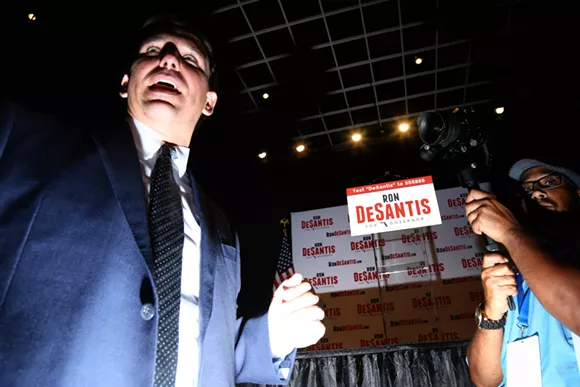 Photo by Joey Roulette
Ron DeSantis shakes hands with supporters after his primary election victory speech at the Rosen Shingle Creek resort in Orlando.
Hera Becker, 33, also attended the election success party to continue supporting what she says is an extension of Trump's policies.
"I love that he is a big supporter of Israel and also I think he'll be great for the economy," she said.
Rick Sarmiemto, 54, is a member of the Boots on the Ground – Bikers for Trump group from Mount Dora.
"He's all about veterans, he's all about border security, he's about E-Verify," Sarmiento said, referring to the federal data service that allows employers to check the legal status of new hires. "And he's about cleaning up the mess down in Lake Okeechobee."
Combatting the blue-green algae bloom in Lake Okeechobee is one of the local issues DeSantis has campaigned on and used in his attacks against his primary opponent and the establishment's favorite, Agriculture Commissioner Adam Putnam.
"We have boaters, we have fisherman, we have people who enjoy our natural resources," DeSantis said at a July 18 rally in Orlando. "And yet you've had an unprecedented bloom of toxic algae spewing out of Lake Okeechobee."
"Look – a lot of people say conservatives are not for the environment and that we're against global warming," Sarmiemto said. "The environment's critical here in the state of Florida, and that lake has got to be cleaned up."
But DeSantis is conflicted on factors causing climate change and has said human-induced temperature hikes "may be a factor" in causing the pervasive algae blooms, according to the
Sarasota Herald-Tribune
, but fighting that cause "is more of a national and international issue."
Instead of jumping into policy issues critical to Florida like climate change, DeSantis is putting overt emphasis on attacking Gillum, who many expected would lose to Gwen Graham – a moderate former congresswoman with a base that DeSantis could have won over.
But now with Gillum as the opponent, selling moderate policy to the Democrat's young, hard-lined progressive core of voters won't be worth the effort like it would have been with Graham's centrist base. The aggressive messaging this early in the general election – the "monkey" comment on Fox and the Venezuela comparisons – could signal that DeSantis is either intimidated by Gillum's poll-defying primary win or relieved. His supporters say it's the latter.
"I think it's going to be even easier for DeSantis to win because Gillum is more far left when Graham is more moderate," Becker said.
At the end of the primary election night, Sarmiemto was shocked Graham didn't win.
"I was convinced," he said. "But honestly, I think its going to be a landslide for Ron because Gillum is on the socialist side."
Stay on top of Orlando news and views. Sign up for our weekly Headlines newsletter.