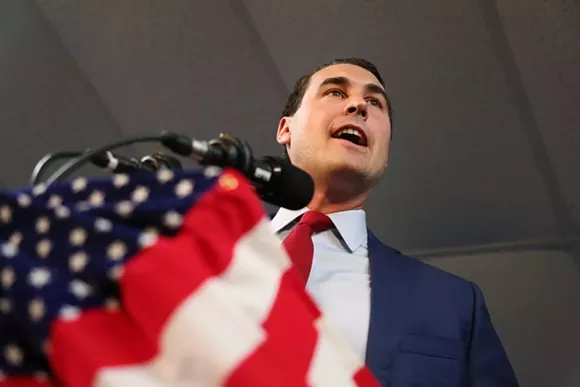 Photo by Joey Roulette
Winter Park businessman Chris King stumps for Andrew Gillum at a democratic unity rally in Orlando on Friday, Aug 31
Florida Democratic gubernatorial nominee Andrew Gillum has selected Chris King, a Winter Park businessman and fourth place runner-up in the primaries, as his Lieutenant Governor pick.
Gillum made the announcement Thursday morning on Facebook Live, though even before the pick was public their site,
GillumKing.com
, was already live.
In the Facebook video Gillum said he was looking for "a partner who shares my philosophical beliefs, who brings their own set of experiences to the table as we try to reshape this state into one again that works for all of us, and frankly somebody who I believe could be governor of the state of Florida."
King is somewhat of a surprise pick for the job, beating other strong choices including Rep. Amy Mercado, Gwen Graham and state Sen. Lauren Book. Similar to Gillum, King is a hard left progressive and his name recognition in metro Orlando should help in the highly contested I-4 corridor.
Though King only rallied 2.5 percent of the vote in the primaries, the 39-year-old spent nearly $6 million from his own pocket, which may have been a factor in Gillum's decision. Though unsuccessful, his campaign was often seen as a catalyst that drove the other candidates to push their ideas further to the left.
Over the last 18 months, King and Gillum were often on the same page with issues like immigration, education and voting rights. The two bonded on the campaign trail, which was evident at today's announcement. "This is not a political marriage — this is not a marriage of convenience. This is a family," said King.
Back in July, King told
Orlando Weekly
that he wouldn't be interested in joining another candidate's ticket if he's not able to pull out a win, arguing that the governor role is the only position that can institute real change.
Gillum and King will now face off with Republican Ron DeSantis and his pick for lieutenant governor, Miami Rep. Jeanette Nuñez, who just
deleted a tweet
calling Trump a "con-man" and a KKK supporter.
Stay on top of Orlando news and views. Sign up for our weekly Headlines newsletter.