Photo by Monivette Cordeiro
Disney union workers celebrate their historic contract agreement Thursday night.
Between whoops and cheers, Disney World union workers in Orlando overwhelmingly approved an agreement with the theme park company to raise the minimum hourly wage to $15 by October 2021.
"We have accomplished historic wage raises," Matt Hollis, president of the Service Trades Council Union, told a boisterous crowd Thursday. "I think the message is clear – Disney workers needed a raise. And thanks to everyone in this room and the thousands of cast members across property who showed up to vote, Disney members got a raise!"
Leaders from the Service Trades Council Union, which represents 38,000 employees among its six unions, say 13,673 workers voted Sept. 5-6 across Disney on the historic contract. Only 116 workers voted against the contract. More than 99 percent of workers – 13,557 votes – were in favor of the agreement negotiated by unions over the past year.
Eric Clinton, president of UNITE HERE Local 362, says he cried on his way to work thinking about the impact the contract would have on every single Disney employee. He's worked for the union for 17 years after starting at $5.95 an hour running The Great Movie Ride at Hollywood Studios.
"I feel amazing," he says. "I started working for the local at Disney when I was 20. I couldn't make my rent and somebody grabbed me and said, 'You know – you can do something about that. Get involved with the union.' And it was like year after year, contract after contract, inching forward, not stepping forward. This has been a long time coming, and for me, it's been my life's work. And to finally really accomplish this kind of contract, it's overwhelming."
Clinton believes the rest of the tourism industry will likely have to increase wages to keep up with Disney's new minimum wage.
"Universal is going to have to match all of this, the Hilton's going to have to match it," he says. "It's really a fantastic feeling to know that we did that – we won for everyone. We fought for our members, of course, but it's going to impact everybody."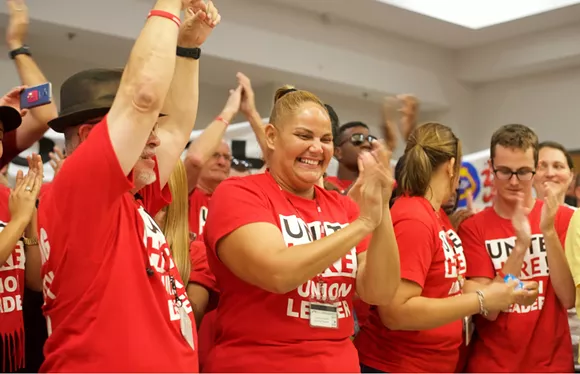 Photo by Monivette Cordeiro
The new contract will raise the minimum wage at Disney to $11 by December 2018, $12 by March 2019 and $13 by September 2019. Wages will then go up in yearly increments to $14 in October 2020 and finally $15 in October 2021. Disney will also give unionized workers the $1,000 bonus previously denied to employees under STCU until a contract was approved. Eligible cast members will also receive retroactive pay of 50 cents an hour or 3 percent, whichever is greater, dating back to Sept. 24, 2017.
In a statement, Disney says the contract shows the theme park company's "continued investment in the future of its cast members." In July, Disneyland Resort in California announced it had reached an agreement with union workers to raise the minimum wage to $15 per hour by 2019.
"Our 50 percent wage increase will have a real, meaningful impact on our Cast and their families – and is part of our commitment to the thousands of Cast Members who make magic for our guests each and every day," said George A. Kalogridis, president of Walt Disney World Resort, in a statement. "Increasing wages for Cast Members represents a significant investment in Central Florida, and will provide a powerful boost to the local economy."
Kissimmee Mayor Jose Álvarez watched dozens of workers quickly count thousands of ballots Thursday night. The new contract would not only be good for Disney employees, but also for his entire city.
"It's more funding coming into economy of Kissimmee – if they earn more, they're going to invest more, they're going to spend more," he says. "A lot of these employees, believe it or not, live in that [Highway] 192 corridor of hotels. They're the working poor of this county."
Álvarez says Florida lawmakers should be encouraged to change minimum wage laws in the state.
"This is something that is a problem affecting everyone in the state of Florida," he says. "The minimum wage is not a living wage. … [Disney employees] deserve what they're getting. This is not a handout – this is something that was owed to them for the work that they do."
Maddy Johnson works for $11 per hour at Disney's Kilimanjaro Safaris. The increase in wages means she won't have to work 55-hour weeks just to make ends meet and can focus on getting her elementary education degree from the University of Central Florida.
"For me, getting this money means I don't have to photocopy my classmates' books," she says. "I can finally buy notebooks, some new pencils, hopefully a new backpack – I've been using a hand-me-down. I can finally start paying my student loans because I have $20,000 in debt. This is huge for me."
Johnson says many cast members who've worked for Disney for decades but have not been union members have signed up to join in the days before the contract vote was final.
"A lot of people have come up to me and said, 'I never thought I was going to see this raise,'" she says. "We're finally getting cast members a really good solid raise for everyone, regardless of how many years you've been here."
On Thursday night after the vote, Belinda Osorio Hanzman was still in shock.
"After being in this fight for a year, I just can't believe we actually did it," she says in Spanish. "So many people would tell us, 'You all are crazy. You're never going to see that money.' And now look at us! I just still can't believe it."
Osorio Hanzman makes $10.50 as a housekeeper at Disney's Animal Kingdom. The raise to $15 per hour means she will be able to take more of her paycheck home – the majority of it now goes to pay health insurance for her family. She's left with about $200 for groceries, rent and other expenses every two weeks.
"This is going to change my life," she says. "It was hard – going to all those rallies, going to California to rally with Disneyland workers – but we did it thanks to God and the union."

Stay on top of Orlando news and views. Sign up for our weekly Headlines newsletter.