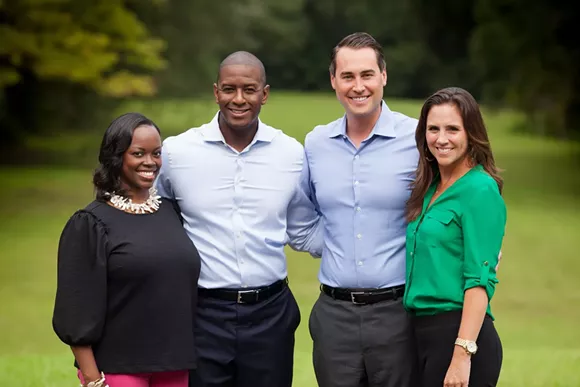 Florida Democratic gubernatorial nominee Andrew Gillum and his lieutenant governor pick Chris King will make their campaign debut this Saturday in Orlando.
The family-friendly general election kickoff will be at the Orlando Downtown Recreation Complex, 363 N. Parramore Ave., on Sept. 8. Doors open at 11:30 a.m., and the program will start at 1:00 p.m. You can RSVP for the event
here
.
"The event will include activities for families and children, and will welcome Chris King and his family to the team while building on its momentum as they work to bring it home on Nov. 6," according to a statement from the campaign.
The Tallahassee mayor announced Thursday that King, a Winter Park businessman who ran unsuccessfully for the Democratic nomination alongside Gillum, would be his running mate. In a Facebook video, Gillum said he was looking for "a partner who shares my philosophical beliefs, who brings their own set of experiences to the table as we try to reshape this state into one again that works for all of us, and frankly somebody who I believe could be governor of the state of Florida."
Stay on top of Orlando news and views. Sign up for our weekly Headlines newsletter.